With The Stars' Abysmal Season Coming To A Merciful End, Let's Give Grades To Each Of Your Dallas Stars' League-High 30 Players On The Roster This Year.
Led by the "New Triplets," the Dallas Stars are a fast-and-furious squad that have quickly become the darlings of the hockey world this season. Thus, we welcome you to Forechecking™, our weekly Dallas Stars column that looks back at the hockey week that was, and then the hockey week that will be.
Your Dallas Stars are finished. The 2016-2017 season of jihad against Dallas Stars fans is finally over, Alhamdulillah.
Lindy Ruff's squad went from first in the West to basement of the league, posting a goal differential of -39 with a sub .500 record of 34-37-11. Ouch. Preseason injuries hampered the team early into a funk they could never get out of, no real winning streaks occurred, and the speed and flair that was used so effectively last season to overwhelm opponents was nowhere to be found this season.
What a bummer.
As is tradition here at Forechecking™, we rate every Dallas Star — and there were a lot of 'em this year, a league-high 30 players suited up — at season's end using a highly scientific and mathematically sound formula that factors in player expectation, position expectation, salary, eyeball test, statistics (with or without corsi), highlights, lowlights and blacklights. So without further ado, we present to you…
End-of-season grades for your Dallas Stars!
The Suits.
Tom Gaglardi: Call me old-fashioned, but I like when an owner lets his hockey people make hockey decisions. Call me old-fashioned, but I think maybe season ticket prices shouldn't continue to be raised year after year while your on ice product is poop. Grade: B-
Jim Nill & MGMT: After a couple of seasons of highly praised moves, Mr. Nill whiffed with some huge misses in 2016-2017. From having no goaltending prospects are coming down the pike, to overloading the roster with redundant defensemen. He was overly patient during a catastrophic season, was average at asset acquisition at the trade deadline and poor at player development throughout organization. There is a positive note, though — the signing of highly sought after prospect Gavin Bayreuther, who chose Dallas over other suitors due to Nill's visits during practice.  Let's hope he doesn't turn into the next Fabian Brunnstrom. Grade: D
Lindy Ruff & Coaching Staff: Well, you knew Ruff was getting fired, and he was officially terminated on Sunday. Solid five-on-five play throughout the season was doomed by special teams and defensive miscues. Yes, Nill "passed his problems" onto Lindy with juggling nine defensemen for minutes, expecting something positive to come from benching young players every other game, but the "Ruffiling" of line combinations and ingame management were odd as well. Dallas set a record for most goalie swaps in a season with Niemi and Kari alternating time on the bench on any given night. We would have given the coaches an F, but this team was so poorly constructed/injured, we're not sure if Allah himself could have fixed this shit, Rich. Grade: D
Forwards.
Jason Dickinson (GP:10 G:2 A:0 P:2 +/- -3  PIM:0): The 2013 first-round pick saw a smattering of minutes in the NHL this year, not enougth to grade, really, but the Stars do hope for Jason to eventually be a quality second-line winger in the near future. Grade: Incomplete
Cody Eakin (GP:60 G:3 A:9 P:12 +/-  -7 PIM:49): The Ginger Ninja had a hell of a year, the bad kind of hell. He suffered a knee injury during training camp, was suspended for steamrolling Henrik Lunvqist and posted a career low's in everything. Is it the Ginger Ninja's fault that he was grossly miscast as a No. 1 center? Of course not, that's on Lindy. But when you play alongside Jamie Benn and manage to belch out those kinds of numbers, it's bad. Real bad. Throw in his constant turnovers in the neutral zone and terrible decision making with the puck in general, and you've got yourself a warm pitcher of spit. Eakin is better than this. Grade: F
Radek Faksa (GP:80 G:12 A:21 P:33 +/-  -6 PIM:67): The only downside to Radek is his limited offensive upside, and that's OK. Radek is a handful for the opposition and fights for positioning on every inch of the ice. His faceoffs have ever so slightly improved this season, as has confidence in his game. The young fox is workhorse and a keeper. 'Member his super radical awesome goal dis year? https://www.youtube.com/watch?v=gPlrS9CVlok All da kidz doing the Faksa Slide at dey school dancez. Grade B+
Mattias Janmark: RIP
Tyler Seguin (GP:82 G:26 A:46 P:72 +/- -15  PIM:22): Welp, I don't know really. At many points of the season Seguin was the only legitimate scoring threat Dallas could throw up on the ice. Barf. Tyler stayed healthy, and at no point did we think he was phoning it in, but his results aren't inspiring. He posted his lowest point total and points per game since the 2013 lockout season, his plus/minus was a career worst and he saw his time on ice slip by over a minute per game! To a franchise player! There were also moments where his frustration were quite visible on the ice and in general that's frowned upon in hockey world of masculine stoicism.
Something that does get overlooked in Tyler's game is his playmaking in the defensive end. He can quickly diffuse the opposition with his speed which, in turn, backs off defenders who decide to "activate" towards the Dallas net. In our humble opinion, Seggy should be centering Jamie Benn instead of floating around on the wing
huffing paint
 and should be given so much ice time it leaves him huffing, well, paint. A really goofy year for "I never thought Tyler Seguin was sexy: Then this happened, OMG He slays me."
Grade: B-
Devin Shore (GP:82 G:13 A:20 P:33 +/- -4  PIM:14): In any other year, this rookie's minutes and role would be more akin to a fourth liner, but with injuries galore and general bad play from everyone wearing Moral Victory Green™, Shore was called upon to center a second line on many occasions while seeing relatively significant playing time. He's good. He's got good hockey sense, moves the puck well and plays with a high motor. There is a lot to like about Devin's game, and he should continue to grow as a player. And a plant. Grade: B+
Jason Spezza (GP:68 G:15 A:35 P:50 +/- -18  PIM:29): Dude had a real poo poo year, no way around it. Look at that stat line, just look at it! Does he look like a $7.5 million player to you? It ain't to me. Granted, he battled through injury and was not able to pick up his usual solid numbers as a part time third line winger but Spezza rarely draws the oppositions top defense units anymore and enjoys more offensive zone starts than any other forward.  Some of y'all jabronis may not agree with this, but his defense was bad and, regardless of how much you make or where you are in the lineup, you must contribute in your own zone. Without the puck, Spezza was rarely more than a speed bump for the opposition and did little to help alleviate the pressure on the young D corps. Hopefully, this season was an anomaly for the 33-year-old and not the start of a major regression. Grade: C
Jamie Benn (GP:77 G:26 A:43 P:69 +/- -9  PIM:66): Jamie, Jamie Benn the captain. Jamie got surgery in offseason. Jamie had terrible start to the season. Jamie looked disengaged. Jamie was unable to control puck in offensive zone and stay awake in class. Jamie skated slower than other players. Jamie made lazy passes. Jamie no make all-star game. Jamie started to feel better in hims tum tums? Jamie started to play better. Jamie saw brother Jordie moved to different class. Jamie started to excel around TAAS test time. Jamie only Star who scores when they still had a shot at graduation. Jamie try and try hard. Jamie punched people. Jamie got punched. Jamie now go on summer vacation. Jamie go to Six Flags with friends!  Grade: B-
Remi Ellie (GP:18 G:1 A:6 P:7 +/- 5  PIM:8): Gather 'round, gather 'round, we here at Forechecking™ are ready to announce the new unofficial nickname for rookie Remi Eillie, a moniker so fantastic and true, that it will be etched upon his bust at the National Hockey League Hall of Fame at career's end. Are you ready? OK, here it goes: "The EverRemi Bunny!" What do you think? Pretty damn good, eh! Remi got the call up when everyone else got traded and/or died, when games didn't matter anymore, but he was strill really fun to watch anyway. The kid is tenacious and skates from point A to B at 100 percent — like mashing the turbo button with Valerie Kaminsky in NHL 97. His game is really rough around the edges and he needs to work on puck control and awareness, but we like him as an emergency call up. Grade: B
Jiri Hudler (GP:32 G:3 A:8 P:11 +/- -3 PIM: 4): It sounded like a good signing at the time, but man oh man has it been a real wonky year for the affable Czech. He was unable to keep himself in the lineup while battling what was most likely Mono. Jiri couldn't catch a break. He was also responsible for the moment that singularly epitomized the cluster F this season was: LOOK OUT, OH NO!!  Grade: F-
Curtis McKenzie (GP:53 G:6 A:10 P:16 +/- 5  PIM:27): The AHLer was able to cement his spot in the lineup with tenacious play and honey badger attitude until a very serious high stick to the eye uncemented, (de-cemented?) him from the season. McKenzie was fun to watch, filling in the Colton Sceviour utility depth role that is needed on good teams. Should the Stars ever get good again, Curtis is just the right glue guy for the job. Grade: B+
Antoine Roussel (GP:60 G:12 A:15 P:27 +/- +1 PIM:115): Having a career year, until like everyone on this team and their grandma, The Rooster did a great job of playing with an edge while also avoiding unnecessary penalties. His consistency was a bright spot, especially early in the season when few forwards were clicking. He may be a Las Vegas Golden Knight come October due to the expansion draft, and that really sucks. Grade: B+
Gemel Smith (GP:17 G:3 A:3 P:6 +/- -1 PIM:21): I mean, another AHL call up (Stars led league in AHL players skating with the big club) who plays his heart out. He looks to be a nice complimentary player with good speed. We'll see if he's able to officially make the leap to the NHL next season during training camp: Grade: Incomplete
Patrick Sharp (GP:48 G:8 A:10 P:18 +/- -22 PIM: 31): We could just as easy copy/paste Sharp's season summary on many players' grades this year. He started off slow, got injured (concussion), tried to play through injury, was in and out of the lineup and never found a groove. The pending UFA eventually opted for season-ending hip surgery after it was clear the Stars season was donezies. He faces an offseason of healing and rehab as he enters the free agent market. Sharpie says if he plays hockey again it will be in Dallas, but who knows. Time will tell on a veteran running out of time. Grade: D
Adam Cracknell (GP:69 G:10 A:6 P:16 +/- 9  PIM:12): We've been cheering with Cracknell pompoms all season long here at Forechecking™, so this shouldn't come as a surprise. It was a very good year for the journeyman veteran who is flowering later in his career. He's a smart, smart, smart player with the puck, and equally smart, smart, smart player away from it. While a bit slow to the whip, his board game is best on the team, and he possesses underrated vision. No, you don't want sandpapery depth skater centering the first line (ie. Eakin), but his work ethic and skill legitimizes an energy line into something more dangerous. These kinds of players end up scoring the big goals come play off time, should the Stars every see the postseason again. Grade: A
Ales Hemksy (GP:15 G:4 A:3 P:7 +/- -1 PIM: 0): We could just as easy copy/paste Hemsky's season summary on many players' grades this year. He was injured during the offseason, underwent surgery, rehabbed his way back to health and into the lineup (with an A on chest, surprisingly) played very well for a dozen games and reminded you of how much skill was missing from the team, gots re-injured and went bye bye. He's a UFA at 33 years old, and if he commands anything near his previous $4 million-per-year contract, he will likely not be wearing Moral Victory Green™ next season. That's kind of a shame. I really thought the Spezza/Hemsky connection was going to do well here in Dallas behind the Benn/Seguin onslaught. He's such a talented winger with the puck, but his inexplicable inability to finish always leaves you wanting. Grade: Incomplete
Brett Ritchie (GP:78 G:16 A:8 P:24 +/- 11  PIM:38): Playing in his first full NHL season, the big and burly right winger did pretty well. Pretty good little year for Brett The Hitman Ritchie. His physicality was his most consistent contribution as he plays a man's game and is a handful for opposition to deal with, leading the team in hits by like a billion. Ritchie really needs to work on his finishing touch to be a true power forward in this league, if those exist anymore, to become a staple second-line winger. In our estimation. Grade: B-
Defense.
Dan Hamhuis (GP:79 G:1 A:15 P:16 +/- -7  PIM:23): This offseason acquisition was intended to take over for the departing Alex Goligowski on the top pairing, and to that notion, was a complete failure. However, Hamhuis' contributions down the defensive lineup were quiet and effective, with every crappy ass defense partner posting better possession numbers with Dan covering their crappy ass than without him. He's clearly lost the skill and mobility that made him such a reliable mainstay in Vancouver, but he's no liability like many fake Stars fans claim. He's just not good enough to make a crappy ass defense average anymore. All things considered, he can still calm things down a bit for the 20 minutes a game he's on the ice. Grade: C+
Julius Honka (GP:16 G:1 A:4 P:5 +/- -4  PIM:4): The golden child! The prodigal son! The funk soul brother! The target of every team looking to make a trade with Dallas, Julius has been baking in the AHL for what seems like a Willenium. He didn't contribute much this season, as he wasn't expected to play at all, but the collapse of 2016-2017 ushered in the youngin' for the hell of it. The diminutive Finn is expected to play a big role in the upcoming year, but can he live up to all the hype? Watch as Julius score his first ever NHL goal, in overtime no less. Grade: Incomplete
Stephen Johns (GP:61 G:4 A:6 P:10 +/-  -10 PIM:36): To me, look like a leprechaun to me! To me, the biggest disappointment in player development this year was big Stephen Johns. His rookie campaign was so wonderful and on fleek, expectations for the hard-hitting mobile defenseman were Willie Nelson high. Wha happen? Mistake after bone-headed mistake, followed by benchings, followed by scattered ice time, then more mistakes, and repeat and blah blah blah. Cheese and rice, it's been tough watching him this year! And to think that the Stars may not even protect him in the expansion draft this offseason! Unfathomable just 300 days ago. I say hang on to him and let a different coaching staff take a crack at him, err, work with him, or something. Grade: D
Esa Lindell (GP:73 G:6 A:12 P:8 +/- 8 PIM:22): Well, you can't say the leash was short for Lindell. Esa was one of the few defensemen not named Klingberg that wasn't constantly benched for his mistakes — and that's saying something for a rookie on the league's least effective defense squad. There's nothing flashy about Esa. His ceiling doesn't seem to be too high. He isn't awful in the defensive zone, and he's able to get the puck on net through traffic with regularity. Frequently matched up against the opposition's top players, Esa had a pretty damn decent season. Grade B-
Patrik Nemeth (GP:40 G:0 A:3 P:3 +/- -4 PIM:14): After 108 games played in the NHL, all in a Stars sweater, big Nemeth has yet to score a goal. Sure, his game is a defensive one, but zero goals achieved in a Stars sweater is representative of the organization's inability to develop younger players. For whatever reason, Lindy didn't like him, and other teams weren't interested enough to accept him in a trade. Only ggetting inserted into the lineup every other game certainly jacked with the development of a shutdown defender that showed great promise his rookie year. It's in everyone's best interest to part ways in this relationship. Grade: D
Jamie Oleksiak (GP:41 G:5 A:2 P:7 +/- -4 PIM:37): Like Nemeth, Oleksiak saw scattered ice time this year, and drew the ire of the coaching staff on more than one occasion. What will happen with the 2011 first-rounder this offseason is anyone's guess, as he liable to be "redrafted" by Las Vegas. At least we will always have this beauty of a goal to remember The Big Rig by… Grade: D
Greg Pateryn (GP:36 G:1 A:8 P:9 +/-  -1 PIM:37): He was traded by Montreal for Jordie Benn at the deadline, and prolly ain't as good as Jordie. Matter of fact, I know he's not. Beyond that brilliant observation I have very little to say about Greg's game. He's like an unsalted saltine cracker. Meh. Didn't see enough of him to give a fair assessment so  Grade: Incomplete
John Klingberg (GP:80 G:13 A:36 P:49 +/- 2 PIM:34): Klinger's numbers are good enough to place him 10th in NHL defense scoring, but fans know that this season was a bummer for the Gothenburg native. The first half of the season was dreadful, especially in the defensive end where outlet passes were frequently picked off and many odd man breakaways came as a direct result of John's half-assed passing. Things settled down a bit as the season wore on, but the improved play was too little too late for a team struggling to keep pucks out of the got damn net. The hands are still there, lets just hope he gets his head right next season. Grade: C+
Goalies.
Kari Lehtonen (GP:59 W:22 L:25 OT:7 GAA: 2.85 SV%: .902 SO: 3 MIN:3,178): We feel bad for Kari, we really do. When watching or reading national publications and broadcasts, the first player called out for the Stars woes is Kari. These fancy bigwig New Yorkers with their chauffeurs and bottled waters and healthcare just glance at the box score and immediately call Kari mean names. Things like "Poo Poo head," "Stinky butt" and "Wayne Head" were frequently hurled his way this season. So mean! And so unfair! Kari is an excellent goaltender when he has no right to be, and very average when truly needed for a big game. It makes him unreliable on a good team, and the scapegoat on a bad one. Having said that, I hope he gets bought out in the off-season and continues his career elsewhere. Grade: C+
Antti Niemi (GP:37 W:12 L:12 OT:4 GAA: 3.30 SV%: .892 SO: 0 MIN: 1,729): Antti was acquired in 2015 to light a fire under Kari and actually start a game or two, something the Stars haven't had since, what, Ron Tugnutt? Last year, it kind of worked. This year, not in the least. The numbers were awful, and Antti's playing style has gone from unorthodox and effective to looking like a kid dressed in a refrigerator box for Halloween sliding around the ice after chugging two liters of Faygo. Having said that, I hope he gets bought out in the off season and continues his career elsewhere. Grade: C-
Unofficial Sega Genesis NHL 94 Player of the Year.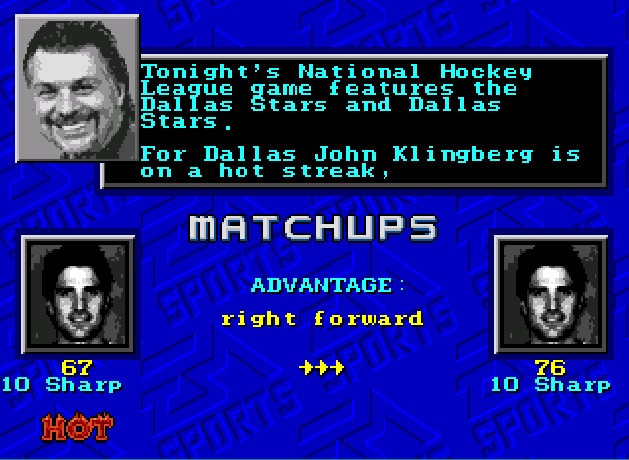 It's only fitting that the best Dallas Star of the 2016-2017 season currently plays for the Anaheim Ducks. Patrick Sharp led the team in scoring at the time of his departure with 21 goals, and finished with a career high of 31, enough to be goal scoring leader for Your Dallas Stars. His bum foot prevented him from attending practices, and the extra time to rest paid off during games. He played up the lineup, down the lineup, on the power play, blocked shots, played hard, played smart and is now skating on a Cup contender (kinda). On a steal of a contract, $1 million, no less, Eaves is likely for a significant raise this off-season as a UFA, and will certainly be priced out of a return to Dallas. Patrick deserves better than we can give him, anyway, so it's a very happy/sad thing to see him play on. As a duck. Eww, so gross.
This Summer in Your Dallas Stars.
There's gonna be some big changes. Las Vegas will snipe a non protected Star or two (will be Roussel and Oleksiak. BET), a handful of UFA's hit the market (none coming back), a new coach will be hired (is it going to be Ken Hitchcock?!?!) and we will likely see one (but hopefully two) new goaltenders wearing Victory Green™. While the 2016-2017 season was a complete disaster, there are still quality players on the roster to retool with and a bounce back year from a few key individuals will right this ship once again, so don't you worry none, no!
Thanks for tuning into Forechecking™ this year, it's been both true and real. Some may even say it's been trill. And no matter what anybody says, you are somebody and a genuine all-star. Have a safe and wonderful sharia law-free summer and remember, only shooting Stars break the mold.
PS: Tickets for the epic Smash Mouth concert at the historic "The Fred" in Peachtree City, Georgia are going fast. Be the sharpest tool in the shed and buy yours today!
Flip it. Stick it. See ya later, bye. — LehtMoJoe
Cover photo via the Dallas Stars Facebook page
.