The Service Industry-Favored Watering Hole Is Settling Into Its New Home — And Immediately Serving Some Of The Deep Ellum's Best Chicken Wings.
After announcing in July plans to move into the old home of Independent Bar + Kitchen, the favored Deep Ellum watering hole Will Call Bar has now settled into its new digs — right across the street from its old location.
Last Friday night, owner J.R. Munoz and his operating partner Trevor Natali formally opened the doors of their new  home to the public. After teasing early arrivers to the spot over the weekend to its new food offerings — something their kitchen-less old spot couldn't offer — Will Call will officially begin serving its full menu's worth of fare to guests beginning today.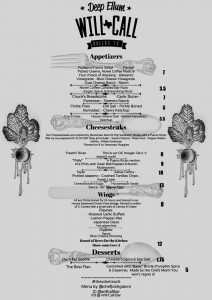 In addition to 20 beer taps (compared to the previous locations cans- and bottles-only offerings), the food represents a big step forward for Will Call. Its menu, designed by chef Joshua Gianni Farrell (The Blue Light, Nameless Chefs), is filled with bar fare that feels elevated without trying too hard.
The runaway highlights are the cheesesteak and chicken wing offerings.
The former comes prepared four ways — a straightforward Philly, two increasingly spicy options (the Freakin' Rican and the Tejas) and a savory cheesesteak-and-eggs selection — all of which are built on a house-shaved beef base and served on light hoagie rolls that complement the flavors without bogging them down.
Meanwhile, Will Call's wings are immediate contenders in the best-in-Deep-Ellum discussion. Served in delightfully crispy batches of five, these wings are brined overnight and dredged in flour and corn starch before being fried, glazed and plated. Crunchy and flavorful, the wings are currently served three ways — a Japanese glaze, a lemon pepper wet and a roast garlic buffalo — with talks of other directions possibly joining the fray in time.
Additional offerings include dill pickle-flavored french fries (served with a curious-but-fun Kool-Aid ketchup), Chuck E. Cheese-inspired breadsticks and a hearty salad boasting pickled greens, glazed and caramelized Novel Coffee-roasted nuts (which will also be served as separate, standalone bar snacks) and blue cheese. On the sweeter end of the spectrum, Will Call also slings a sweet flan, a spicy "basic" brittle, a duck fat chocolate chip cookie and a frozen treat called "spilled milk" that features cereal milk, frozen bananas and cereal bits flash-frozen at negative 30 degrees on an anti-griddle.
For now, plans call for the kitchen to run throughout the entirety of the bar's open hours, which run from 5 p.m. till 2 a.m. on weekdays, and from noon until 2 a.m. on weekends. After football season, Munoz and Farrell hope to expand their weekend menu to include brunch options.
Much of Will Call's future identity will play out in time, says Munoz, who is still tinkering with his new, twice-as-large space. He anticipates sports events to be a big draw — hence the seven TVs strewn throughout the bar, patio and main dining area — and will keep booking Wednesday and Saturday night acoustic performances to the current space as he did at the old one, having erected a small dining room stage just for the purpose. On Fridays and other to-be-determined nights, that stage will also host DJs. In time, Munoz says, he'll build out the back private-events room into a live music venue as IBK did previously with its Regal Room; already, Munoz says he's been having trouble fending off requests from musician friends of his who are eager to play that stage.
In the meantime, Will Call is focusing most of its energy on bringing its old no-frills vibe to its new location, which it already seems to have done impressively by adding many of its old design features to the slightly altered bones IBK provided.
"We really just want to be the same thing we've always been," Munoz says. "A home for the neighborhood's service industry workers."