This Head-Turning Victory Park Bar's New Hangover Cure Comes Through Dripping — Literally. Like, Through An I.V. Pack, To Be Exact.
The Hangover Cure.
One bag = 2 cocktails for $18; two bags = 4 cocktails for $34.
DIBS on Victory.
2401 Victory Park Ln. Suite 190.
Victory Park.
From the folks who brought you $30 gold-dipped "trophy" wings comes a display of public alcohol consumption unlike any other.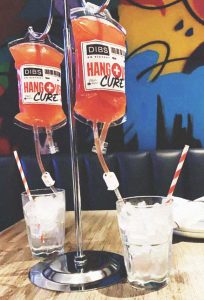 Billed as "just a fun presentation of a fantastic drink" by DIBS managing partner Brandon Hays, the so-called Hangover Cure is part trendy cocktail, part mimosa, part head-turner and part hair of the dog.
The drink, created by bartender Rashaad Davis, combines Tito's vodka, Aperol, strawberry purée, pineapple simple syrup, cranberry juice, orange juice and citrus.
The concoction is served in a bag meant to resemble a hospital I.V. pack that hangs above the table on a metal hook.
From there, guests can release a valve and let the cocktail spill out into an ice-filled glass and sip.
Ah, sweet relief.
Now that DIBS' new brunch launched just over a month ago, it seems like the Hangover Cure could make an ideal pairing to the green eggs and ham biscuit benedict or perhaps an order of pigs in a pretzel.
I mean, if you're gonna go full-on novelty, then go full-on novelty, right?