Plus: Dallas' Surrounding Counties (Sorta) Follow Its Stay-At-Home Lead, Ventilators Are In Short Supply, Drive-Through Testing Restrictions Soften & More.
The news sure moves fast in the time of COVID-19. That in mind, as we've already done before, we're presenting to you here the latest rash of coronavirus-related Dallas news items you should be aware of — in a rapidfire-like, bullet-point style.
Why? Because staying on top of trustworthy information in these confusing times is key.
Now, onto the latest — and starting this run off with a startling visual: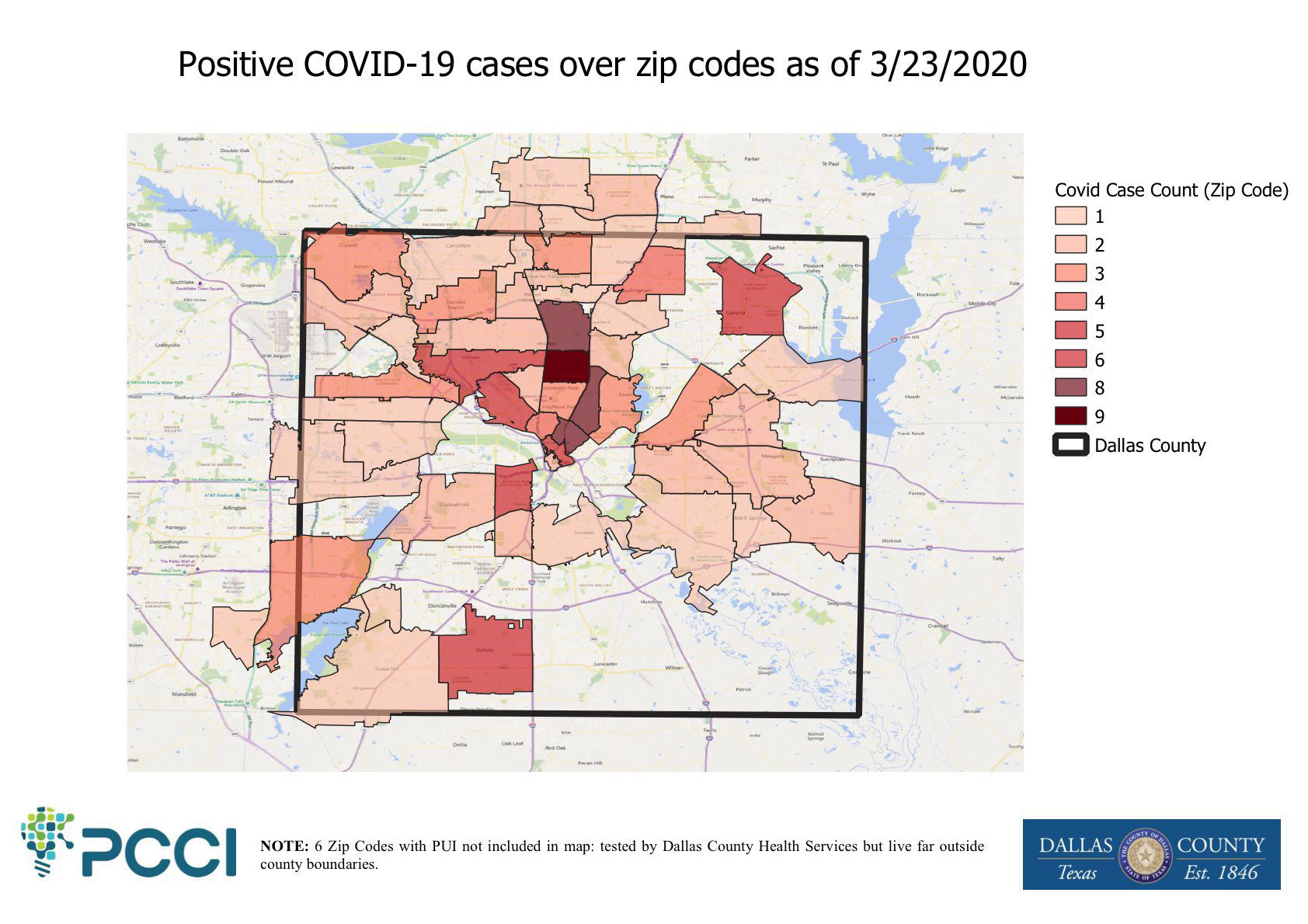 See where Dallas' positive coronavirus cases are. The above visual, which breaks down positive COVID-19 cases in Dallas County by zip code, was tweeted out by (the very crush-worthy) Dallas County Judge Clay Jenkins on Tuesday night. Keep in mind: These numbers are only accurate as of Monday, March 23 — a lifetime ago as this pandemic goes. The instant takeaway here is that there appears to be a correlation between positive tests and wealth, as the higher-volume areas just so happen to line up with the wealthier ones. Also worth considering: It's possible that these wealthier areas may have had more access to testing and medical care to this point, which could explain some of the map's disparities.
Dallas County confirmed an additional 78 positive cases on Wednesday morning, bringing its total to 247. County health officials also confirmed the area's sixth coronavirus-related death with this announcement. This latest round of confirmed cases represents the county's largest batch yet. It also brings the North Texas regional count of confirmed cases past the 300-person mark. To date, eight coronavirus-related deaths across the greater region have been confirmed. Check out an up-to-date, WFAA-produced map of the across-county spread here.
Following Dallas County's lead, most every other major county in the region has now issued an at-least-temporary stay-at-home order, as of Tuesday night. Tarrant, Denton, Rockwall, Kaufman, Hunt and Ellis now have similar measures to Dallas' in place. So, too, does Collin County, although, as WFAA reports, there's some confusion over what exactly that order entails and which businesses are affected by it, given Collin County Judge Chris Hill's assertion in his announcement that "all businesses, all jobs and all workers are essential."
Dallas Mayor Eric Johnson asks county officials across the region to act uniformly in their mandates. Because the City of Dallas technically extends into five counties — Dallas, Collin, Denton, Rockwall and Ellis — there has been some confusion as to which set of rules are to be applied to whom. In a video released on Tuesday, Mayor Johnson announced that all City of Dallas residents will be regulated by Dallas County's orders. He also followed up his earlier-in-the-week pleas that all area political leaders ignore party lines and better communicate and plan their directives moving forward. Additionally, Johnson revealed that all Dallas City Council committee meetings beyond coronavirus-related response activities have been temporarily suspended.
The restrictions on who can and cannot be tested for coronavirus at drive-through testing sites in the City of Dallas have been lessened some, but they still aren't happening in great volume, per federal mandate. The two sites — located at the American Airlines Center (2500 Victory Plaza) and Ellis Davis Field House (9191 S. Polk St.) — were initially opened this past weekend with operating hours from 8 a.m. to 8 p.m., but restricted their services to people aged 65 years or older, first responders, health care workers and Dallas Area Rapid Transit drivers who had temperatures of 99.6 degrees or higher. On Monday, those restrictions were dropped and testing was opened to anyone suffering from shortness of breath, a cough and a temperature of 99.6 or higher. Still, despite earlier reports that thee facilities, could administer upwards of 5,000 tests per week, it appears federal guidelines are preventing them from hitting that mark. In a series of tweets on Tuesday, the City of Dallas announced that it had to close at least one of its testing sites early because it had reached a federal limit of issuing 250 tests per day.
It's not just testing capabilities that are lacking; Dallas County is low on ventilators, too. In a Facebook-uploaded video on Sunday night, Dallas County Commissioner J.J. Koch (District 2), long a vocal opponent of Jenkins', offered a full-throated support of the county judge's shelter-at-home order — and not just because of a soon-to-come lack of hospital beds. Koch also noted the county's dire need for ventilators, which are key to the successful treatment of the respiratory virus. As of Sunday night, Koch noted that Parkland Hospital had just 159 ventilators on hand, and that there were just 652 ventilators across all Dallas County medical facilities in total.
The Dallas Police Department was inundated with at least 853 calls reporting violations of the shelter-in-place order on Tuesday. The Dallas Morning News reports, via the mayor's office, that police issued 150 violation notices — warnings, essentially, prior to formal citations — in the wake of these calls on Tuesday, the first 24-hour period during which the shelter-in-place order was enacted. The main violators, per the DMN report, were restaurants, bars and gyms that were continuing business-as-usual operations.
Dallas cops can pull citizens over for violating shelter-in-place orders. WFAA confirms that area police have been given the full authority to pull over cars they believe to be engaging in non-essential activity. Police say they will either send violators home with a warning or issue a citation, but that they are not looking to further crowd area prisons during these times. Also of note: Police say that crimes committed during the shelter-in-place order will carry stiffer penalties than usual. In a statement issued on Wednesday, DPD clarified that it is focusing on "education" in its enforcement of recent orders.
Five inmates in custody at Dallas County jail have been confirmed positive with the coronavirus. The sheriff's department confirmed the news of the first confirmed cases in a Wednesday morning press conference, while also acknowledging that an additional four other inmates are also symptomatic. The man who first tested positive is in his 40s, was being held on three drug-related charges and was housed in a section of the facility with 51 other inmates, which is currently being disinfected. This first positive case has been moved to another facility for the time being, and the four inmates displaying symptoms have also been quarantined. It is not yet known how the inmate contracted the virus. Update: At his press conference on Wednesday evening, Jenkins announced that four more positive cases had been confirmed among those in Dallas County custody. It is not known if they are the same who were displaying symptoms this morning. Of the four, Jenkins said three are suspects awaiting trial. The Dallas Morning News has more information on how Dallas County is attempting to handle the spread within its jail system right here.
A second Dallas police officer has tested positive for the coronavirus. Shortly after announcing last week that one in its ranks had tested positive for COVID-19, DPD announced on Friday that a second officer had also contracted the virus. This officer worked out of Central Patrol until being sent home after feeling symptomatic on Thursday. The officer has since been isolated and is "currently doing well." A coworker who "met the definition of close contact" has also been quarantined as a precaution. In response to this positive test, the Central Patrol has undergone the same cleaning and sanitizing process that took place at Northwest Patrol after the first positive case. In a statement, DPD said the following "We know that some of our officers will contract the virus. DPD is prepared to address the issue with sound medical advice from our experts as well as a contingency plan to maintain operations to keep the community safe."
A Dallas firefighter has tested positive for COVID-19, leading to 27 quarantines in the department. On Tuesday, the Dallas Firefighters Association issued a statement confirming the one positive case, along with revealing that "four or five" others also were dealing with symptoms and awaiting test results. The confirmed positive case first started feeling ill on Friday, while on duty. It is not known how they came into contact with the disease. In the meantime, the department has quarantines an additional 27 employees who have been in close contact with the positive and possible cases, and engaged in similar deep-cleaning and sanitation efforts much like those employed by DPD in the wake of its cases. After that cleaning, the station where the positive case worked is now back in operation.
An employee at the Central Market grocery at Lovers and Greenville has tested positive. On Sunday, the president of Central Market's parent company at HEB confirmed the positive test in a statement, while adding that the worker has not been to the store since last Wednesday. Per the statement, the employee had "a nonfood-handling job that doesn't require interacting with customers."
An employee with the Texas Department of Public Safety lied about testing positive for the coronavirus. After announcing last week that two employees across the state had tested positive for COVID-19, the state agency issued a statement on Monday announcing the North Texas-based employee had actually lied about their diagnosis. In fact, the employee, who works at the driver's license office in the Dallas suburb of Carrollton, actually did get tested — and their results came back negative. Per a statement from DPS: "We are deeply troubled that any inaccuracies were provided to the public based on the information given to us by one of our employees. The department is taking additional steps to ensure that this does not happen again."
Domestic violence shelters in Dallas are seeing an increase in pleas for help. WFAA reports that area shelters are being inundated with "extremely violent" calls, but that some facilities have already run out of room to help those in need, and are instead looking to hotels and other facilities to assist those in need of help. Judge Jenkins also expressed worry over this growing concern during his Sunday press conference announcing the shelter-in-place order for Dallas County.
The Dallas Police Department has developed a coronavirus-specific mental health hotline in the wake of the pandemic. The North Texas Behavioral Health Authority (NTBHA) support line aims "to provide trauma-informed support and psychological first aid to those experiencing stress and anxiety during this time of crisis," according to a statement, which additionally concedes that "it is normal to feel stress, anxiety, grief, and worry during times of public crisis." The NTBHA's COVID-19 Mental Health Support Line can be reached at, 833-251-7544. The traditional 24/7 NTBHA crisis line also remains open, and can still be reached at 866-260-8000.
Dallas County is openly asking for help with additional medical professional assistance and supplies in the fight against COVID-19. In a tweet on Tuesday night, Jenkins put out a call for retired physicians and nurses to step up and join the county's efforts in combating the pandemic. The county has also set up a website asking for people to help by donating sanitizer, ventilators and personal protective equipment in this time of need.
Texas Attorney General Ken Paxton has ordered that no abortions take place in Texas during state of emergency declaration made in response to the pandemic. Following up on Gov. Greg Abbott's Sunday announcement that all medical procedures deemed "not medically necessary" be halted so resources could be dedicated to fighting the virus, Paxton announced on Monday that this mandate would extend to abortions across the state "unless the mother's life is in danger" — because of course he did. The Texas Tribute has more.
Even in the wake of the shelter-in-place order, people are still crowding public spaces all across the city. Despite stricter mandates, it seems people are still ignoring public officials' pleas to engage in social distancing in popular workout spaces all over Dallas. All week long, readers have been messaging Central Track with reports of big crowds continuing to flock to the Katy Trail and White Rock Lake. This isn't how it's supposed to work, people! Work out elsewhere! It's not hard!
More as we get it.
In the meantime, stay healthy, stay safe, stay the fuck home and stay washing your hands.