Dallas County Approaches 1,000 Confirmed Positive COVID-19 Cases, Testing Sites Won't Share Subjects' Personal Information And Much More Need-To-Know Info.
It's been four days since we last took a wide-ranging look at the most up-to-date Dallas-area coronavirus pandemic-related goins-on.
And while the big news of today is that Dallas County's stay-at-home orders will remain in place through at least April 30, it's time for another round of contextualization through bite-sized, digestible news nugs.
Per tradition, let's kick things off once again with Dallas County Health & Human Services and the Parkland Center for Clinical Innovation's latest map detailing the infection of zip codes across Dallas County.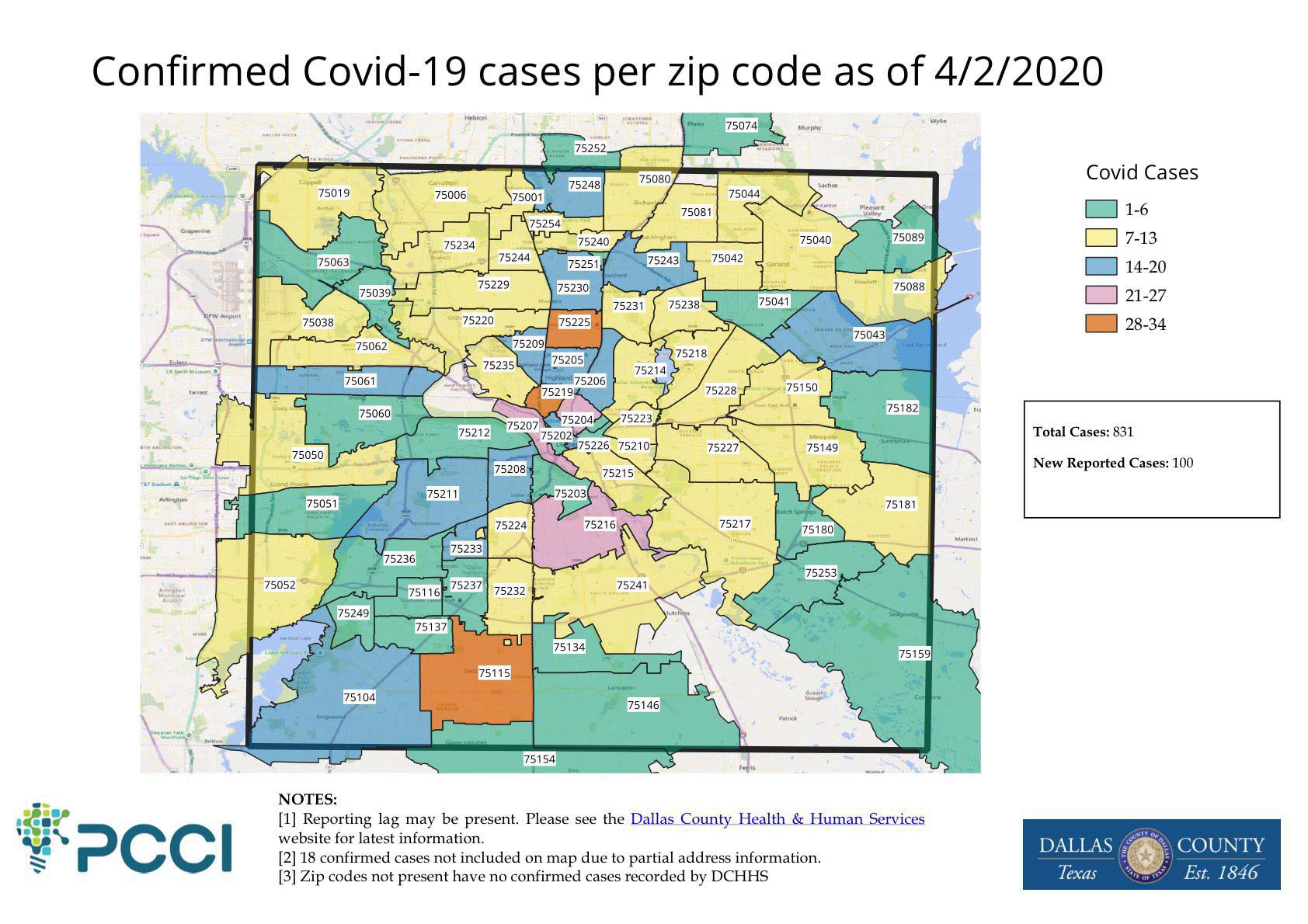 Once again, the latest map showing the scope of Dallas County's confirmed cases — broken down by zip code — provides a stark look at the coronavirus' spread across the region. Dallas County Judge Clay Jenkins tweeted out the latest visual — created by Dallas County Health & Human Services and the Parkland Center for Clinical Innovation, and showing the coronavirus' spread through April 2 — late on Thursday evening. Beyond showing that almost every zip code in the county is now infected, the map also confirms three increased hotspot areas: University Park (75225), Oak Lawn/Highland Park (75219) and DeSoto/Cedar Hill (75115). In a Zoom press conference on Wednesday, Jenkins confirmed that the map represents the residential addresses of each positive case in the county — and not necessarily where they're being treated, if they are. In the same conference, DCHHS Director Dr. Philip Huang says his department uses this map to track day-to-day zip code increases that determine its education approaches in those areas, and also to determine which policies it considers implementing countywide. County Judge Jenkins equated the county's fight against the virus' spread to combating "lily pads in a pond," and notes that the map helps determine where those pads are. For a zoomed out look at the geography, the Dallas Morning News also has a map that looks at the state county-by-county.
Dallas County is approaching 1,000 positive cases of COVID-19. This week, Dallas County reported 100 new cases on Wednesday and Thursday each — followed by an additional 90 cases on Friday morning. Through Thursday, the county reported 17 deaths. It did not report any new deaths on Friday. At the time of this writing, the total infected count in Dallas County is 921. Per a tweet from Dallas Mayor Eric Johnson, more than half of those cases — 533, specifically — are in the City of Dallas itself.
Twice this week, Dallas County's two COVID-19 testing sites each had to shutter because of inclement weather. On Monday, rains forced the two sites — located at the American Airlines Center (2500 Victory Plaza) and Ellis Davis Field House (9191 S. Polk St.) — to close. On Friday, it was high winds, reportedly out of fears that "high winds can spread contamination, ultimately compromising the healthcare professionals conducting testing." Each day, per federal mandate, each site is only allowed to conduct 250 tests. Tristan Hallman, chief of policy and communications for Mayor Johnson, confirms that the unused tests from cancelled test days are not allowed to roll over into the next day's total; rather, the 250 cap is firm every single day, no matter if the previous day did not hit its ceiling figure. While Hallman says private testing is helping burden some of the testing load now, County Judge Jenkins has remained vocal in his press appearances about a need for more sites. Lauren Trimble, Jenkins' chief of staff, is too disappointed in the federal government's assistance in testing: "They were going to originally provide more tests," she says. "I'm not sure how we ended up with only 500/day. County Judge Jenkins has continually asked for more tests for our area. We are not just testing though in Dallas County, but anyone from a surrounding county can come get tested. The need is much greater than what our federal partners have provided."
Jenkins says testing sites will not share any citizens' personal information with other agencies. At his Wednesday press conference, Jenkins made sure to note that immigration status is not of concern to those working the testing sites.
For now, Dallas' hospital capacity is still manageable in the face of the virus' spread. This week, Mayor Johnson began asking Dallas hospitals to share capacity figures with his office regularly. As of Tuesday, hospitals reported 1,542 of 2,868 total beds occupied, 204 of 361 ICU beds occupied and 139 of 342 ventilators in use. In his Wednesday press conference, County Judge Jenkins summed up the capacity as "pretty good." Still, the Texas National Guard has been installing beds for additional pop-up hospital capacity at the Kay Bailey Hutchison Convention Center in Downtown Dallas should the need arise. Additionally, a shuttered Garland hospital is being re-opened as a temporary VA hospital. Meanwhile, an employee at SMU's health center has tested positive for Covid-19, although an email from the university stresses that "a limited number of students have physically visited the Health Center" in recent weeks because the campus has been closed. Also worth noting: Even with hospitals humming these days, the healthcare system is not immune to the economic effects of the pandemic, as nonpatient care workers are starting to get laid off.
According to one projection, Texas will hit its peak resource usage during the pandemic on May 6 — but some help is on the way. County Judge Jenkins says his office has been in touch with billionaire entrepreneur Elon Musk, who is donating free personal protective equipment to area hospitals. The county has also created an online portal for additional PPE and ventilator donations and/or transactions, and has created a COVID-19 response fund where it is accepting donations to buy addition supplies.
Gun sales are up (and still legal), crime rates and prosecutions are both down and jails are being depopulated of low-risk offenders. With 17 inmates in Dallas County jail testing positive for COVID-19 as of Tuesday, County Judge Jenkins says his office is actively "looking to depopulate the jail" and, while bound by certain laws, they have "moved aggressively to depopulate the jail of low-risk offenders." Meanwhile, the Wall Street Journal reports that Dallas saw 45 percent fewer arrests this March than it did in March 2019, and that police "will no longer show up in person to take reports for car break-ins, graffiti and other minor offenses," instead asking that residents file those reports themselves online.
City infrastructure is getting slammed, as cops, firefighters and DART employees have all tested positive, as inevitably expected. At least six Dallas Police officers have tested positive, and 31 more have been quarantined. At least six Dallas firefighters have tested positive, with 32 more in quarantine. A DART cop and a DART bus driver who had been in contact with the public have tested positive, as services remains open — albeit with adjusted schedules.
The economy is crumbling, with mass layoffs at Neiman Marcus, a hiring freeze in Dallas by Uber and other business dragging to a halt. Iconic Dallas retailer Neiman Marcus announced that it had furloughed most of its 14,000 employees. Uber has paused through 2021 all hiring and most of the construction for its planned Deep Ellum office space, which had previously been set to hold 3,000 employees  by 2023. The latest big service industry domino to fall is Punch Bowl Social, which has been forced to close its Deep Ellum spot and all locations nationwide after Cracker Barrel pulled its investment over COVID-19 concerns. Even the company behind the planned Dallas-to-Houston bullet train has been hit, laying off 28 employees.
The Asian-American community in North Texas is reporting a spike in prejudice. A report from Austin's KUT has more.
After threats of closure, the Katy Trail and White Rock Lake are still open for now — even as Dallas park officials have shut down basketball courts, tennis courts, playgrounds and dog parks. At the same time, the city is considering turning a pair of Dallas streets into park space temporarily in order to provide more outdoor space for citizens to use while still practicing social distancing.
In the weirdest and most frustrating sideshow of this whole pandemic, abortions are once again temporarily banned across Texas. After watching courts overturn his initial announcement that abortions in the state were temporarily banned in the wake of Texas Gov. Abbott announcing that all elective and non-emergency medical practices in the state are halted, Texas Attorney General Ken Paxton has won his latest appeal arguing that abortions aren't to be allowed during current parameters.
Short-term rental properties in Downtown Dallas are being rented out for parties even during the shelter-in-place order. It's a problem, as these get-togethers aren't just selfish; they go against county orders.
The man who wrote "Grandma Got Run Over By A Reindeer" has written a parody of his original smash hit called "Grandma Got Run Over By Corona." And he lives in Dallas' Lakewood neighborhood, apparently!
Texas Rangers outfielder Shin Soo Choo has offered to pay all 190 players in the team's minor league system $1,000 apiece within the next few weeks. He's helping his franchise-mates who don't yet have big-league contracts tide the financial windfall of the pandemic. He sounds like a great dude.
We have reached whichever stage of grief this pandemic's toilet paper shortage is in where Dallas bakers are now mocking toilet paper by producing novelty toilet paper cakes.  They look just like the real thing. They do not, however, work the same way. That much feels like it's important to point out.
More in a couple days.
In the meantime: Stay healthy, stay safe, stay the fuck home and stay washing your hands.