Fan Expo Dallas Just Added The Casts Of The Karate Kid, The Goonies & The Lost Boys — Oh, And Rainn Wilson — To Its Stacked 2019 Celebrity Guest Lineup.
Confession: I'm an embarrassingly massive fan of The Karate Kid.
I once wrote a 4,300-word article centered around the 30th anniversary of the All-Valley karate tournament that takes place at the film's climax — but I wrote it in the vein of a Sports Illustrated-style retrospective narrative feature that pretended as if the events depicted in the film actually happened in real life.
Like I said, I'm a huge nerd for it.
So imagine my excitement upon hearing that the four remaining living actors (RIP, Noriyuki "Pat" Morita) captured in the following, insanely iconic film still were announced this week as the most recent additions to the already pretty goddamn stacked 2019 Dallas Fan Expo celebrity guest lineup: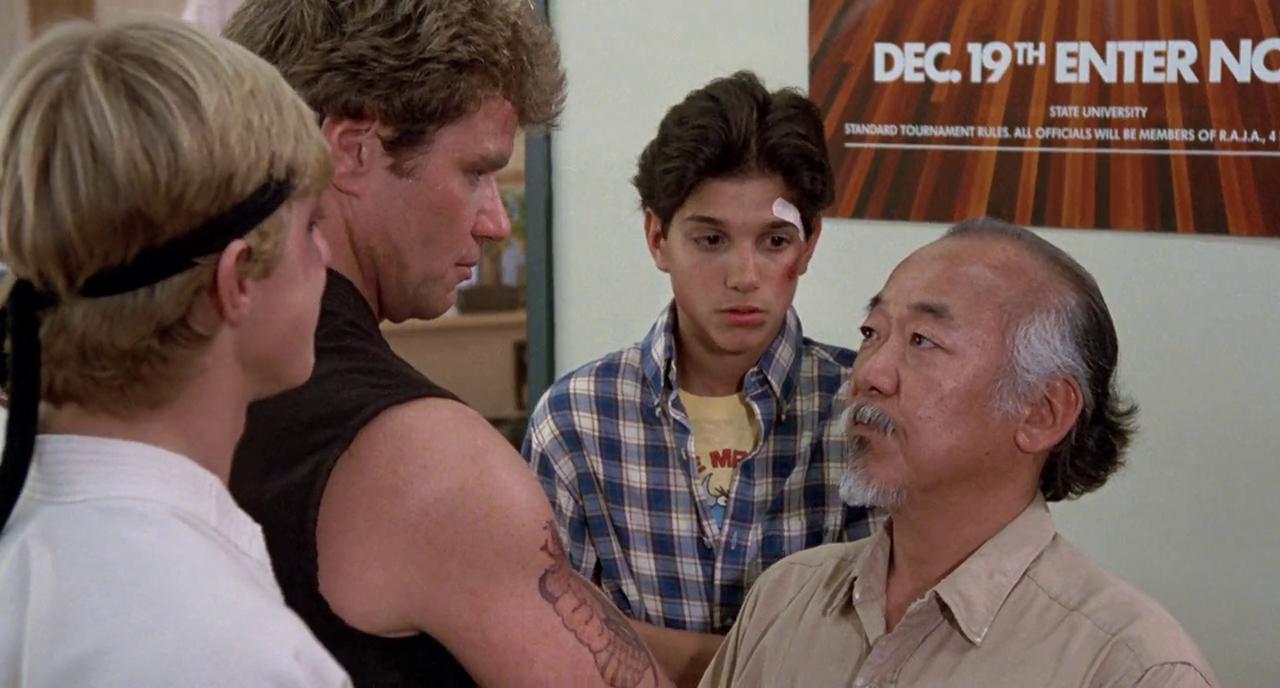 Honestly, thrilled doesn't even begin to describe it. Touched might be the better word?
Regardless: If you're reading this and you work for the Dallas Fan Expo, please know you've got your Karate Kid panel moderator right here! (Seriously, please get at me.)
But I digress!
See, here's what's really crazy about this addition to Fan Expo Dallas '19: It's just the latest in an embarrassment of rich announcements the conventions been making of late.  Even if you're not a Karate Kid stan like me, this event — the closest thing that Dallas has to its own version the San Diego Comic-Con, even amidst stiff competition — has announced an abundance of noteworthy additions in the last 10 days alone.
For instance? Well, it snagged Rainn Wilson (The Office's Dwight Schrute) for an appearance. Next, it announced booking a Goonies reunion with Sean Astin, Ke Huy Quan and Corey Feldman. Then, it put two-and-two together and booked Jason Patric so he and Feldman could link up with the previously announced Kiefer Sutherland for a Lost Boys reunion. Finally, just yesterday, it made yesterday's Karate Kid reveal at once, confirming Ralph Macchio (Daniel LaRusso), William Zabka (Johnny Lawrence) and Martin Kove (John Kreese).
All that on top of impressive earlier-announced bookings of the casts of Back To The Future, Boy Meets World, Smallville and It, among many others? Not bad for an event that's still some two months off, going down at the Kay Bailey Hutchison Convention Center in Downtown Dallas on May 3, 4 and 5.
Of course, that could mean some cancellations (see: Momoa, Jason), but it could also mean more additions, too.
For now, it certainly seems as if Fan Expo Dallas, which had its best year to date in 2018 (and, till now, best guests), is only continuing to step up its game in 2019. So far, it really does look like the event's most impressive guest lineup yet.
Just please know what you're getting into by attending these things and be aware that these events come with a steep combined price tag. After purchasing single-day passes that run from $25 to $50, there are additional charges to attend panels, to take photos with the celebs or to have them sign autographs. Of course, if cost is no concern for you, there are VIP packages too, with one particularly lavish Back To The Future deluxe package running a cool $1,099.
Peruse the litany of purchase offerings here.
Noteworthy Confirmed Fan Expo Dallas '19 Celebrity Guests (To Date):
The cast of Back to the Future (Michael J. Fox, Christopher Lloyd, Lea Thompson, Tom Wilson and James Tolkan)
The cast of The Karate Kid (Ralph Macchio, William Zabka and Martin Kove)
The cast of Boy Meets World (Danielle Fishel, Will Friedle, Ben Savage and Ryder Strong)
The Office's Rainn Wilson
The cast of The Goonies (Sean Astin, Ke Huy Quan and Corey Feldman)
The cast of The Lost Boys (Jason Patric, Corey Feldman and Kiefer Sutherland)
The cast of Smallville (Kristin Kreuk, Michael Rosenbaum and Tom Welling)
Sons of Anarchy's Charlie Hunnam
Mia Farrow
Pamela Anderson
Luke Cage himself, Mike Colter
All of the IT reboot kids (including Finn Wolfhard, Jack Dylan Grazer, Wyatt Oleff, Chosen Jacobs, Jaeden Lieberher, Sophia Lillis, Jackson Robert Scott and Jeremy Ray Taylor).