Premiere Video Survived Blockbuster. Now, It's Enduring Netflix. How Is This Possible?
Over the course of its more than 30 years in business, Premiere Video has seen a number of trends come and go in the movie rental business — including, yes, more than a few slow periods.
"It started with The Sopranos," the Mockingbird Lane shop's owner Sam Wade says now, recalling the earliest days of television shows siphoning his crowds. "That show would cause a customer blackout in our store. I could always tell when it was on because everything would slow down."
Back when the trials and tribulations of Tony Soprano were in their first on-air run, Premiere's customers would be wholly riveted for the hour it aired — only to start trickling into Wade's place again after the show was over. When they'd ask Wade what he thought of the episode, he had to politely remind them that somebody had to mind the store while it was on.
Stiff competition is par for course in this space, but Premiere has always managed to stand out. The store opened in 1984, predating the arrival of Blockbuster Video by roughly a year — but since Blockbuster started in Dallas, it was one of the first stores to face off against the now-fallen giant. Premiere wasn't the first video rental service in DFW (Videoworks opened in Dallas in 1981), nor is it the last one remaining (Movie Trading Company isn't driven by their retail operation but they still allow for customer rentals, and you can still find Family Video stores in the suburbs), but even during the time when chains like Blockbuster were still en vogue, Premiere has endured.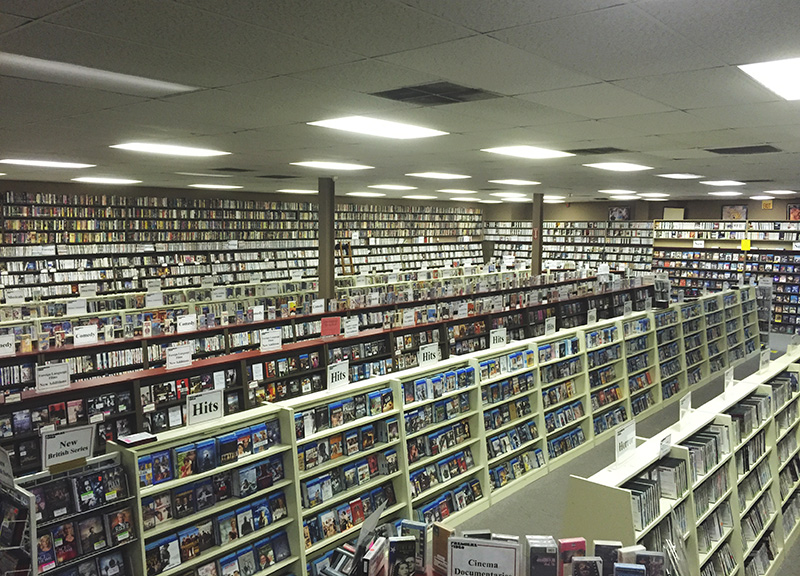 One big reason is because their selection is vast — there are around 35,000 titles available to rent in the store, with films and shows available on VHS, DVD and Blu-ray. Imported titles are also available, as are some foreign playing systems that you can rent in order to watch them. By comparison, Netflix offers less than 6,000 titles to stream at a time. And not only do you have 35,000 titles to sort through, but you have 35,000 quality titles unsullied by the flotsam of the film world. Remember back in the day when tapes like The Asylum's close-to-copyright-infringement Transmorphers and other franchise property knockoffs would consistently worm their way onto Blockbuster's shelves right around the time their "inspiration" was released in theaters? You won't find such tripe at Premiere.
No, Premiere has thrived on a different kind of catering.
"New customers will walk in, and if they've heard about us, they've probably heard about our foreign section," Wade says. "So when they ask about it, I'll point them to this [three-sided rack of recent acquisitions] at the front. When they look at me like, 'Is that it?' I tell them to start at the wall at the side of the store — now they have about 100 feet of foreign titles to look at."
If you haven't been to Premiere Video, it's important to understand that the shelf space he refers to is floor-to-ceiling, and packed tight to maximize the available space.
The foreign section is indeed a standout. If it's not a 100-foot walk to go from its start to its finish, it's damn close. It's segmented by country, with dedicated space for important directors from that nation. The kids' section is so replete with titles that it feels like the ultimate archive of video nostalgia. If there's any weird or random film that's happened to stick with you from your childhood, it's almost certainly there. Whatever genre you lean towards, you're probably covered. Film Noir, Alfred Hitchcock, and silent films all have their own dedicated areas, just to name a few of the store's divisions.
"I listen to the customers," Wade says of how this collection took shape.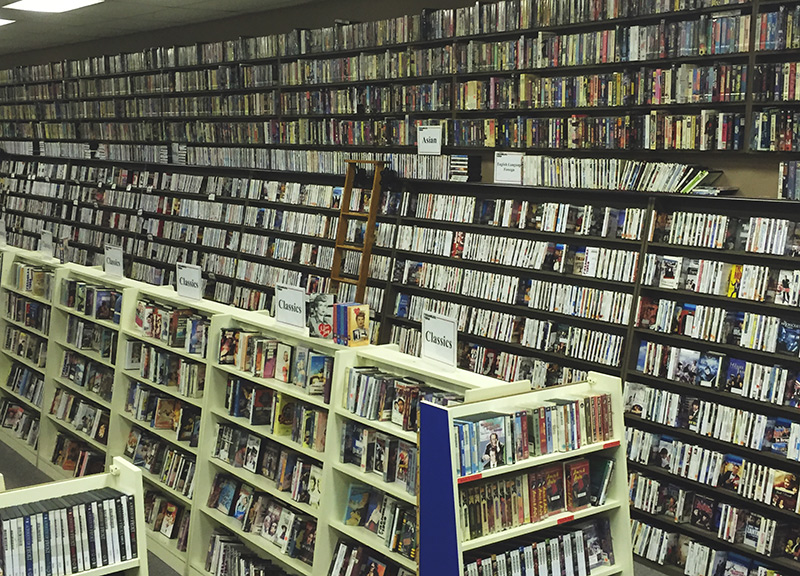 He still works the evening shift at the store, has an easy rapport with his clientele and has clear affection for his regular visitors. He's also got a knack for steering you towards titles you might have never discovered but will neatly fit your interests. That's important: Computer programs may have started to outperform us in board games and Jeopardy!, but they still can't replicate the recommendations of a true film lover. Not for Wade's customers, at least. Their tastes tend to be discriminating enough that they need that extra effort to find something worth their time. In turn, Premiere Video's impressive collection of titles is largely based on the interests of local residents. Over time, Premiere's become an ever-expanding repository of the cultivated viewing interests of Dallasites.
Streaming services like Netflix can't really satisfy those needs. Such platforms might make it easier to find something you want to see — but it's a pretty flat experience. You can start to feel like a bored emperor, clapping your hands and lazily ordering entertainment be brought before you, only to ultimately become too disengaged to really appreciate what you pick. Restoring the tactile element of selection can make the home viewing experiencing more engrossing. You have time for the anticipation of viewing to build.
On a recent night at Premiere, I overheard three young customers caught up in a spirited discussion about movies — what they've liked, what they've hated, what they tend to enjoy. Later, Wade will tell me their conversation went on for more than an hour.
"That's what it was like in the beginning," Wade says, referring to the group's outspoken and infectious interest in movies. "It can still get like that on Friday and Saturday nights. That's what makes doing this fun."