ATL Comes JMBLA 2017: Migos and Gucci Mane Join Earlier Announced Performers Chance The Rapper, Steve Aoki, Lil Uzi Vert and More For May 5 Festival at Fair Park.
When the Scoremore team announced its initial JMBLYA 2017 lineup — one featuring Steve Aoki, Lil Uzi Vert, 6lack, Young Dolph, Snow Tha Product, YFN Lucci and Pell — in early January, it showed some promise, sure. But, apologies to World Famous Hipster DJ Aoki, this year's May 5-scheduled affair clearly lacked the star power of last year's offering, which saw the likes of Future, Rae Sremmurd, Carnage and Post Malone descending upon its Fair Park digs.
Of course, things got a boost in late January, as Chance The Rapper was added to this year's festivities. And, now, the festival is taking things completely over the top this morning by announcing that it has added Atlanta rap gods Migos and Gucci Mane as its final lineup confirmations for its Fair Park return.
Yes, that's right: Migos and Gucci.
Since we (brag alert!) first brought Migos to town in 2014 for their buzzing Dallas debut at South Side Music Hall, the rap trio's fame has only exponentially increased, thanks at least in part to the meme-backed rise of its unavoidable "Bad and Boujee" single, which features their fellow JMBLYA performer, the pint-sized Lil Uzi Vert.
Migos' appearance at JMBLYA in Dallas will also reunite the group with another collaborator in Young Dolph, with whom the group joined forces for "Dirk Nowitzki," one of two Dallas sports-related tracks in the group;s repertoire.
Not even some decidedly questionable quotes and antics in a recent Rolling Stone profile seems likely to slow their wave at this point.
That they'll be joined by their Atlanta rap forebearer in Gucci Mane is also fitting, as the Snowman's own collaborations with Migos and early cosigns of the group helped put them on the map in the first place, as he himself is an modern-day rap icon of epic proportions, with his legend only having grown since his May release from prison.
In any case, their additions, along with that of Chance, who's still officially listed as the festival's main headliner in its own artwork, is setting JMBLYA 2017 to be the most hyped-up version of the event yet.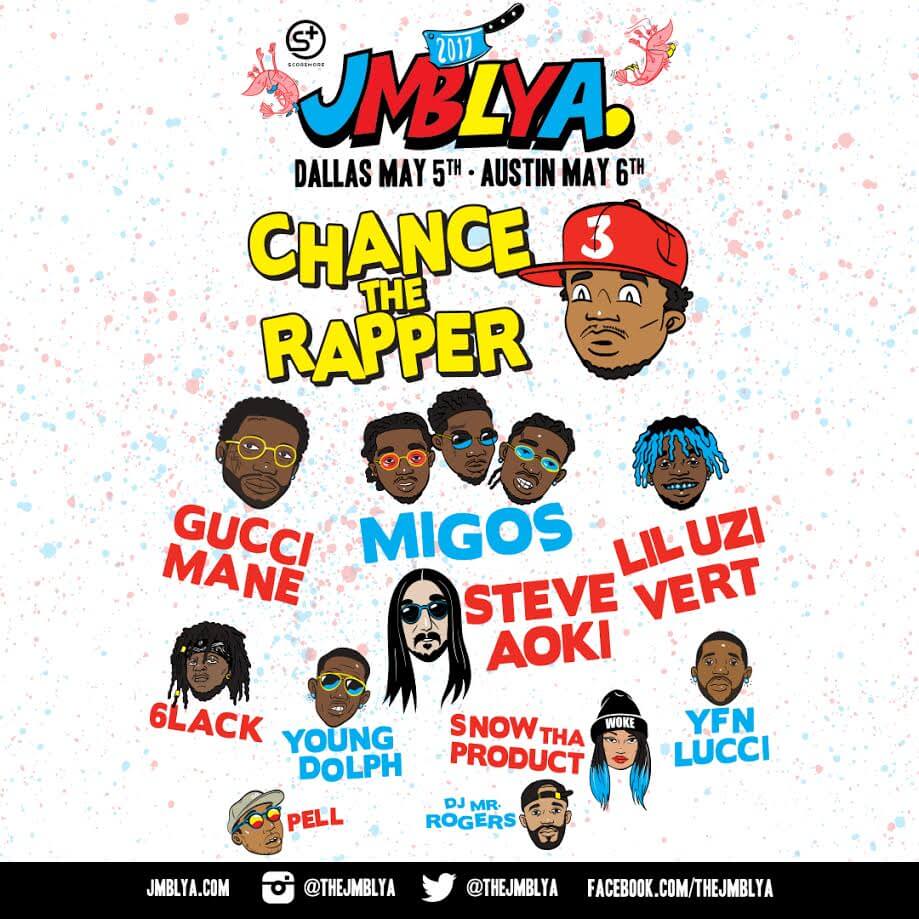 In a statement included along with the announcement of the most recent lineup additions, Scoremore and JMBLYA founder Sascha Stone Guttfreund reflects on that growth: "It's surreal to think that this festival started inside of venues [Southside Ballroom in Dallas and Austin Music Hall in Austin] and now requires sites with room to grow."
To that end, it's rather shocking that ticket prices haven't grown exponentially yet, either. For now, they're still listed at just $60 right here, with VIP packages starting at $99.
You might wanna get on that ASAP.
Migos cover photo by Mikel Galicia.