Cotton Candy Tacos, Funnel Cake Ice Cream And Deep-Fried Shepherd's Pie Are Among The Foods That Best Represent Who We Are As Texans In 2018.
For at least two dozen reasons — just one of which is that it does dumbass shit like this and glorifies the grossest, unhealthiest foodstuffs imaginable every goddamn year — it needs to again be said: The State Fair of Texas absolutely suuuucks.
It sucks so, so bad. It really does, you guys!
I mean, just look at the below list of foods that have been named as finalists — culled from 31 semi-finalists! — for the annual celebration of bad eating habits that is the Big Tex Awards.
Do any of these calorie bombs look especially appetizing to you in their State Fair of Texas-provided photos? No, they barely look like food!
Do any of them read as must-have tongue-ticklers from their State Fair of Texas marketing department-written descriptions? No, they all sound over-the-top and gross!
Are any of them really worth the literal dozens of tickets they'll no doubt cost? Of course not!
Still, before the 2018 State Fair of Texas even kicks off on September 28, one of them will be honored as the year's best-tasting sweet offering, a second one will be held up as the best-tasting 2018 savory option and a third selection will be named the "most creative" dish served throughout the annual fair's latest 24-day run.
Just zoom out a little bit and consider all of this objectively. Everything about it is insane. How did we even get here?
That question in mind, please join us as we gawk at and hate-read the below state-sponsored, city-funded propaganda about these monstrosities that are somehow supposed make us proud of Texas.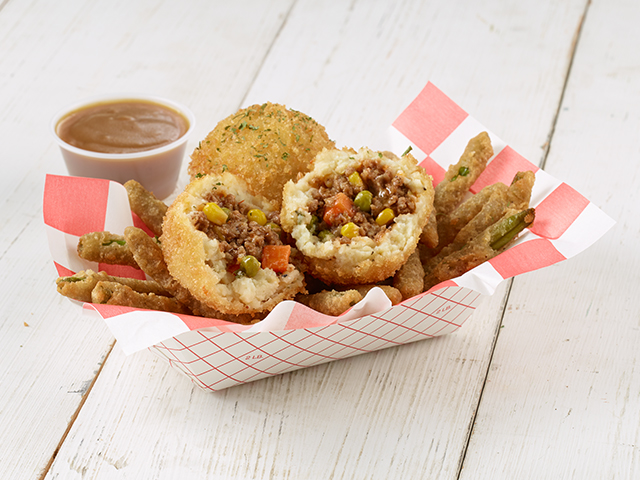 DEEP FRIED SHEPHERD'S PIE: "Shredded cheddar cheese and cream is mixed into savory mashed potato pillows. Each potato ball is filled with Grandma's shepherd's pie filling made of ground beef, mixed vegetables, and rich beef gravy. Our special seasoning creates an explosion of flavors and textures as the filling and creamy potatoes mix with each bite."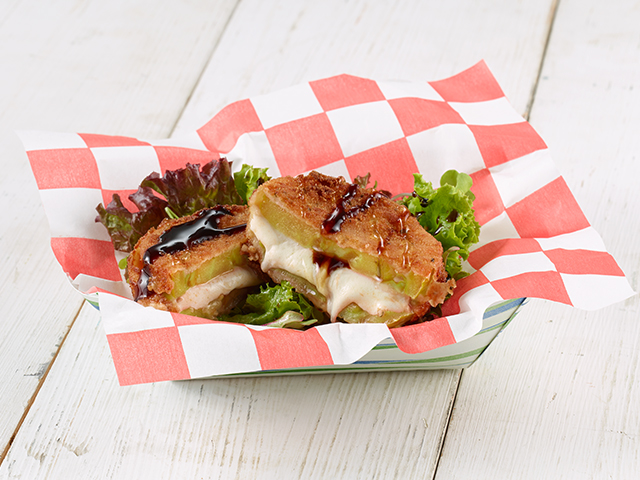 TEXAS FRIED HILL COUNTRY: "Fried mozzarella is complimented with locally-grown basil, sandwiched between two slices of juicy green tomatoes, and hand-breaded with seasoned breadcrumbs and flash fried to gooey perfection. Each dish is served on a bed of field greens, finished with balsamic drizzle and sweet local Texas honey."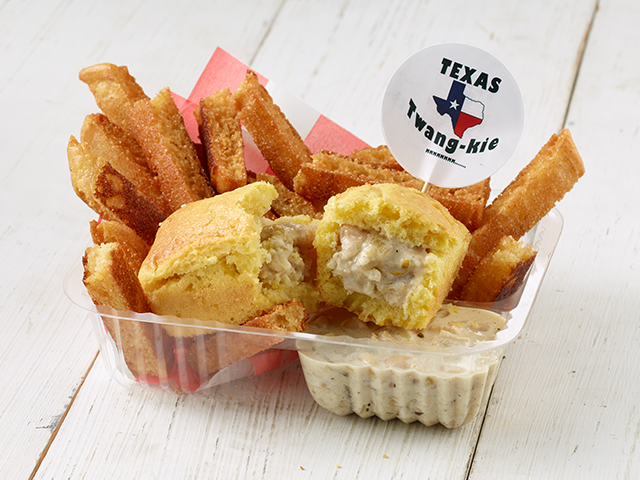 TEXAS TWANG-KIE: "Cornbread cake is baked to moist perfection, hollowed out, and filled with a culinary masterpiece of Tex-Mex grilled chicken white bean chili! Each twang-kie is served with cornbread fries and more chili for dipping. A savory twist on an American classic!"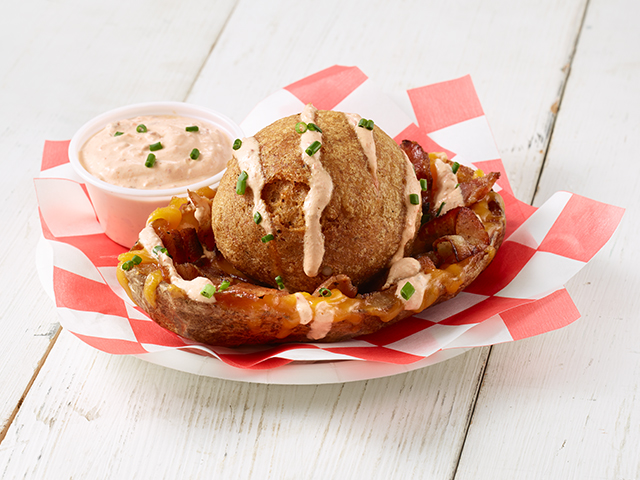 DEEP FRIED SKILLET POTATO MELT IN A BOAT: "Buttery skillet potatoes are griddled golden brown, combined with diced breakfast sausage patties and packed around a mini Babybel® cheese loaf. Seasoned in flour and dipped in the fryer, the skillet potato melts are then served up in the potato skins they came from and topped with melted cheddar and crispy bacon bites. A sour cream chipotle sauce is drizzled across the top and served on the side for dipping!"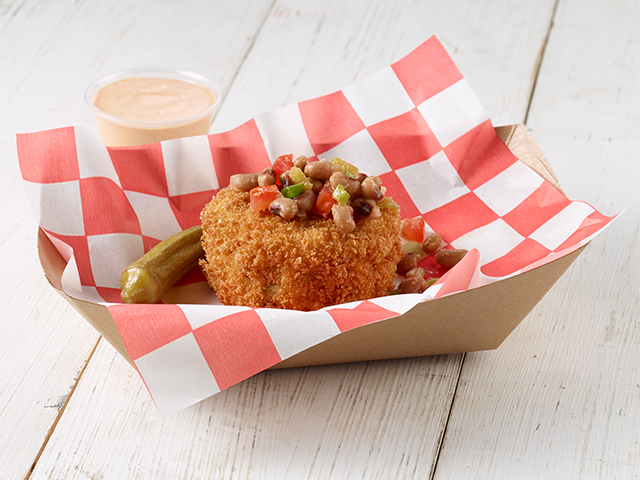 FERNIE'S HOPPIN' JOHN CAKE WITH JACKPOT SAUCE: "Creamy black-eyed peas, fluffy white rice, spicy smoked sausage, aromatic green onions, and a secret blend of spices are combined with breadcrumbs and eggbeaters to form a generous Texas-sized cake. This savory cake is breaded, deep fried, and topped with a zingy black-eyed pea relish, garnished with pickled okra, and served with a side of Jackpot Sauce."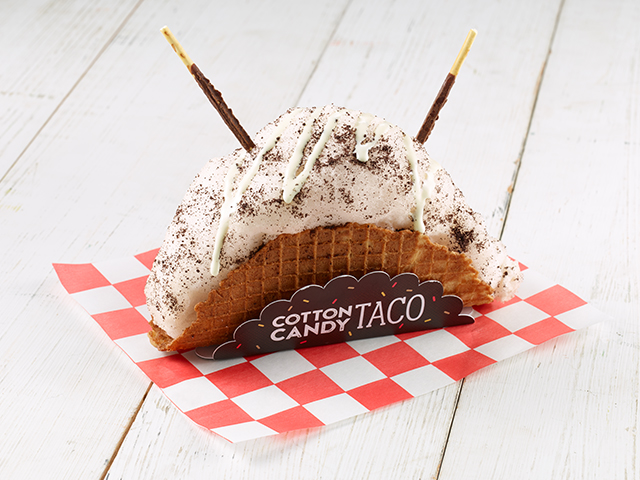 COTTON CANDY TACO: "A graham cracker waffle cone is freshly-pressed into a crunchy taco shell shape and coated with a marshmallow glaze, then stuffed with chocolate, toasted marshmallow, and organic cane sugar cotton candy. It's then topped off with chocolate cookie crumbles and two chocolate cream-covered biscuit sticks with marshmallows."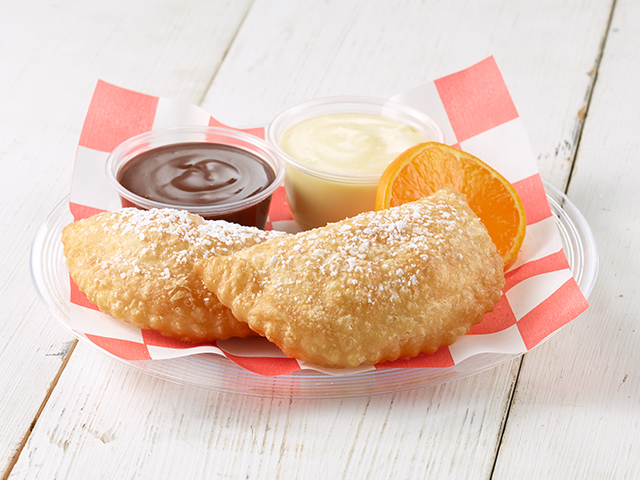 FERNIE'S ORANGE YOU GLAD WE FRIED IT?!: "Layers of chiffon orange cake, whipped cream, and citrusy orange preserves are lightly blended to form a custard filling. The mixture is spooned into flaky puff pastry dough, folded turnover style, and sealed before being fried into little crescent-shaped pillows, dusted with powdered sugar. Served with two dipping sauces and garnished with a double citrus twist slice."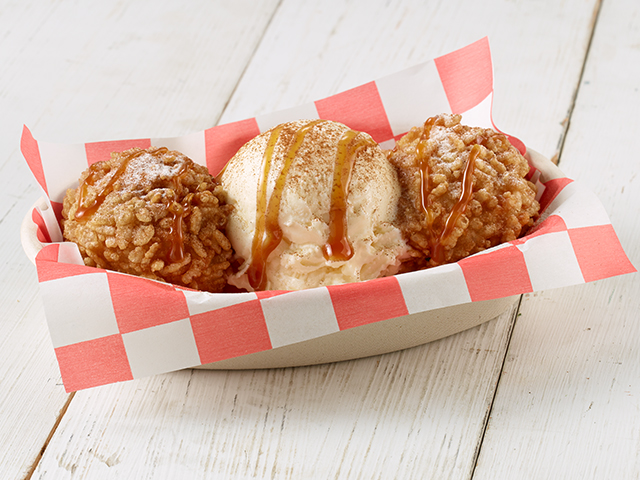 ARROZ CON LECHE (SWEET CRISPY RICE): "A cinnamon-spiced rice ball is formed, battered, and coated in crispy puffed rice cereal. The ball is then deep fried to golden perfection. Each rice ball is sprinkled with powdered vanilla and complimented with a Texas-sized scoop of vanilla ice cream. To serve, a drizzle of caramel sauce and powdered cinnamon crowns each tasty treat."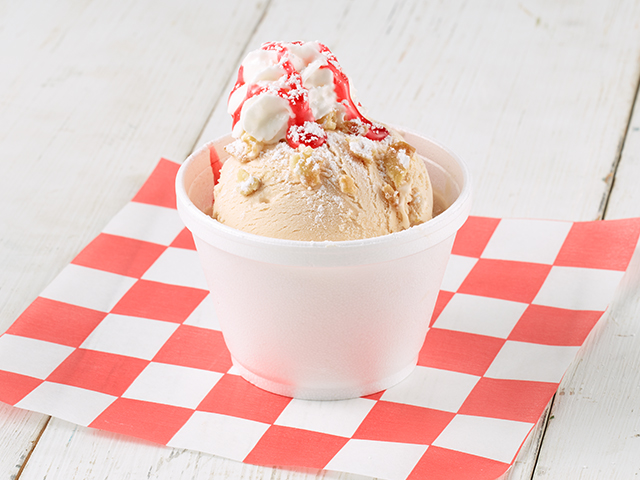 STATE FAIR FUN-L CAKE ICE CREAM: "Capturing the essence and flavor of the State Fair, this creamy smooth, premium ice cream has funnel cake flavor infused into it with funnel cake pieces and powdered sugar mixed throughout the dish. It is available with powdered sugar, whipped cream, and strawberry sauce."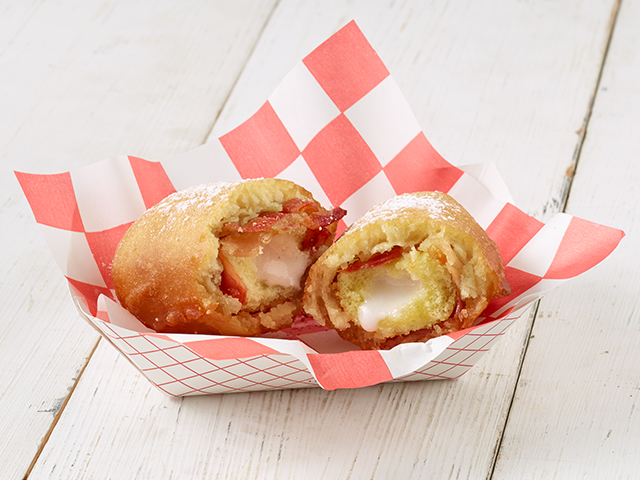 SWEET BAKIN' BACON: "A cream-filled sponge cake is wrapped in savory bacon and then dipped in a funnel cake batter. This treat is then deep fried until golden brown and dusted with powdered sugar to finish."
All photos and 2018 Big Tex finalist descriptions come directly from the State Fair of Texas.