With Captain Jamie Benn Playing With Some Edge Once Again, Your Dallas Stars Are Playing With A Little Extra Attitude, Too. And We Really Dig It!
Your Dallas Stars are playing like Street Sharks: They bite, they fight and they chew up the competition with all their might!
Hot off the heels of a four-game road swing that saw the Stars collect five out of eight possible points, Jim Montgomery and his merry band of half-NHL, half-AHL defensemen are now about to get some much-needed practice time due to a light workload week. Finally!
With help on the blue line is still weeks away, Dallas can look forward to the impending return of Martin Hanzal, who's slated to possibly start as soon as Friday, at the earliest.
As the Stars try to extend their winning streak, let's take a little peek at how Vin Diesel's puppets — err, we mean Jim Montgomery's players — performed this week on Forechecking™.
Last Week in Your Dallas Stars.
• Victory Green™ @ Vancouver Canucks, 2-1.
The pride of British Columbia returned as Victoria Green™ native as Jamie Benn looked to capitalize on a Canucks squad mired in a 1-8-1 stretch. Former Dallas Stars player and fan favorite Antonie Roussel helped open the scoring with a prayer of a backhand pass to centerman Bo Hovart, who managed to tip the puck past Stars goalie Ben Bishop after it managed its way through two Dallas defenders. That goal was sprung on transition from an incredible pad save on the other end by Canuck backup netminder Anders Nilsson, who sports a puffy 2.77 GAA on the season, although you wouldn't have known it by his performance against Your Defense-First Stars. Highlight reel saves abounded from the 6'6" Swedish netminder until Jamie Benn finally got Dallas on the board with slam dunk off a puck scramble. Benn's goal energized the Stars to complete the rally with an aggressive flurry to close out the third period, where an uncovered Alexander Radulov flicked a backhand over the flailing body of Nilsson for the game-winner. A great win to close out the road trip.
Radulov with the backhand to take the lead! 😱😱😱 #GoStars pic.twitter.com/W8D3uOPVU7

— Dallas Stars (@DallasStars) December 1, 2018
• Victory Green™ vs Edmonton Oilers, 4-1.
Ken Hitchcock has been successful thus far as coach of the Oilers, picking up points consistently and slogging up the weak Pacific Division standings. But could the Stars' former bench boss make Dallas pay for "retiring" him after last season? Nope. Not without Connor McDavid. The phenom was out of the lineup for the Oil with some tum-tum issues, so Monty decided to reinsert Brett Ritchie into the mix for the first time in five games. Ritchie did not disappoint his coach, picking up a goal and an assist and helping lead the charge in a very physical contest. The line of Mattias Janmark, Ritchie and Jason Dickinson had its best effort of the season here as Janmark gained two primary assists of his own, both of which seemed unintentional, although with the disappointing season he's had thus far, any kind of offense is greatly welcomed. The game eventually fell apart when the Stars sealed the game thanks to a power play tally from Benn and the Oilers began to run and cheap-shot their way to an eventual 1-4 loss. OH, TOO BAD! heh. but…
🚨Dickinson🚨 with the first tally for the Stars. #GoStars pic.twitter.com/mQMFpJy71E

— Dallas Stars (@DallasStars) December 4, 2018
NHL Hitz PRO Player Of The Week.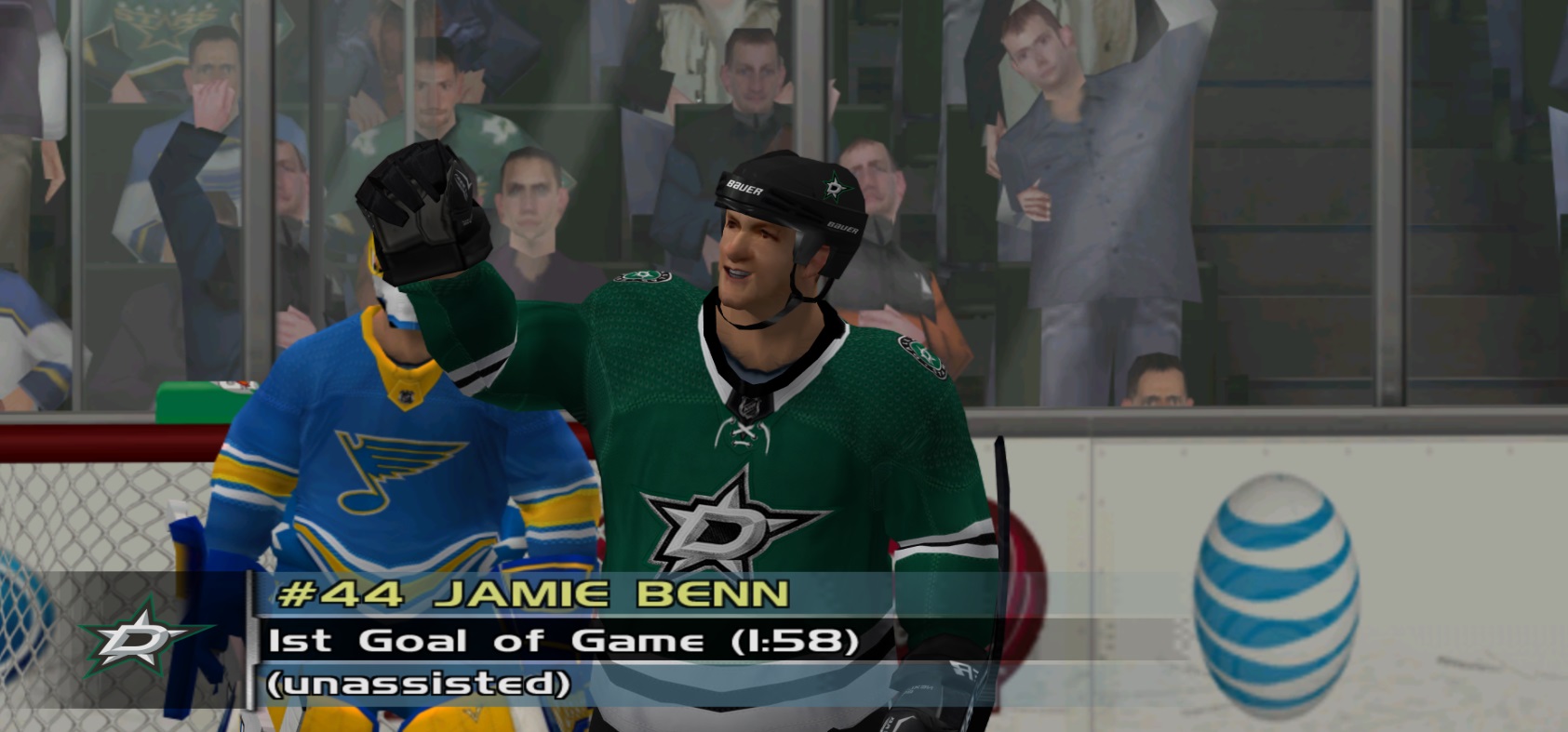 It's been a hot minute since The Captain has been awarded our Player Of The Week honors, but he's risen to the occasion of later when his team needed him most. Yup, dude has six points over his last five games — including two power play goals that have given some life to a special teams unit that has been in a funk since John Klingberg got hurt. On the season, the left-winger posses a 12-goal, 12-assist stat line that's good for second in points on the team behind his linemate Tyler Seguin. Per usual, physical contests continue to bring out the best in Benn — as was best demonstrated against Edmonton. In that one, noted troglodyte Zack Kassian attempted a knee-on-knee collision with Benn, which riled up The Captain some. But he smartly maintained his composure after the contact and, seconds into the ensuing power play, he deftly tipped the puck into the net in retaliation, thus putting the game firmly out of the Oilers' reach. Now, that's the kind of leadership we like here at Forechecking™!
Ever wonder how @RADUL22 gets ready inside the locker room? It's exactly how you would imagine it. #GoStars pic.twitter.com/rHEMnaPWWG

— Dallas Stars (@DallasStars) December 4, 2018
This Week In Your Dallas Stars.
• Friday, 12/7, at 7 p.m. versus San Jose Sharks (HOME): It's Your Street Sharks versus The San Jose Sharks for the battle to the rights to the name of the predatory sea creature. The offseason critics picked the Actual Sharks to be a top three team in the West, but their squad ain't doing so hot lately as it continues to drift lower down the Pacific Division — well below the Ducks and the Flames! Still, there's plenty of talent and time for left Erik Karlsson to turn things around. Just not today, we hope.
• Sunday, 12/9, at 8 p.m. versus Las Vegas Golden Knights (AWAY): Last season's Western Conference Champions have come back to earth a bit. Likely to be a wildcard playoff bubble team by season's end, Cody Eakin's Golden Knights look to replicate their franchise's opening game success against Dallas. Let's just hope that Jamie Benn and Ya Boi's don't come down with a case of the Vegas Flu.
Flip it. Stick it. See ya later, bye. — LehtMoJoe