Thanks To Some Stellar Play From Their On-Fire Backup Netminder Anton Khudobin, Your Dallas Stars Are Actually Doing OK, All Things Considered.
Your Dallas Stars are doing well, all things considered!
They're currently limping from game to game with a constantly revolving lineup thanks to a list of injured that would even drive Hawkeye Pierce a little batty.
The biggest of loss of the bunch is your boi John Klingberg, who has undergone hand surgery and expects to be on the mend with the 4077th for another three weeks, at least.
But, bad as Klinger wants to come home and desperate as the Stars defense is to have him, there are still games to be played. Lots of 'em!
This week in Forechecking™ — as with every week in Forechecking™ — let's take a look at the week that was and the week that will be.
Last Week in Your Dallas Stars.
• Victory Green™ vs. San Jose Sharks, 4-3.
Fresh off a 3-2-1 road trip, Dallas began an abbreviated homestand against the Sharks in their first of three meetings this season. Dallas opened the scoring in the first period after the Stars' top line of Tyler Seguin, Val Nichushkin and Devin Shore — yes, you read that correctly! — attacked the offensive zone with excellent passing, where the red-hot Shore made no mistake with a blocker-side high laser. The Sharks would quickly tie the game at 1 with a Timo Meir tally, who has surprisingly been among league leaders in goals this season with 12. From there, the game devolved into a track meet, with both teams trading chances in large part due to miscues and turnovers, as both goaltenders did their best to make their respective clubs looked, well, respectable. A key moment? When Joe Thornton, playing in his 1,500 career game, had a chance to tie the game on a breakaway with one minute left on the clock only to be thwarted by the pads of the suddenly starting backup Dallas netminder Anton Khudobin. A good moment? When Tyler Seguin scored his first goal in 12 games. A bad moment? When John Klingberg took a harmless-looking shot off his hand only to tragically die.
• Loser Point vs. Nashville Predators, 5-4 (OT).
Oh, poo-poo. Your Dallas Stars never trailed in regulation but managed to fall in overtime to the top team in the West. But this loss is still one you could call a Morale Victory Green™. Sporting half the Texas Stars on the back-end while missing substantial forwards up front, the youngsters gave it their all. I think this fact sums up the contest best: Denis Gurianov scored his first NHL goal off a knee deflection, compliments of a Ben Gleason slap shot from the blue line that ended up getting Gleason's his first NHL point through the assist. Never mind the sloppy sentence structure; just let that imagery soak in for a minute. Oh, also! This night was all about Mr. 1,000! Jason Spezza was honored pregame for reaching 1,000 games in the NHL played by being gifted a celebratory silver stick, a Rolex watch, a laser-engraved trophy and a celebratory dinner with Troy Aikman, Emmit Smith, and Jay Novacheck. Turns out, Spezza was and still is a huge a Cowboys fan — so a nice touch from Tom Gaglardi to arrange the evening. I wonder which Wingstop Troy is going to take 'em all to!
Honka with a beautiful setup for Seggy. #GoStars pic.twitter.com/NILlKurpAV

— Dallas Stars (@DallasStars) November 10, 2018
• Darkness Music vs. Columbus Blue Jackets, 2-1.
The Jackets soundly thumped Your Dallas Stars last week in Columbus in a physical match-up, and much of that bad blood continued to spill over the Stars' latest loss to Sergei Bobrovsky's bunch. Jamie Benn and Josh Anderson rekindled their mutual dislike of each other with a huge fight in the first period to set the tone for the rest of the game. Smartly, Captain Benn drifted towards the Stars bench and seemingly eyed his teammates before the tilt in a sort of "This is how we are going to play tonight, bois!" nod. Khudobin shined in net once again, even offering up a save-of-the-year candidate that reminded us of the best of Dominik Hasek. The Stars were unable to capitalize on the effort from Dobby, however, as the Klingberg-less power play was a complete mess, unable to register a shot in its first attempt and unable to tie the game up late in third. Fresh off the IR, Alexander Radulov netted the lone Stars goal on a nice assist from Miuro Heiskanen. Oh, and the red-hot Devin Shore left the game with leg injury. He'll be out 10 days. Cool, huh?!?!
"Like a fighting Kazakhstanian scorpion!"

Anton Khudobin with a save of the year contender. #GoStars | #CBJvsDAL pic.twitter.com/pHEjAjZ4dt

— FOX Sports Southwest (@FOXSportsSW) November 13, 2018
NHL Hitz PRO Player Of The Week.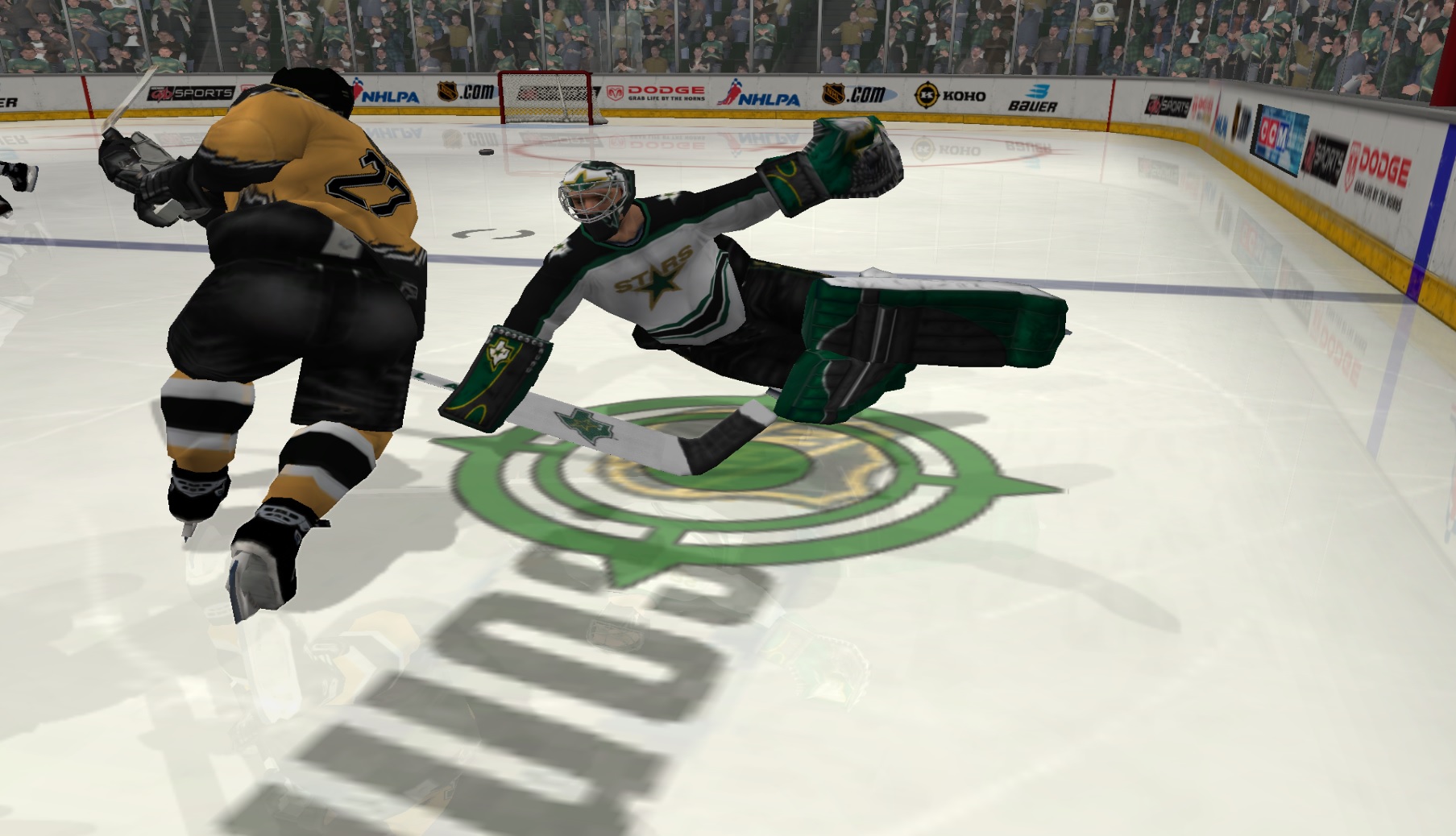 Hey, maybe it's not the best sign when your backup goaltender is making the case for team's MVP in the early season. Oh, well! Anton Khoudbin has been the Stars' most consistent player this week, and while we are very pleased with his efforts, it's making us wonder why Ben Bishop hasn't found his groove yet. Hmmm. Back to the positives: Dobby — it's a nickname he embraces, check out his sweet goalie mask! — has started in six games this year and is sporting a 2.32 GAA and .927 save percentage, both of which are better than his career averages. While the sample size is small and his 3-2-1 record doesn't exactly scream Puck Hero, his level of play in the crease is undeniable. A cross-ice one-timer? Blocker save. Breakaway? Pad save. Penalty kill? Glove save, skate save, torso save, head save, butt save. A wrister from the face-off circle? Off the post! Hey, he had been plenty of help from the iron this week as well. All in all, it was a great week for our comrade from Kazakhstan. Саулығыңыз үшін!
This Week In Your Dallas Stars.
• Friday, 11/16 at 7 p.m. vs. Boston Bruins (HOME): The Bruins got the better of the bois recently with a 2-1 overtime victory. Time for a little Tyler magic against his former club, eh? (Did you know Tyler Seguin was once a Boston Bruin? He was.)
• Sunday, 11/18 at 12 p.m. @ New York Islanders (AWAY): The Isles find themselves smack dab in the middle of The Metro Division. Many pundits were expecting them to call it quits after John Tavers gave them the cold shoulder in the offseason — but I mean, here they are, still playing hockey, somewhere, maybe in a car dealership.
• Monday, 11/19 at 6 p.m. @ New York Rangers (AWAY): Like their Long Island-dwelling pals, the Rangers find themselves smack dab in the middle of the The Metro Division. After starting the season on an extended losing streak, though, this squad is starting to get some quality contributions for their prospects. Hey, same!
Flip it. Stick it. See ya later, bye. — LehtMoJoe