With Scoring From The Big Three Suddenly Nowhere To Be Found, The Stars Are Getting Some Much-Needed Production Out Of Some Unlikely Sources.
Your Dallas Stars certainly are a spooky bunch.
Some nights, the bois in Victory Green™ are treats. Other nights, the fans feel like they've been tricked.
Of late around these part, concerns over secondary scoring have abated, at least temporarily. But now with all that lower-line scoring, where'd Jamie Benn, Tyler Seguin and Alexander Radulov run off too?
Well, Radulov died — for four games, anyway, with a lower body injury. And Benn? He's been skating like a zombie. Meanwhile, Seguin has ghosted away after his hot start.
But the season is long and scary spells such as these happen. Let's call upon our favorite early '90s favorite detective apparition, Ghostwriter, to help us investigate your Dallas Stars this week!
Last Week in Your Dallas Stars.
• Victory Green™ vs Anaheim Ducks, 5-2.
The Stars continued their home dominance of the Ducks and did so with the hands of their young 'uns. In what started as a seesaw affair, Radek Faksa took exception to some post whistle roughhousing and engaged Marcus Pettersson in a fight that, as the kid's would say, was lit. Faksa's pugilism ignited the Stars en route to a three-goal outburst in the second period as part of yet another meltdown by Anaheim. Miro Heiskanen notched his first career NHL goal on the 4-on-4 with the help of Jason Spezza, whose saucer pass to Miro in the slot on a 2-on-1 break was a thing of beauty, and the game winner. Not to be outdone by his fellow countryman, Julius Honka's laser three-zone pass sprung Mattias Janmark on a semi-breakaway whose low-blocker shot passed a gassed John Gibson, painting the post and in for his first of the season. At this point, the Ducks look cooked. All game long, Dallas outworked the Ducks defense, and that would lead to a turnover and eventual one-timer goal for the recently called up Jason Dickinson, who netted his second of the night. It was an excellent game by Dickinson overall, and a great confidence boost for the rest of the team as well. Want a fun note to share with your friends? Roman Polak's backhand tally in the opening frame gave the grumpy defenseman his first of the year, and also more career goals against the Anaheim Ducks than Tyler Seguin, who has zero. Wow!
All aboard the Heiskanen Hype Train 🚂🚂 pic.twitter.com/TDFXc1A7FW

— Dallas Stars (@DallasStars) October 26, 2018
• Darkness Music at Detroit Red Wings, 2-4.
Emotion, passion, energy, effort. What used to be the norm between these rivals is long gone. The Red Wings are bottom dwellers in the east, sporting a handful of overpaid veterans around unproven prospects. They have no real inclination of winning this season — but by judging from this game, neither do the Stars. After a modestly professional first period, Dallas was content to sit back and somehow milk a Gemel Smith goal. Ben Bishop looked out of sorts all game long, as his exploits out of the net, whether his fault, were enough for a hungry Wings team to capitalize on your sleepy Stars. The embarrassing loss left Dallas winless on the road. Yes, the Stars were once again caught playing down to their level of competition. Also? For the third time this season, an opponent has outraced Dallas to an icing call and scored on the ensuing play. That's not good!
BIG E! 🎯 #LGRW pic.twitter.com/bp7HliWeLG

— Detroit Red Wings (@DetroitRedWings) October 28, 2018
• Victory Green™ at Montreal Canadiens, 4-1.
It was an eventful evening at Bell Centre as Jason Spezza recorded his 1,000th NHL game and your Dallas Stars finally earned its first road win of the season. Alexander Radulov returned to the lineup after a four-game absence to face his old team and received a chorus of boos from the Habs faithful. Despite the lopsided final score, the Canadiens were the better team for long stretches of the game, particularly in the first frame when Dallas seemed unsure of itself. Benn started the game on Spezza's wing, but the experiment didn't last long as the Stars entered the second period looking for a spark, with Montgomery hoping the Big 3's reunion would be the catalyst. The true difference maker in the contest was Ben Bishop, who looked calm and confident while keeping the Habs attack at bay — in large part to the assistance of his posts, who may have been rung five times in the contest. The special teams units for the Stars also came through and proved to be the difference maker as the penalty kill remained perfect, even scoring one shorthanded tally here. There was lots to like from the game, but even more to work on. No matter how you slice it, this was a good road win. Finally.
🗣️HAVE YOURSELF A NIGHT, @DEVINSHORE! #GoStars pic.twitter.com/bjFeMJzCbc

— Dallas Stars (@DallasStars) October 31, 2018
NHL Hitz PRO Player Of The Week.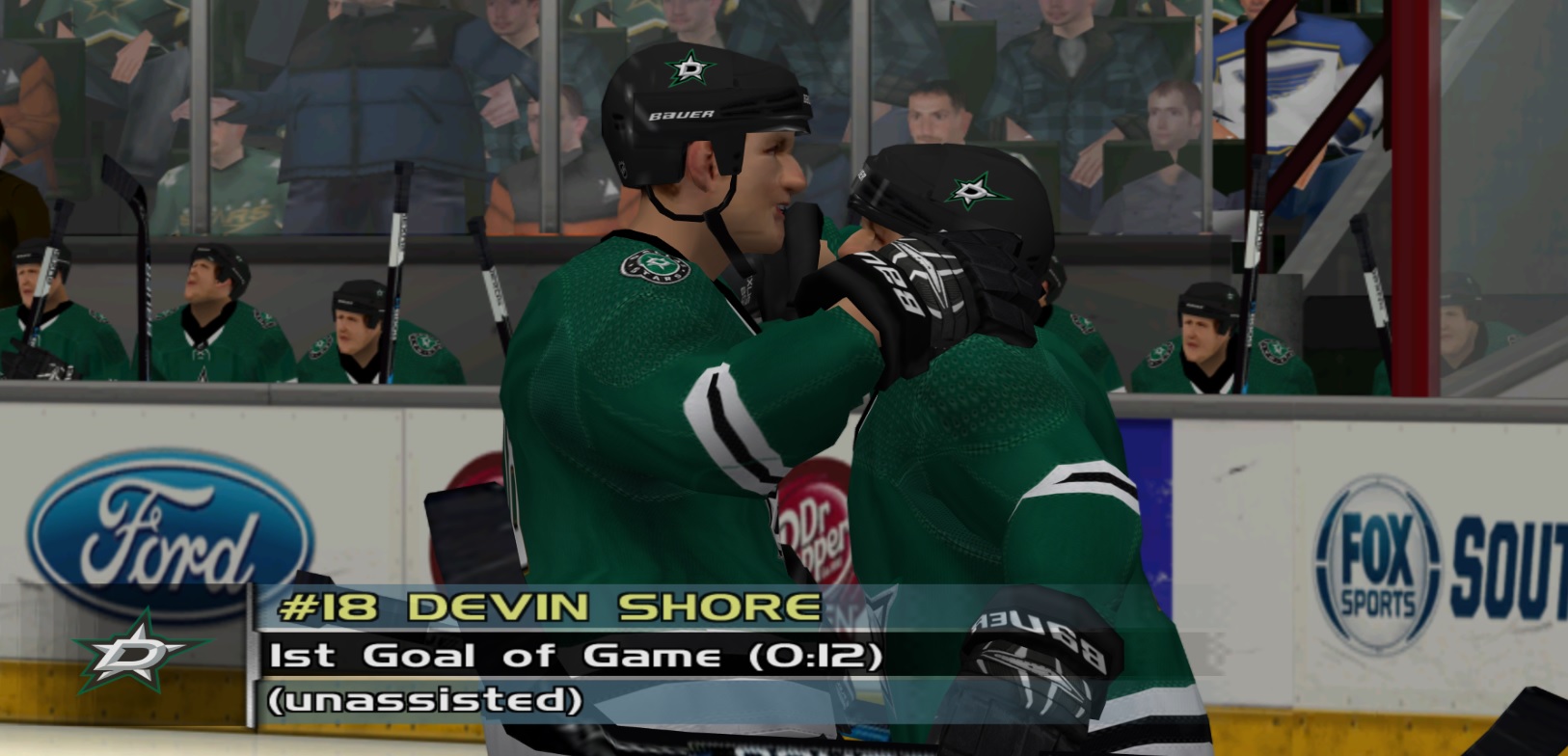 Surprise, surprise, surprise! Golly gee, has young Devin Shore had himself a week! Admittedly, we were lukewarm on Mr. Shore heading into the season, but his dismal 2017-2018 campaign did little to inspire confidence in the speedy winger. After scoring the Stars' first goal of this season, however, Shore has proven to be one of the more consistent forwards on the team, even as he is shuffled from line to line. His three-point night in Montreal pushed his point total to seven in his last 5 games, all while averaging around 13 minutes of ice time per game! If Dallas can rely on Shore as a more offensive force, which is what they hoped Val Nichushkin would bring, then a true second line might be able to finally emerge and give some offensive balance behind the Big 3. Hey, that'd Shore be nice!
This Week In Your Dallas Stars.
Four more road teams for a team that's played like garbage on the road all year long. It's like shock therapy up in here!
• Thursday, 11/1 @ 6 p.m. vs. Toronto Maple Leafs (Away): Dallas seeks revenge against the Auston Matthews-less Leafs. Expect a Roman Polak hat trick against his former club.
• Saturday, 11/3 @ 6  p.m. vs. Washington Capitals (Away): What could go wrong against Alex Ovechkin and the defending Stanley Cup Champions? Everything. Be very careful!
• Monday, 11/5 @ 6 p.m. vs. Boston Bruins (Away): It's a shame the city of Boston hasn't won a championship in any of their sports since like last week.
• Tuesday, 11/6 @ 6 p.m. Columbus Blue Jackets (Away): The long and winding road finally ends in Ohio. Did you know that Columbus is the nation's 14th most populous city in the nation? It's true!
Flip it. Stick it. See ya later, bye. — LehtMoJoe