Your Dallas Stars Picked Up Four Points Last Week — And, Even Better, Tyler Seguin Is Finally Playing Like A True First-Line Center.
After a slow start to the season, Your Dallas Stars are starting to figure things out, picking up four out of a possible six points this week while generally being the better team in each contest.
Dallas will have to continue to put pressure on the opposition's goaltenders if they want to succeed, though. Currently, they're only converting on six percent of their shots on net — and that ain't awesome.
But, hey, don't fret. The goals will come for a team that works as hard your Dallas Stars do.
Last Week in Your Dallas Stars.
• Victory Green™ vs Detroit Red Wings, 4-2.
There's nothing like beating an old rival for your first Victory Green™ of the season! A fast start by Dallas and a strong effort by Ben Bishop was just what the doctor ordered. John Klingberg had yet another strong game on both ends, eating up ice time and generating plenty of offensive chances with his slick low shot from the point. It creates so much havoc for the opposition when they can't actually see the puck! ME LIKELY. Jamie Benn, meanwhile, picked up his 300th career assist in the victory. Oh, and Bishop has only surrendered two goals in over 100 minutes of gameplay. ME REALLY LIKEY!
Observations:
– Trevor Daley returned to AAC for first time since being traded on 2015, and of course the classy Stars organization recognized "Dales" during the first intermission. Trevor clapped his hands in appreciation of the video tribute and the applause it earned from the Stars faithful during his 756th career game. He took to ice for his next shift misty-eyed, and I'm sure thinking, "Where did the time go?" I remember watching him in training camp his rookie year, and everyone was marveling at the speed of this defenseman. "Daley for Calder," one of my hoodrat friends said. While he didn't win rookie MVP, he did go on to win two Stanley Cups with the Penguins. Always eager to stick up for his teammates, he never pointed fingers when things went awry. Trevor Daley: Good dude.
– Tyler Pitlick hustles. He drew two penalties for his hard work in this game, and I really love having someone with his ability on the deeper lines.
– The Red Wings have a player named Frk. Yes, Frk.
• Darkness Music at Nashville Predators, 1-4.
The final score was most definitely not indicative of how this game played out, 4 realz. Dallas dominated large stretches of the game, but a Jamie Benn "I will not be denied!" power play goal on the lap of Pekka Rinne was unfortunately the only offense the Stars could generate in 60 minutes of play. Martin Hanzal took a dubious five-minute major for "interference" as Predator Yannick Weber lost control of the puck while staring into his skates and collided his face into Hanzal's shoulder. A very lethal power play for the Predators generated little threat as the Dallas PK absolutely smothered the Preds, and things were looking pretty good for our boys — until they looked not so pretty good. Nashville would eventually slip two past Bishop in the middle frame as last year's Western Conference Champs clapped back. Pekka Rinne had himself an outstanding game for the Preds in net as he continues to Ja Rule the Stars in Nashville.
Observations:
– The Smashville faithful booed Dallas newcomer Alexander Radulov every time he touched the ice. That's so mean!
– Stars coach Ken Hitchcock used his centers wisely on draws in this game, He'd plug one guy in for the face-off, then got them off the ice with complete line change for PK and defensive zone lineups. I love this attention to detail by the coach. Great awareness. (Never mind that Dallas only won 48 percent of its face-offs on this night, it was still cool to see.)
– Said Hitch after the game: "In our three losses, the opposing team's goalie was the best player on the ice."
• Victory Green™  vs Colorado Avalanche, 3-1.
Well, somehow the Avalanche waltzed into the American Airlines Center with a 4-1 record despite having nothing more than a bunch of scrubs on the roster. But, by 9:45 p.m., those scrubs waltzed out of the American Airlines Center with a 4-2 record. Can I get a hell yeah? Hell yeah! It was another dominating performance by Your Dallas Stars against a team that was playing on the second night of a back-to-back, and that is also not really that good of a team. Dallas took care of business with goals from Jamie Benn and Tyler Seguin, plus an empty netter by Esa Lin-DELL.
Observation:
– The Stars' victory was Hitch's 783 NHL win, moving him past Al Arbour and made him the third all-time-winningest coach in da history of da world! That's pretty neat.
NHL Hitz Pro Player of the Week.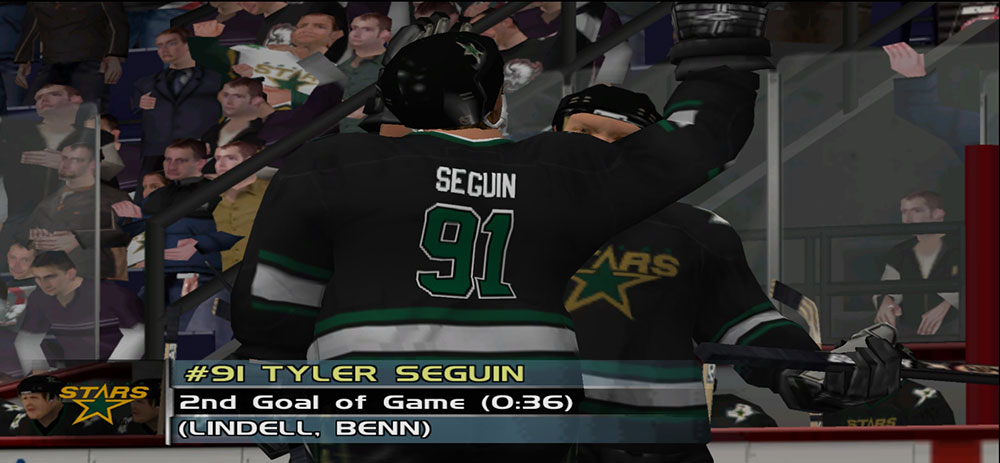 Tyler Seguin is playing like a true first-line center for the first time in his career. Yes, indeed! He really has taken to the newly stitched A on his chest. In addition to his usual offensive flair, Tyler has added this season a more physical element with a net-front presence and backcheck that is the hallmark of a real-ass "200-foot player". He's on the power play, taking face-offs in the waning moments of the game and throwing punches at former teammates! He also recorded his very first ever Gordie Howe Hattrick (goal, assist, fight) in the game against Colorado. While we don't want to see Tyler chucking knuckles too often, it's nice to know that, from the fourth line to the first, Your Dallas Stars ain't nothing to duck with.
Official Dallas Stars Fan of the Week.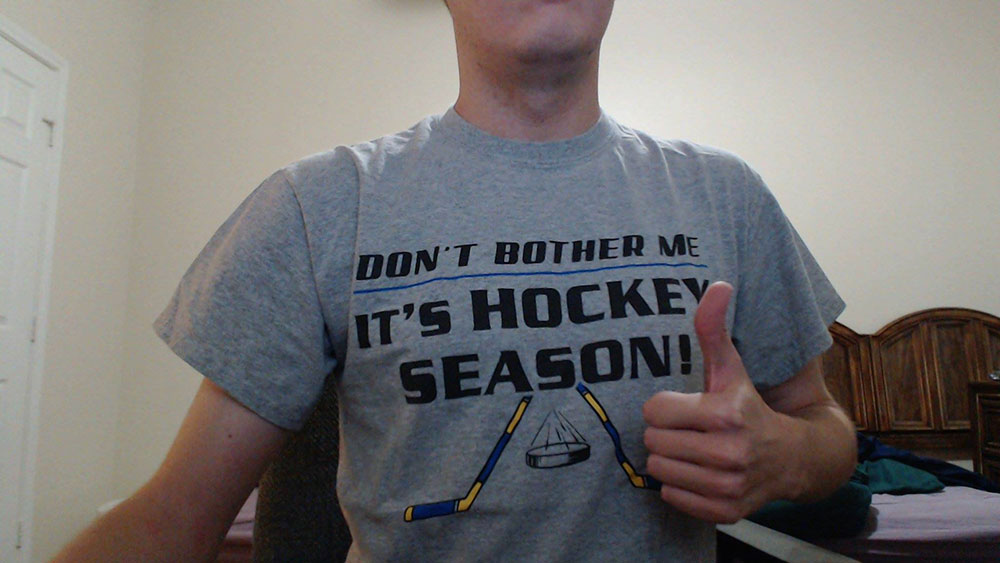 Name: Aaron Leo.
Twitter: @doomocrat
From: Irving, for every year of life so far save one.
When did you become a Stars fan? I saw a Dallas Freeze/Fort Worth Fire game as a five-year-old and never looked back. My grandpa's from Chicago and, 100 years ago, the family was in Nova Scotia — so hockey was on in the house a lot. I made it to Reunion in '96 against the Sharks. My cousin Tom got so blotto, he nearly fell down the nosebleed stairs.
Favorite Player: Active? Subban. Retired? Lehtinen.
Favorite Stars Moment/Experience: Down goes Boulerice. Homerish, but still the best fight call I've ever heard. Or Bunch Mox day… that's a tough one!
The Stars will win the Stanley Cup this year if: They fix their idiotic defense schemes on the PK and at even (fire Fraser), get some breakout passes. And Ben Bishop isn't broken yet!
Complete the sentence "Only shooting Stars…": "Break the mo-oh-old" is the only acceptable answer.
Do you like this gig? I'm not a Greggo guy. I hope he gets right.
Message to Stars fans: Hey, turn up for "Hockey is for Everyone" night this year! Drown out the Facebook comments. Some kid could need the support, so why not?
Would you like to be featured in Forechecking™? Just answer the questionnaire above and send it to forecheckingtm [at] gmail [dot] com, pretty please.
This Week In Your Dallas Stars.
Arizona Coyotes at Dallas Stars.
Tuesday, October 17, 6:30 p.m. (Fox Sports Southwest).
The Dave Tippet-less era for the Arizona Coyotes begins with an 0-4-1 record. We hate games like this — because, y'know, the 'Yotes have to win one sometime.
Dallas Stars at Arizona Coyotes.
Thursday, October 19, 8 p.m. (Fox Sports Southwest).
We hate games like this — because, y'know, the 'Yotes have to win one sometime.
Carolina Hurricanes at Dallas Stars.
Saturday, October 21, 6 p.m. (Fox Sports Southwest).
One time, an employee at Fry's Electronics struck up a conversation with me about the Carolina Hurricanes. It was the weirdest day of my life.
Flip it. Stick it. See ya later, bye. — LehtMoJoe
Cover photo via the Dallas Stars' Facebook.