With Ben Bishop Hurt, The Stars Turned To Ol' Kari Lehtonen To Mind The Net In Each Of The Season's First Two Games. You Won't Believe What Happened Next!
Welcome to Forechecking™, our weekly Dallas Stars column that looks back at the hockey week that was, and the hockey week that will be.
Lordy, lordy, how we've missed us some hockey! It's so fun! And also unpredictable!
Picture this: It's a week ago — like, last week — and some blue, naked, ghost-like being with gold wrist bangles and a beard manically tells you about stuff about the future. And the hyper blue guy, he says to you that over the course of Your Dallas Stars' season-opening weekend, the team will out-shoot its competition nearly two to one, new goalie Ben Bishop will have a 100 percent save percentage and the PK will kill eight of nine penalties — and still lose its first two games of the year. You'd prolly freak out in hysterics! Because a clairvoyant naked blue ghost thing is a weird thing to experience. But one who is really into the NHL? Seems like wasted talent. Regardless: That crap done did happen over the weekend, and let us walk you through this corridor of doubt to a mezzanine of hope — because, trust us, it ain't all that bad!
Last Week in Your Dallas Stars.
• Darkness Music vs Vegas Golden Knights, 1-2.
The Stars came out the gates like a sugared-up toddler and were relentless against a team playing their first game in ever. Shiny new toys Alexander Radulov and Marc Methot quickly made their presence felt by annihilating any Golden Knight within arm's reach in an effort to fire up an already smoldering sell-out season-opening home crowd at the AAC. But the over-exuberance of the Stars led to an abundance of penalties, most of which went to Antoine Roussel, who's four minors in the game gave last year's leagues-worst PK plenty of practice. In total, Vegas was awarded 7 power plays on the night, but each of the were denied. That's good! Also, everyone was so happy and giddy when Tyler Seguin put the Stars on the board with a power play goal — a sure sign of a rout in progress against an expansion team. But, no, it wouldn't last. The mood all changed when Bishop took a shot off the noggin', causing a gash over his right eyebrow. So out goes Bishop, and in comes Kari Lehtonen. And somehow, like clockwork, the Stars lose confidence and begin making mistakes again. And when Dallas defenders start making mistakes, the opposition scores. Former Star James Neal slipped two past Kari in support of Marc-Andre Fleury's 45-save performance on the other end. Dallas dominates the game — yet Vegas wins because, ya know, hockey.
• Darkness Music at St. Louis Blues, 4-2.
Saturday night game? Check. Back-to-back game? Check. Opposition's home opener? Check. Kari Lehtonen in net? Check. With all these issues in play, how could anyone expect a win? After a great start to the game — the first 10 minutes were all Dallas — Coach Hitchcock surely was pleased with the effort against his old squad. Well, until the wheels flew off in the defensive end. St. Louis jumped on the Stars' mistakes, notching three goals in the first period off of defensive miscues that Kari couldn't (or refused to) make up for. From then on, the Blues were content with a bend-but-don't-break strategy, milking the lead through another period and a half until a John Klingberg blast from the point finally popped Jake Allen's bubble. The great thing about that goal was how hard Radulov grabbed Klinger by the neck to congratulate him, kinda like your drunk uncle pulling you in with an aggressive hug for graduating high school. In fact, Radulov looks and plays like an angry drunk trying to order vodka shots at 2:01 am. CLOSING TIME MAKE RADULOV ANGRY! RADULOV SMASH!!! Haha, man that's a funny concept. Maybe I should write some Dallas Stars fan fiction. N E WAYZ. A little bit later, Vladamir Tarasenko sniped a PP goal past Kari, and nothing really mattered after that. Dallas was certainly the better team in the contest, but hasn't found the offense to make up for its issues in the back-end. I don't expect this to last much longer under Hitch. Jason Spezza's thoughts? "It's a process." INDEED. Of note: Martin Hanzal left the game in the second period with a lower body injury.
Observations.
Jersey Talk: The new Adidas-styled jerseys across the league are U.G.L.Y. Perforated numbers and shoulders, plus ridiculous Puritan-styled banded collars (with lace-up necks that are both impractical and distracting) amount to a no-go. The Victory Green™ on the body of the Stars' unis don't even match the color on the shoulders! Why? Why do this? The 25th anniversary patch on the chest is nice, but combined with the 100-year league anniversary patch on the arm, it's just too much. The Vegas sweaters are also particularly amateur-looking with bedazzled gold elbow flair that looks more at home at a middle school theater performance than on a professional sports team. I dig the Vegas white gloves, however. That's nice.
Stat of the Week.
Tyler Seguin is on pace to have more than 800 shots on goal this season, POW POW.
Surprise Move of the Week.
The Stars have placed Adam Cracknell on waivers????
NHL Hitz Pro Player of the Week.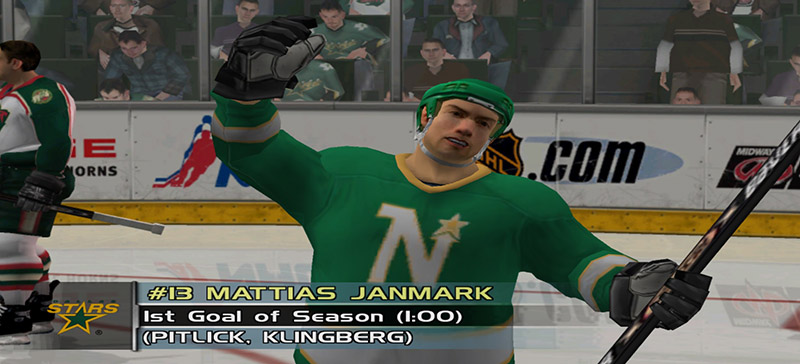 Welcome back, welcome back, welcome back! See the names have all changed since you've been around, but the game ain't the same since you left out. Young Janmark was persona non grata during the Stars' disastrous 2017 season after undergoing surgery to repair a joint disorder in which the bone underneath the cartilage dies because of reduced blood flow. YOWZERS! Well, after a year of recovery and rehabilitation, Janmark is miraculously back in the lineup on Spezza's wing and back to the quality play he showed off during his rookie season. We bought a ton of stock of No. 13 back in 2016, and didn't sell when his value plummeted. Smart money is on the Stars nominating Mattias for the Masterton Trophy this year. What a dude.
Fan of the Week Highlight.
Wouldn't it be cool to be to share with the world how much you love your Dallas Stars in Central Track's best hockey write-up? We think so! And we will be featuring one awesome fan a week this year in celebration of the Stars' 25th season in Dallas, Texas. Whether you are a Day One P1 or still trying to figure out what icing is, let's hear from ya! Email us at forecheckingtm at gmail dot com with the subject line "TMNT" for a short questionnaire and the opportunity of a lifetime!
This Week in Your Dallas Stars.
Detroit Red Wings at Dallas Stars. 
Tuesday, October 10, 7:30 p.m. (Fox Sports Southwest).
The Red Wings ain't what they used to be, and they Stars ain't where they should be. Activate angry Jamie Benn!
Dallas Stars at Nashville Predators.
Thursday, October 12, 7 p.m. (Fox Sports Southwest).
A tough tilt against last year's Western Conference Champions. Good measuring stick game.
Colorado Avalanche at Dallas Stars.
Saturday, October 14, 7 p.m. (Fox Sports Southwest).
The Avalanche suck. The Avalanches don't.
Flip it. Stick it. See ya later, bye. — LehtMoJoe
Cover photo via the Dallas Stars' Twitter.