Dallas Stars? More Like Dallas Supernovas. Get It? Because Of How They've Totally Imploded Lately? LOL. (We're Only Laughing To Keep From Crying.)
Welcome to Forechecking™, our weekly Dallas Stars column that looks back at the hockey week that was, and the hockey week that will be.
Your Dallas Stars are amazingly inept.
Just two weeks ago, Ken Hitchcock's club boasted an 82 percent chance of making the playoffs. Today, they are barely mathematically still alive, boasting a 0.6 percent chance of making the postseason.
What and abso-freakin'-lutely incredible collapse.
Unable to beat the opposition even when the enemy trots out its backup goaltender and AHL players or a team that has been out of the playoff hunt for months, Your Dallas Stars are currently amidst a season-high eight-game losing streak.
The team has almost nothing left to play for, and the faithful are facing yet another disappointing season's end.
Last year's team was flat-out pitiful, but it was at least very apparent midway through the calendar that their best hope for a productive year was to pick high up in the NHL Draft, which they sure did. With their lottery luck, Dallas landed defensive superstar Miro Heiskanen with the third overall pick — a potentially franchise-changing player who had steadily evolved overseas while the Stars meandered into mediocrity during the 2017-2018 campaign.
Alas, the Stars don't suck enough to draft nearly as high during this offseason as they did last year. And that just adds insult to injury. But before we put the final stanza on this rotten poem, let's review the weak — and that ain't no typo, folks — that was for Your Imploding Dallas Stars. Or would that be Supernovas?
Hmmm…
Last Week in Your Dallas Stars.
• Darkness Music at Washington Capitals, 3-4.
Your Dallas Stars ended their "road trip from hell" with yet another loss. Super cool! Jamie Benn and Alexander Radulov each tallied a goal and an assist in the loss, which was most notable for how Dallas faltered in the third period. In all, netminder Kari Lehtonen allowed four goals against on 32 shots in a must-win game that, honestly, the Capitals looked mostly disinterested in. Why should they care about the fly on their stinky behind? The Caps are first in the Metropolitan Division and just looking to end their season in good playoff positioning without wearing down Alex Ovechkin and the rest of their veteran laden posse. Mission accomplished for them.
Play of the Game, but not really:
Stars need a huge goal and @jamiebenn14 comes through. Calm and collected from the captain. #GoStars pic.twitter.com/McUCor5oks

— Dallas Stars (@DallasStars) March 21, 2018
• Darkness Music versus Boston Bruins, 3-2.
We now know that, when you play the Dallas Stars, you don't even have to field an NHL lineup to win. Playing alongside a few actual Boston Bruins, this decidedly Providence Bruins-looking team the Stars played in this one just demoralized the home team as they battled back from a two-goal deficit in the third to win the contest with a mere 11 seconds left on the game clock. Yes, Dallas controlled play for most of the game. Yes, Dallas pissed the night away as their third pairing defense collapsed under pressure while Kari Lehtonen fell flat on his face and the game winner zipped over his lifeless body. If some poor bastard wanted to see a singular example of how the 2107-2018 Dallas Stars played, they'd put this piece of crap game in their LaserDisc player and understand.
Play of the game, but not really:
This Stars fan came all the way down from @tseguinofficial's hometown of Brampton, Ontario and Tyler thanked her by giving her his signed stick during warmups. #GoStars pic.twitter.com/nCmClSUPQn

— Dallas Stars (@DallasStars) March 24, 2018
• Darkness Music versus Vancouver Canucks, 4-1.
You know who sucks worse than the ultra-sucky Vancouver Canucks? Your Dallas Stars. With their season on the line in a for-real-this-time, absolute must-win scenario, Dallas squandered a one-goal lead as they paraded into the penalty box in embarrassing fashion to lose their eighth game in a row. The Canucks are in seventh place in the Pacific Division, sporting a 27-40-9 record. Yet they somehow found the mustard to power through Your Dallas Stars? Yeesh. Sorry, we really can't find anything constructive to say about this this game, and we fear that our words will turn beyond sour and reflect poorly of the Forechecking™ character. So, we're just going to move on — but not without pointing out that, with two assists in this game, former Dallas Star Jussi Jokinen, at 34 years old and playing on his fourth team this season, recorded more points than any Dallas Stars player in this game. Can you believe that?
NHL Hitz Pro Player of the Week.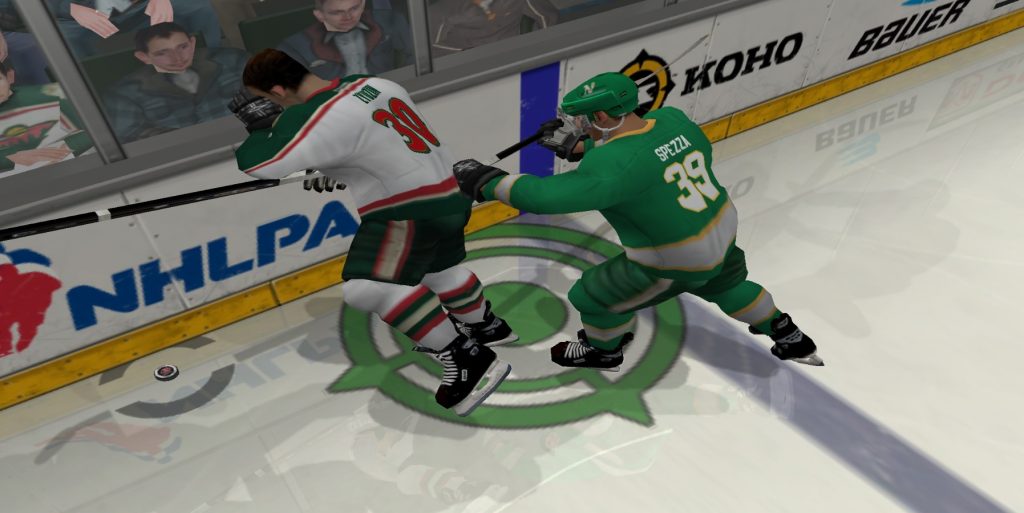 LOL. We are just completely losing our cool over here as this once-promising season has quickly turned into a steaming pile of poo-opp. (Please excuse our language.) We've already begun our in-depth analysis of the season — and, let me tell ya, you're probably not going to like what we have to say in our season wrap-up post that should be heading your way soon. Until that time comes, though, enjoy this screenshot of Jason Spezza checking someone into the boards as a fill-in for our the Player of the Week award, since he's hurt and will never play another game as a Dallas Star and we might as well use it now, as we'll ever again have the chance..
This Week in Your Dallas Stars.
Does anyone really care anymore? Welp, for posterity's sake…
Philadelphia Flyers at Dallas Stars
Tuesday, March 27, 7:30 p.m.
The Flyers look to solidify their wildcard spot against the hapless Stars at the American Airlines Center. Let's make it nine losses in a row, fellas!
Dallas Stars at Minnesota Wild
Thursday, March 29, at 7 p.m.
Could this be a 10th loss in a row? Just kill me now.
Minnesota Wild at Dallas Stars
Saturday, March 31, at 7 p.m.
The final home game of the year is Mike Modano night. Maybe Mikey Mo will show up in person? If so, will he rep the Wild or the Stars? Hell, he might be reppin' the Red Wings or Arizona Coyotes for all we know. Is this the kind of exciting debate we have to look forward to at this point in the season. No, of course not — not when we could be in store for an 11th loss in a row! Yes! (Somehow, there are still three more games after this one, believe it or not.)
Flip it. Stick it. See ya later, bye. — LehtMoJoe
Artist's rendering of a supernova used as a cover image via freakin' NASA.