The Dallas Stars Officially Not Making The 2018 NHL Playoffs, And All We Have To Show For It Are A Sense Of Dread And Some 19-Year-Old Eminem References.
Welcome to Forechecking™, our weekly Dallas Stars column that looks back at the hockey week that was, and the hockey week that will be.
It's now official: Your Dallas Stars have no shot at making the NHL Playoffs.
No, the Ides of March were certainly not in the teams favor, as the Stars' ended the month going 4-8-4. Historic FC Dallas crumbles notwithstanding, theirs is the biggest collapse of a Dallas-area team in forever.
And the worst part of it all? It's not like Your Dallas Stars are getting pummeled in any noncompetitive games! Nope, they're legitimately trying their best, and they're so close to winning these games. But, alas, they just can't find a way, and their get-up-and-go has gone-up-and-went: After posting a respectable 33-19-4 record the start the season, the Stars' offense has completely dried up, with the team averaging just two goals a game and needing their backup netminder to win games for them night in and night out.
Alas, there's still one week left before the long offseason of uncertainty begins. So let's just try to enjoy our remaining time together, OK?
Last Week in Your Dallas Stars.
• Moral Victory Green™ versus Philadelphia Flyers, 2-3 (OT).
Welp, the Star's highly celebrated and historically bad losing streak had to end at some point, we suppose. And at eight games long — the longest since the Stars moved to Dallas — this one would meet its maker as Alexander Radulov's 27th tally on the season ended the contest in the extra frame. Tyler Seguin assisted in that game-winning goal to propel his career total a 500 points in the NHL. That's a very impressive milestone! Earlier in the game, the Flyers and ya bois swapped a goal a piece in each of the first two frames of this emotional and hard-fought game in which goal keeper Kari Lehtonen came up with many high-caliber saves. He was especially impressive late in the third and may be solely responsible for sending this game into overtime. In the end, this one was a nice win for the Stars faithful at home, even if many of them wanted to see the impeccable losing streak continue. Oh, well. You can't always get what you want!
Play of the Game:
We're back in the win column as @tseguinofficial links up with @RADUL22 for tonight's @EASPORTSNHL OT winner. #GoStars pic.twitter.com/Y6H53R1H3n

— Dallas Stars (@DallasStars) March 28, 2018
• Darkness Music at Minnesota Wild, 2-5.
Hi, kids! Do you like losing? Want to watch a team work really hard in the first period only to implode after surrendering a short handed goal while on a 4 minute power play? Want to watch a team get completely hemmed out of the attacking zone by excellent positioning? Want to watch a team unable to generate speed through the neutral zone turn the puck over time and time again? Want to watch a goaltender give up two power play goals, a shorthanded goal and post a .810 save percentage? Want to copy the Stars and do exactly like they did, mentally collapse and duck up their playoff chances? (Yeah, yeah!)
Play of the Game:
Terrific work by Seguin to force the turnover and feed Jamie Benn for his 29th tally of the season. #GoStars pic.twitter.com/Wbwaf3YBp6

— Dallas Stars (@DallasStars) March 30, 2018
• Moral Victory Green™  versus Minnesota Wild, 1-4.
Fan appreciation night at the American Airlines Center was a little bittersweet, if we're being honest. Before the puck dropped, Mike Modano was honored in front of the hometown crowd, thus wrapping up the team's 25-years-in-Dallas anniversary. And, after that, Your Dallas Stars done went and put on one of their best performances in over a month. Jason Spezza scored his eighth goal of the season (and first since January 16), the once-en-fuego John Klingberg scored his first goal in 23 games and Kari Lehtonen kicked some tail in net. An empty-netter that sealed the Moral Victory Green™ also served as Seggy's 40th goal on the season — and that was something the Stars' faithful could finally cheer about. Too bad it all will all amount to squat in the long run!
Play of the Game:
.@tseguinofficial and the rest of the @DallasStars show support to some of the BEST fans in all of the NHL by giving the sweaters off their back!#GoStars pic.twitter.com/oWzEt5bEpx

— FOX Sports Southwest (@FOXSportsSW) April 1, 2018
NHL Hitz Pro Player of the Week.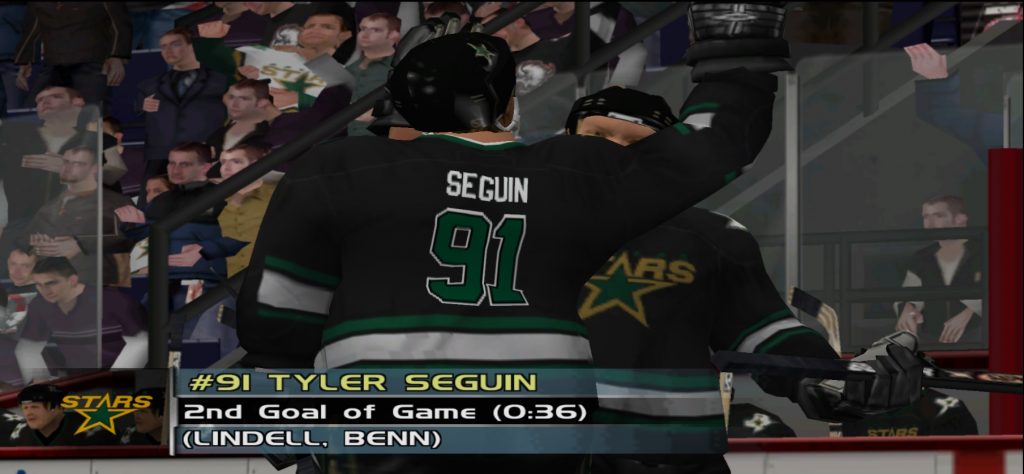 Who else? Your Dallas Stars' most consistent forward has shown no signs of slowing down, even as his team's fortunes and production around him has. Now officially a 40-goal scorer for the first time in his career — and only the third Dallas Star to reach such a total behind Mike Modano and Jamie Benn — Seguin has completely hushed what little unwarranted criticism was left of his work ethic and overall game before the season begam. His five-point week also keeps him first among forwards on the team in goals and points, and his 20:50 average time on ice trails only top defensive paring Esa Lindell and Klingberg. Heading into the offseason looking for a new deal was surely a bit of extra motivation for the center this year, and we'll know soon enough if Segs plans on hanging around Dallas or taking his talents elsewhere. The cold reality is this, though: If Jim Nill doesn't work out a new contract for Tyler, he and the last year on his current contract will be likely traded during the offseason for maximize returns. We don't think it will come to that, but if it does? Well, we know how y'all will react. (We're right there with you.)
This Week in Your Dallas Stars.
It's the end of the road for your 2017-2018 Dallas Stars — and it's all coming on the road, too, as the team embarks on a final West Coast swing against California's playoff teams. Will the Stars give the younger bois more minutes? Maybe Mike Mckenna will get a start of two in net? Hell, maybe they could slide the captain between the pipes…
Dallas Stars at San Jose Sharks.
Tuesday, April 3, at 9:30 p.m.
Oh look, the Sharks are headed to the playoffs!
Dallas Stars at Anaheim Ducks.
Friday, April 6, at 9 p.m.
Oh look, the Ducks are headed to the playoffs!
Dallas Stars at Los Angeles Kings.
Saturday, April 7, at 9:30 p.m.
Oh look, the Kings are headed to the playoffs!
Flip it. Stick it. See ya later, bye. — LehtMoJoe
Cover photo of Jason Spezza by mark6mauno via Flickr (slightly cropped).