The Dallas Stars Head Into Their Bye Week Riding High On Strong Play From A Crafty Alexander Radulov And An On-Fire John Klingberg.
After ending 2017 on a high note, Your Dallas Stars done went and opened up 2018 with a strong start, and here they are now, resting up in the middle of their bye week, having entered it on a 6-2-0 run, buoyed by their home arena dominance.
Over the course of last week's games, Ben Bishop shouldered the load in net as the Stars took down some playoff-bound opponents.
What's crazy is that, despite the team's recent success, the Stars haven't been able to make up much ground in the standings, and remain stuck outside the Big 3 of the division in playoff seeding. Nevertheless, ya bois in Victory Green™ have still somewhat strengthened their grip on an elusive wild card spot.
Now, with the Stars sitting at home playing World of Warcraft, fans are cheering for an abundance of losses in the Western Conference as, I dunno, Remi Ellie levels up his wizard or whatever.
Last Week in Your Dallas Stars.
• Darkness Music versus Columbus Blue Jackets, 1-2.
This one was a gross stubborn game that saw a lot of uninspired hockey. Columbus entered the game on a three-game skid, with perennial Stars killer Sergei Bobrovsky in net. The whole thing went exactly as you'd expect, with the former Vezina winner making 21 saves to secure his 200th NHL win as his Blue Jackets came back from a 1-0 deficit and scored two of their own within 78 seconds in the final frame. Devin Shore has the Stars'lone goal in a largely forgettable match — his second in as many games. Hopefully, the young cherub can get on a roll and dig himself out of his surprising -15 on the season. YEESH. Sounds like Iesha! 'Member that song? LOL, OMGZ I GOTTA LOOK IT UP NOW!
Play of the Game:
Klingberg puts it on net and Shore gets a piece of it for his second goal in as many games. #GoStars pic.twitter.com/NPkWzFbwMV

— Dallas Stars (@DallasStars) January 3, 2018
• Victory Green™ versus  New Jersey Devils, 4-3.
Well, this one was quite the polar opposite experience from the Blue Jackets contest. This game had everything!  New Jersey hasn't been particularity good in recent years, but they somehow find themselves among the cream of the crop in the Atlantic Division this year, in large part of their offensive prowess. Fittingly, the Devils opened the scoring with veteran Brian Boyle's 11th goal of the season, which came on a power play with just 14 seconds left in the first. But, while surrendering final-minute goals historically tend to be a recipe for Darkness Music around these here parts, Alex Radulov has turned things around for the team this year. And, right on cue, the Russian madman got the Stars on the board and into full attack mode with his pass interception and sneaky stick handling, both igniting the building and the game in general. An aggressive game then unfolded as the shots increased dramatically, with both squads content to trade scoring chances in exhilarating fashion. Dallas prevailed largely on the efforts of Ben Bishop, who was just a smidgen better than his counterpart Corey Schneider on the other end, shutting the door on down to the final seconds with the Devils in desperation mode. Fun note: Tyler Seguin scored the first shorthanded goal of his career en route to this win.
Play of the Game:
Seguin to Benn, back to Seguin, and in the net. #GoStars pic.twitter.com/yWXmaTztNj

— Dallas Stars (@DallasStars) January 5, 2018
• Victory Green™ versus Edmonton Oilers, 5-1.
Its time for some real-time thoughts with Forechecking™! Oh, it's another dreaded Saturday matinee game, and surely this won't end well since we done suck at these for some damn reason. Oh, great pass there by Klinger to Seguin, and he'll prolly pass here… oh snap, Radulov scores! Damn, I love this dude! But no celebration? Maybe he's tired. Hey, those are some nice saves from Bishop. That's quality net-minding. Damn, good hit there. Hey. it's another face-off win! That's some more strong work there by Rads. Oh, nice backhand pass over to — goal JAMIE BENN! I love this dude too, and I like that he doesn't smile anymore in games. Damn, we are moving the puck well — nice zone entry, top line looking on it today. Hey, great backdoor play by Seguin! And there's Klinger with another great sequence to get these scoring opportunities. Uh-oh, bad pass by the Oil — right to Janmark. He's gonna go behind the net here, no? Huh? That went in? Damn, it's just one of the games! OK, now this is getting boring. I wonder how Blake Bortles will do tomorrow against the Bills. Man, Connor McDavid, he's fast. Oh, DAMN! Well, good for Draisaitl, if anyone should score for them it's him, fake last name and all. Man, this period is boring. Hey, that's good, let's just malaise the hell out of these Oilers and not get into any fights. Pretty good four-on-four there. Nice move by Seguin, who's gonna center this pass — OH, DAMN, THAT'S KLINGER AGAIN Got Damn, he's on fire lately! Great game from everyone, especially Bishop. Having a No. 1 goalie is fun.
Play of the Game:
We're gonna credit this one to Radulov and Benn bonding during that helicopter ride in the beginning of the season. #Chemistry #GoStars pic.twitter.com/BRKfHKGYiM

— Dallas Stars (@DallasStars) January 6, 2018
NHL Hitz Pro Player of the Week.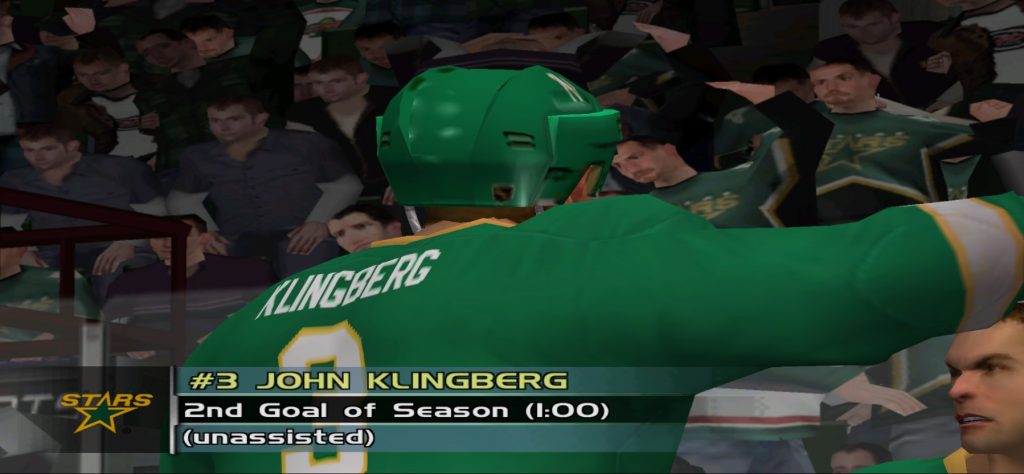 Ya boi John Klingberg is having himself a hell of a season despite of how unassuming it may appear to the lamestream media. Freed from the shackles of Lindy Ruff's "defense plays offense and no one plays defense" system, Klingberg has improved on both ends of the rink markedly, all while adding a bit of skinny boi snarl to his game. The 25-year-old has clearly defined himself as the best two-way defender on the Stars, and one of the best defenders in all of the NHL — yes, really. While his 23 minutes a game isn't among the league leaders, his 39 points is eight better than the four defensmen tied with 31 points beneath him. Oh, and he is often tasked with shutting down the oppositions' best players. That's pretty neat. What's also neat is the fact that Klingberg is in the early consideration for the Norris Trophy (best defenseman) alongside players that earn $7 million and up, and since he's locked in at $4.5 million for the next four seasons, Lil John is on an absolute sweetheart of a deal for the team. After such a wonky sophomore season, what's changed for the Swedish prince? According to Coach Ken Hitchcock, "he's made a change in the way he plays, which has helped him a lot. He's worked hard at keeping it simple from the red line back, and that's really helped his game. He's not exposed himself. He's not put himself in tough spots physically, and I think it's allowed him to be a much better player." Your Dallas Stars have many important players. But none are more important than John Klingberg. HE'S A BEAST.
This Week in Your Dallas Stars:
The Stars ain't playing games! Dallas goes on a bye this week and will return to action against the Avalanche at the AAC on January 13th. What will Forechecking™ do during the break? GONNA BAKE A CAKE.
Flip it. Stick it. See ya later, bye. — LehtMoJoe
Cover photo via the Dallas Stars' Facebook page.