A Yellow Skate Lace Superstition And An On-Fire Radek Faksa Have Helped Your Dallas Stars Win Five Straight And Seven of Their Last Eight.
Welcome to Forechecking™, our weekly Dallas Stars column that looks back at the hockey week that was, and the hockey week that will be.
Your Dallas Stars went on a hell of a run last week, gobbling up all the points in an effort to crawl out of the dog pile that is the Western Conference.
The team won on the road and at home, getting depth scoring and excellent goal-tending at just the right time. Better yet, it would appear that confidence is on the rise in the locker room. Good thing, too, as Your Dallas Stars are about to embark on a hectic December that sees your bois playing 15 games in 30 days. Cheese and rice, that's a lot of hockey!
But before we can get there, we need to go back, and review last week in your Dallas Stars, today.
Last Week in Your Dallas Stars.
• Victory Green™ at Vegas Golden Knights, 3-0.
Yep, you read that correctly! Not only did Dallas beat a team they have never defeated before, but they also now own the distinction of being the first team to shut out the Vegas Golden Knights — ever! AW, HELL YEAH. The first game of the Stars' annual "Dad's Trip" went swimmingly, as a tight and disciplined game (sans a Klingberg turnover in the crease) was blown open by a Radek Faksa hat-trick in the second to allow the Stars to wrestle the Golden Knights into submission in the final frame. It's worth noting that Faksa scored a natural hat trick — three goals by same player, in a row — in aggressive and bold fashion. After scoring his second goal, Faksa lost the ensuing center-ice face-off but, with the help of his wingers, was able to bully into the Vegas zone and connect on a tic-tac-toe pass that was slammed home for Faksa's third net-tickler. That happened all in eight seconds, people! And, yes, that's a new record for Your Dallas Stars! If there was a damper on things, it came after the game as the usually on-point Scott Burnside asked a potentially awkward question about "Dad's Trip" to Radek. Faksa's dad was not present on the trip, nor has he been present in his life since he was a little boy. Kudos to Radek, then, for graciously speaking in generalities. Anyway, lost in all the Faksa heroics was an efficient and confident performance from Ben Bishop, who stopped all 34 shots he faced.
Play of the Game:
Faksa didn't waste anytime getting his hat trick. 8 seconds after scoring his second, he nets his third. #GoStars pic.twitter.com/Q27JRRdu9M

— Dallas Stars (@DallasStars) November 29, 2017
• Victory Green™  at Chicago Blackhawks, 4-3 (OT).
It's always fun to battle the Blackhawks in the Windy City™, especially when Your Dallas Stars walk away with a W. Mattias Janmark book-ended this spirited match with a wraparound in the first and game winner in overtime. Your Dallas Stars looked good here while extending their win-streak to three! They never trailed and showed great resolve on the penalty kill allowing one goal, but also scoring a shorthanded tally of their own on seven Chicago power plays. Of note? Blackhawk net minder Corey Crawford appeared to tweak his "lower body" while making a cross ice save early. Could that moment play a role in the team's next match-up? Hmmm.
Play of the Game:
That deke… #GoStars pic.twitter.com/ps2GKN9RUm

— Dallas Stars (@DallasStars) December 1, 2017
• Victory Green™  versus Chicago Blackhawks, 2-3 (SHOOTOUT).
We was right: 'Hawks goalie Corey Crawford done broke himself in the game before this one. Chicago placed Crawford on IR and started Anton Forsberg (no relation) in net in yet another thrilling barn burner between these Central Division rivals. This time in front of a red jersey-filled crowd at the American Airlines Center — where were y'all Blackhawks fans during the Eric Daze years? — it was a fantastic effort by both squads, a track meet of the highest order, showcasing the best the NHL has to offer. Overtime was especially delicious, as Dallas once again prevailed without ever trailing. Did you see it? Coach Ken Hitchcock didn't: "I couldn't see a damn thing 'cause I got tall defensemen who refuse to sit down," he said after the game. Ben Bishop again turned in a mighty performance between the pipes and really shined in the shootout, tii. Having an elite goaltender is fun! Also: Tyler Seguin logged 28:50 of high-octane hockey in this one, coming shy of Mike Modano's record set in 2002 by just four seconds. WHOA! Also shocking: Patrick Kane was strangely invisible for most of the game. Was it an off-night for the dangerous all-star or excellent defending by Your Dallas Stars? Hmmm.
Play of the Game:
Rads unloaded on this bullet. #GoStars pic.twitter.com/9aq5YTYoNQ

— Dallas Stars (@DallasStars) December 3, 2017
• Victory Green™  at Colorado Avalanche, 7-2.
Less than 24 hours after defeating the 'Hawks, Dallas had to head back out to the Pepsi Center, home of Avalanche and many, many, many defeats for Your Stars. With Kari Lehtonen in net and a four-game win streak on the line, the team pulled off the improbable and won the damn thing. I mean it: The Dallas Stars won in Colorado. And not just win, either. They absolutely humiliated the Avs. Tyler Seguin and Brett Ritchie scored two goals apiece in this one as Kari stopped 25 of 27 mostly powder-puff soft shots on net to extend the Stars' winning streak to five. Also dope: It was their seventh win in eight games. What's to credit for the hot streak? It's the shoes. It's gotta be the shoes — or at least the laces. Yeah, playing like Jere is always a good thing, and now everyone knows it unequivocally.
Play of the Game:
Seguin with the backhand goal and Radulov with the big Russian bear hug. #GoStars pic.twitter.com/CTu87Xt7Gz

— Dallas Stars (@DallasStars) December 4, 2017
NHL Hitz Pro Player of the Week.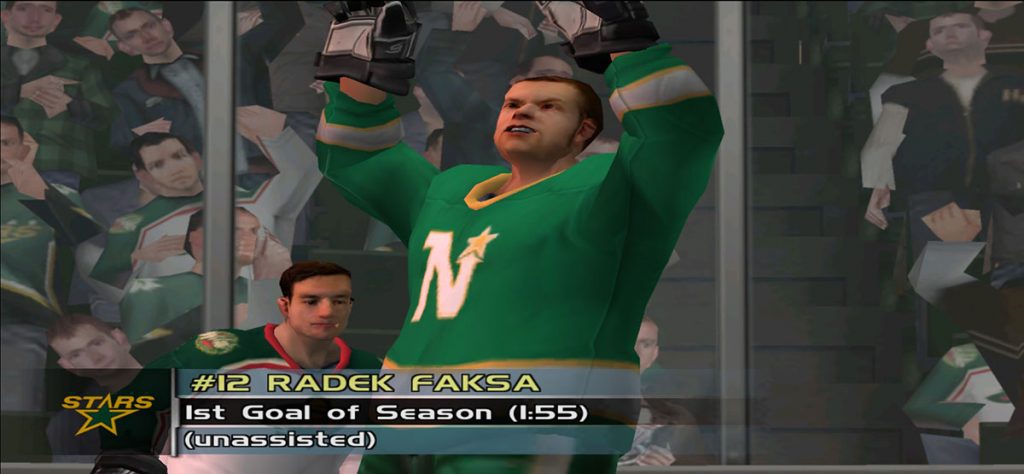 It's ya boi Radek Faksa with the honors this week! This should come to the surprise of no one. Faksa has been a man on a mission during the Stars' winning streak, pacing the team's offense with all sorts of offensive production. In addition to his own scoring outburst, Faksa's line continues to be the most consistent and responsible group available for coach Ken Hitchcock, despite barely clocking in over 15 minutes a night. Making the most of their time, Radek and his line mates are helping a Stars team that was desperate for secondary scoring with goals aplenty. A hat trick here, penalty shot there, a short-handed goal over here and a few impressive assists there. They keep this up and the Stars become real tough to beat. Radek Faksa: Too pretty for the streets, too talented for the fourth line. Fix this shit, Hitch! Did you know that Faksa has the same amount of goals this season as Patrick Kane? It's true! He's so good, he got himself named the third star of the week by the NHL itself. We're into it!
This Week In Your Dallas Stars.
Yeah, Your Dallas Stars are flying high at the moment, carrying a five-game winning streak into a jam-packed December. Can they keep their killer play of late up? It'll be tough, but maybe!
Nashville Predators at Dallas Stars.
Tuesday, December 5, at 7:30 p.m.
The Preds are currently holding down a playoff spot that Dallas would love to take over. Let's take it!
Dallas Stars at St. Louis Blues.
Thursday, December 7, at 7 p.m.
We honestly thought the Blues were going to take a step back this year. We wuz wrong.
Vegas Golden Knights at Dallas Stars. 
Saturday, December 9, at 7 p.m.
Y'know, for a team that didn't exist a few months ago, this squad sure is becoming familiar.
Flip it. Stick it. See ya later, bye. — LehtMoJoe
Cover photo via the Dallas Stars' Facebook page.