You Know What Would Do Your Dallas Stars Some Good? Some Jere Lehtinen-Like Play. What's That? The Stars Retired His Number This Week? What A Coincidence!
Welcome to Forechecking™, our weekly Dallas Stars column that looks back at the hockey week that was, and the hockey week that will be.
Your Dallas Stars have been on a roller coaster lately, enthralling fans with A+ efforts at home while flunking miserably on foreign ice.
This week was no different, what with Kari Lehtonen welcoming a new baby to the world and Jere Lehtinen watching his number retire.
But, hey, roller coasters are fun. Right? I mean… right?
Let's see.
Last Week in Your Dallas Stars.
• Victory Green™ vs. Montreal Canadiens, 1-3.
Montreal limped into the AAC missing its two most important players — All-Star netminder Carey Price and All-Star defender Shea Weber — but were no shrinking violets while putting up a scrappy and spirited fight against Your Dallas Stars. Fortunately for the Good Guys, though, their newly formed line of Devin Shore, Tyler Seguin, and Jason Spezza was on point, with each of those three registering a goal in a game that was too close for comfort, but extended Dallas' home dominant record. Goalie Ben Bishop only gave up one goal, but was very lucky — two other shots dribbled past him towards the goal line only to be swept out by lurking Dallas skaters. The game would have looked differently had it not for these heads-up plays from Bishops teammates. Close calls!
Observations: First of all, did y'all see the fan in the lower bowl waving about a "Free Honka" sign? It was crudely scribbled on water-stained cardboard that appeared to have been torn from a larger piece. Weird! Also, did you see Stars defender Greg Pateryn staple Joe Morrow to the boards? I especially liked when he snarled "fudge off" to his former teammate as play continued. Saucy! Also, did you hear when analyst Craig Ludwig dropped a "Helter Skelter" comment during the broadcast, and on same week as Charles Manson's death, no less? Aren't you outraged? Aren't you mad? OMGZ! LETZ GET HIM!
Play of the Game: Benn vs Benn vs Radulov.
• Darkness Music at Colorado Avalanche, 0-3
Your Dallas Stars have never won a game in Colorado and will never win a game in Colorado, that's just how it is. Sorry.
Play of the Game:
Bernie wants a fist bu… Wait.

😂👊 #GoAvsGo pic.twitter.com/ysLQmTGxzZ

— Colorado Avalanche (@Avalanche) November 23, 2017
• Victory Green™ vs. Calgary Flames, 4-6.
Now, this was a barn burner! After the Jere Lehtinen number-retirement ceremony, it was clear that Dallas and Calgary rosters had watched the proceedings from their respective benches and committed to "play like Jere." The game was anything but Jere Lehtinen hockey, though, as the teams put up a combined 78 shots on net and looked to overwhelm one another through sheer offensive pressure and underwhelming back checking. Tyler Seguin scored a hat trick — surpassing Mike Modano for most hat tricks by a Dallas Star — as he drilled 10 shots on goal in the effort in front of a raucous crowd at the AAC. The Stars showed defensive zone coverage all night was rough, but the effort was there. When the entire team plays like Alexander Radulov, you are in for a good time.
Play of the Game:
Brilliant. #GoStars pic.twitter.com/HC03eVGCL8

— Dallas Stars (@DallasStars) November 25, 2017
NHL Hitz Pro Player of the Week.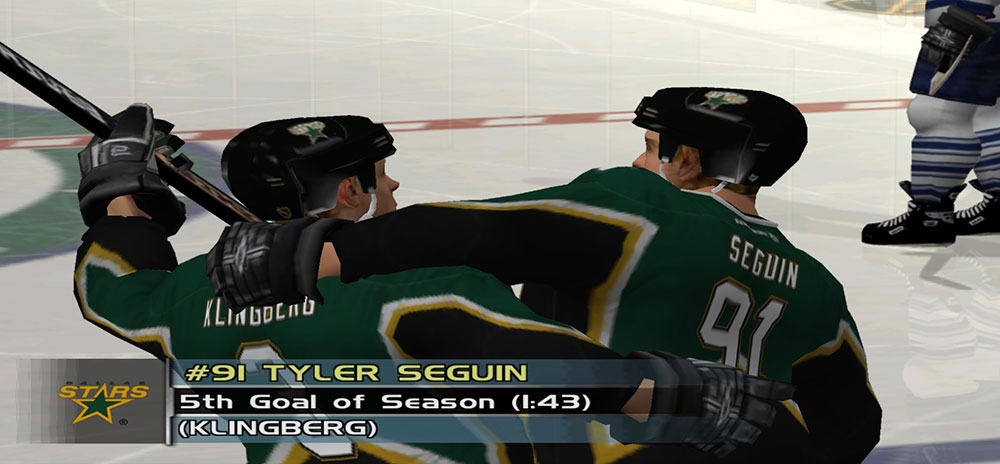 Tyler Seguin has experienced a sharp downturn in production since his departure from the Benn/Radulov line, and if we are to take play-by-play man Darryl Reaugh at his word, he also hasn't been 100 percent healthy as of late. But things are turning around! He finally appears to have adjusted to playing with Jason Spezza and Devin Shore on his wings, and posted five points last week — good news since the Stars have been desperate for production on lines beyond their top one. No, it wasn't all roses and Gathering of the Juggalos for "Seggy," as he has been disastrous on the dots while averaging less that 40 percent in face-off wins, but the hat trick against the Flames sure was nice.
Thoughts On The Jere Lehtinen Jersey Retirement.
What is there to be said of Stars legend Jere Lehtinen that hasn't already been said? The three-time Selke trophy winner was one of the most unassuming players in the game, never possessing a wicked shot, highlight reel passing ability, thunderous body checks or blazing speed like so many other peers during his 14 seasons in the NHL, all of which were with Dallas. But what he lacked in flash, he made up for in every other aspect of the game. He was a complete player you could count on in every situation.
The Stars organization did an excellent job in honoring the legendary winger, with players donning throwback sweaters from '99 in warm-ups and wearing Jere's trademark yellow laces during the game. So cool! Glaringly absent from the ceremony, though, was Jere's longtime centerman and fellow enshrined Dallas Star, Mike Modano. Former teammates Brenden Morrow, Marty Turco, Brett Hull, Joe Nieuwendyk and even Saku Koivu (who only play alongside Jere for Team Finland in international play) were there in celebration, but no Mike — not even in video format. Disappointing! Regardless, it was a wonderful night at American Airlines Center and it was capped by a wildly entertaining victory. The Lehtinen love was palpable, and all the nostalgia got me thinking about the past. Cue harp and wavy fade to old-timey black and white!
Several years ago — perhaps many years ago now — I was attending a Texas Rangers game at the Ameriquest Ranger GlobeLife Insurance Ballpark In Arlington And Not Dallas (Lest We Threaten to Move to Dallas) Stadium, or whatever it's called. I was having a real poo-poo week during an extended stretch of feeling really whompy from endlessly mulling over the complexities of life and my place in it — a sort of existential malaise that permeated every aspect of my being like a dull headache that aspirin can't quite mask. I'm sure you've had your bouts with that feeling as well. Who hasn't? ANYWAY, after another defeat in said stadium, I along with thousands of others filed down the beer- and tear-soaked concrete ramps, shuffling down the concourse, shoulder to shoulder with other dejected souls and heading off to our vehicles baking in the sun. It was at this point that I glanced to my right, and then straight ahead while leaving the first base entrance, and then glanced to the right again.
"It's Jere Lehtinen!" I blurt out to none other than… Jere Lehtinen!
He understandably was a bit surprised at the exclamation from a stranger in such close proximity while he and his young son were leaving the game. I, of course, instinctively raise my hand for a high five that barely connected enough to be considered a high five.
He smiled back and said, "Hi!"
I was so excited! You see, Number 26 was my favorite of all favorites on the Dallas Stars — so much so that I adopted the Leht in my stage name LehtMoJoe back in 1998ish. I wanted tell him about that, and also how I loved how hard he worked with his never-surrender attitude, and that, despite how many times he got thrashed about and thrown to the ice, I really adored watching him quickly bounce back with a fast helmet adjustment before he charged back into play. Basically, I wanted to tell him that his play didn't go unappreciated. But that's not what I said.
"Can't wait to see you back on the ice," I blurted out. "Hope you have a great season!"
It was all I could muster in such short order.
"OK," said Jere in his distinctly non-Texan accent. "Thank you very much."
My chance encounter then quickly ebbed into the sea of humanity that surrounded it.
It may not seem like much, but to run into someone you've admired for years — a person who exudes such humility and work ethic — while going through some serious stuff like I was at the time was immensely helpful in me shaking off my difficult stretch in a depressive state. It was like the universe gave me a literal "play like Jere" nudge, and I will never forget it.
Thanks for everything, Jere. You are the best.
This Week In Your Dallas Stars.
Dallas Stars at Las Vegas Golden Knights.
Tuesday, November 28, 9 p.m. 
I can't believe this mish-mashed expansion team on their fourth goaltender is 15-6-1. SMH.
Dallas Stars at Chicago Blackhawks.
Thursday, November 30, 7:30 p.m.
I can't believe the Blackhawks are currently out of playoff position. SMH.
Dallas Stars versus Chicago Blackhawks
Saturday, December 2, 8 p.m.
I can't believe it's not butter. SMH.
Dallas Stars at Colorado Avalanche
Sunday, December 3, at 7 p.m.
I can't believe we have to play this damn team in that damn town again. SMH.
Flip it. Stick it. See ya later, bye. — LehtMoJoe
Cover photo via the Dallas Stars' Facebook page.