Let's Take A Look Back At The Dallas Stars' 2018-2019 Campaign By Assigning Letter Grades To Each Of Its Players' Performances This Season.
Well, folks, it's all over but the crying.
Your Dallas Stars' season is over. Ain't it sad? While there is still playoff hockey to be watched elsewhere, it just ain't the same without our bois in Victory Green™ on the telly.
But before Central Track sends me to my Hypersleep Chamber for the summer, there is still one last order of business: As is tradition here at Forechecking™, we're ending the season by grading every single Dallas Stars players' effort by using our patented, highly scientific and mathematically sound formula, which factors in player expectation, position expectation, salary, the eyeball test, statistics (with or without corsi), highlights, lowlights and black lights.
Should it tickle your fancy, check out our report cards for 2017 and 2018. They are quite enlightening in retrospect!
Now, let's get to it.
Coaching.
It was quite an eventful season for a first year NHL head coach. Jim Montgomery's early season attempts at developing the Dallas Stars into a relentlessly hard-skating offensive powerhouse were abandoned once Monty realized the lack of firepower available on the roster. The candid former NHLer spoke of his frustrations in motivating the team to follow "the process" in the first few months on the job, and eventually switched to a defense-first philosophy to capitalize on his team's greatest asset — its goaltending. Once buy-in occurred from the team's leadership group and the proper adjustments were made, Dallas ended up near the top of the league in the goals against, power play and penalty kill categories, and even saw its goal-scoring ever-so-modestly improve as the team inched its way up the standings after the all-star break. Overall, it was a good season from Jim Montgomery, Rick Bowness, Stu Barnes and Todd Nelson. With a full season done and dusted, 2019-2020 should get off to a much better start. Grade: A-.
Forwards.
It was a a low-scoring season for the Stars' upfront skaters, but while the offense was lacking, effort in the defensive end was not. Let's take a look at the lot. 2019 Group Grade: B-
Jamie Benn: (GP: 78, G: 27, A: 26, P: 53, +14). Jamie had long summer, Jamie get another new teacher, Jamie start school year slow, Jamie not pay attention much, Jamie rest head on desk, Jamie has parent/teacher meeting about Jamie's work, Jamie say no one understands Jamie, Jamie grades dip, Jamie gets called to principle office, superintendent calls up local paper to complain about Jamie to the whole town, Jamie get angry and sad, Jamie run home and punch his pillow, Jamie come back to school and get hugs from his friends, Jamie get love notes, Jamie start to feel better, Jamie start to play better, Jamie grades improve, Jamie almost pass end of year exams, Jamie tired now, Jamie ready for summer, Jamie ready for Six Flags!  2019 Grade: C+ (2018 Grade: B-, 2017 Grade: B-). NHL Hitz PRO Player of the Week Awards: 2.
Heiskanen threads the needle with this beauty of a pass to Benn. #GoStars pic.twitter.com/5av4DYAhWa

— Dallas Stars (@DallasStars) February 22, 2019
Andrew Cogliano (with Dallas GP: 32, G: 3, A: 3, P: 6, -1). The midseason exchange for Devin Shore quickly gelled with the Stars, providing above-average speed and tenacious checking to whatever line Monty threw him on, and effectively provided a marginally better game than his trade partner brought to the lineup — but just barely. The former NHL Iron Man missed some time this year due to actual injury, the first of his career, and his usual point total was substantially lower. Cogs elevated his game in the postseason on the "FCC" line and embraced the role of relentless checker, but was unable to capitalize on some huge scoring opportunities — none bigger than his flubbed backhander in Game 7 against the Blues. Oh well, good effort this season from the doggie advocate. 2019 Grade: B-.
Blake Comeau: (GP: 77, G: 7, A: 11, P: 18, -7). Dallas lost Antoine Roussel to free agency, and quickly snatchet up a replacement in this former Avalanche veteran. While Blake lacks the theatrics and panache of Roussel, his forechecking prowess and penchant for the physical paced the Stars to a team-leading 208 hits. Wow! The next closest player was Polak with 191, and the next closest forward was Benn with 142. Now, you may be asking, don't Ritchie, Cogliano, Hanzal bring the same skill set to the roster? A hard-nosed defensive forward who struggles to put the puck in the net? Well, yeah. I mean, that's a valid question. But if this injury-plagued season taught us anything, it's that some redundancy is good. 2019 grade: B-.
Jason Dickinson: (GP: 67, G: 6, A: 16, P: 22, +9). "Oh no, not again, Dicky!" The Stars' former first-rounder saw plenty of action in his first legit season in the NHL, and was on the receiving end of more errant sticks, pucks, fists, crossbars, boards and pies than we've ever seen one player take. The human Crash Test Dummy saw his greatest usage during the latter half of the season, and bounced around from the 4th line to 1st line and everywhere in between to fill in the gaps of his fallen teammates as a true utility player. The offensive upside of Jason isn't as high as some of his contemporaries, but he is a respectable two-way player willing to do whatever it takes to be a contributor at the NHL. We fully expect Dallas to bring back the RFA for a larger and more consistent role after an impressive postseason performance. 2019 Grade: B+.
Radek Faksa: (GP: 81, G: 15, A: 15, P: 30, -3). In the olden days of hockey, your third line was populated with average players whose only objective as a checking line was to prevent the other team's top line from scoring. Nowadays, much more is asked of the checking line. Not only is the unit tasked with shutting down the opposition's best players, but it's also expected to push play into the offensive zone with a counter punch — forcing the Patrick Kanes of the NHL far from your net while taking advantage of their sometimes lax back-checking efforts. Radek Faksa has become the prototypical "checking line" center at this point in his career, and the 25-year-old's reputation as one tough S.O.B. to play against has spread league-wide. If he were to play for say, the New York Rangers, he would be in serious contention for the Selke Trophy for best defensive forward, I swear. It wasn't a perfect season for Faksa, however. A long scoring drought reduced his effectiveness as he failed to reach his modest offensive output of last season. Still, Faksa's 200-foot-game is impressive, and his net-front presence is invaluable to the team. We still think there's an extra gear in Faksa's game yet to be developed. 2019 Grade: A- (2018 Grade: A, 2017 Grade: B+). NHL Hitz PRO Player of the Week: 1.
Martin Hanzal: (GP: 7, G:1, A:1, P: 2, -4). Well, he outscored Val this year, so that's… something? At least this year we didn't have to hear the Dallas Stars broadcast constantly pumping the tires on Hanzal and his importance to the team. 2019 Grade: INC (2018 Grade: INC, 2020 Grade: RIP).
Roope Hintz: (GP: 58, G: 9, A: 13, P: 22, -11) What a pleasant surprise! Unlike his countryman Miro, Roope wasn't expected to take on a significant — or honestly any role — with Dallas this season. But the rookie transcended from injury call-up to bottom-six irregular to top-six staple in a matter of months. It's hard to believe that this 22-year-old left winger played in 21 AHL games this season before skyrocketing to NHL second-line center! COWAFUCKINGBUNGA, DUDES! The kid is fast — so fast that even Tyler Seguin wishes he'd slow down a bit. And, at 6'3" and 215 lbs, he's eager to throw his solid frame around when called for. Hintz has all the tools necessary to become a consistent scoring threat, and is absolutely perfect to build a truly effective second line around. Unlike many flashy young speedsters in the league, he is one tough sonofagun. His gritty performance in the playoffs and commitment to shot-blocking while injured was the kind of heart that legends are made of. We love this boi! Finding Roope in your farm system is like digging through your unkept garage and expecting a scooter under a dusty old tarp, but discovering a Suzuki GSXR 1100 L with dual exhausts instead. Jim Nill must feel pretty cool right now! 2019 Grade: A+ (We initially gave Roope an A- at the conclusion of the regular season, but after this playoff run, it seems criminal to give him anything but an A+). NHL Hintz 😉 PRO Player of the Week Awards: 1.
Roope "Hands" Hintz at it again! #GoStars pic.twitter.com/GnS1rYLint

— Dallas Stars (@DallasStars) March 16, 2019
Mattias Janmark: (GP: 81, G: 6, A: 19, P: 25, -4). After successfully returning from complications of Osteopchondritis dissecans in 2017, we were expecting our favorite ghost-spotting Swede to become a consistent goal-scorer after potting 19 goals last season. Unfortunately, the 26-year-old took a step or two back this year. Still, Janmark continues to be one of the better puck-movers on the team. His impressive speed is still apparent, and his work on the penalty kill is effective. Too often, however, we are left wondering if Janmark was even in the lineup most nights, and on the occasions when he races towards the opposing goalie, dragging a defenseman with him, his lack of finish undermines the effort and skill he possess. The RFA may not be getting much of a raise this summer. 2019 Grade: D (2018 Grade: B).
Valeri Nichushkin: (GP: 57, G: 0, A: 10, P:10, -4). Guh. 2019 Grade: D-.
Tyler Pitlick: (GP: 47, G: 8, A: 4, P: 12, -2). After establishing himself as an above-average third-liner with speed and offensive edge last season, Tyler regressed to his former Edmonton Oiler ways. The 27-year-old began the year as one of the team's better-skating forwards, but Tyler was unable to shake an early scoring slump that eventually pulled the winger out of the lineup through healthy scratches, extended injury, loss of confidence and and demotion to a part-time player in the postseason. Can Pitlick bounce back next season into a serviceable depth forward, or was last year's impressive output an anomaly? 2019 Grade: C- (2018 Grade: A-).
Alexander Radulov: (GP: 70, G: 29, A: 43, P: 72, +22). Dallas' most consistent offensive threat during the regular season, Rads' 29 goals on the year marks a career high. It was also his first point-per-game season in the NHL. Much was made over a very tame in-game altercation with Jim Montgomery and a healthy scratch for arriving late to a meeting (which led to Radulov's radio silence with the media since March), but who honestly cares? He's an enigmatic Russian sniper and a fan favorite for a reason. Unfortunately, Rads did wear down against the St. Louis Blues and managed only four points in the second-round series against a very stingy defensive club. But it's hard to be critical of Radulov's season. 2019 Grade: A (2018 Grade: A). NHL Hitz PRO Player of the Week Awards: 2.
What. A. Beaut. #GoStars pic.twitter.com/nl6DhXtkzA

— Dallas Stars (@DallasStars) March 8, 2019
Brett Ritchie: (GP: 53, G: 4, A: 2, P: 6, -7). We don't want to dog-pile on Ritchie as there are plenty of people in Starsland who make it their mission to critique the part-time 4th-liner who averaged 9:36 of ice time this year. But we're genuinely curious as to Ritchie's reputation among officiating circles. The 25-year-old has never struck us as a dirty player, and although not a Lady Bing candidate by any stretch, his 57 PIM in 53 games is surprising. We've kept an eye on Ritchie on the forecheck, where he takes the bulk of his infractions, and many times this season we are left muttering "Wait, they are going to call that? Really?" Maybe this is part of a broader conversation about the inconsistencies with refereeing in the NHL — the obligatory random holding call on a no-name player to "even up" power play opportunities? — but we have to give credit to Ritchie for dutifully heading to the penalty box without protest. Regardless, it's been another forgettable season for the upcoming RFA. 2019 Grade: C+ (2018 Grade: C-, 2017 Grade: B-).
Tyler Seguin: (GP: 82, G: 33, A: 47, P: 80, +17). After a brilliant 2017-2018 season, Tyler Seguin began the year a bit less productive. The team's top centerman signed a generous contract extension over the summer and quickly went from a being showered with riches by ownership in September to being showered with horseshit in December. The so-called "Mr. Wah Wah" was never really the target of management's dissatisfaction, though. Nor should he have been. Mostly, the team's frustration with Jamie Benn found Tyler as a collateral victim. Seguin handled the ordeal professionally and naturally returned to his goal-scoring ways after his puck luck progressed to average. His red-hot performance in Round 1 of the playoffs against the Predators dramatically cooled off in the second round, though, culminating into one of his worst performances of the year in Game 7's elimination to the Blues. But on the whole, another quality season from Seggy. 2019 Grade: A (2018 Grade: A+, 2017 Grade: B-). NHL Hitz PRO Player of the Week Awards: 2.
Jason Spezza: (GP: 78, G: 8, A: 1,9 P: 27, -13). Spezza still has the hands, the heart and the will, but the tank is empty. The 16-year NHL veteran has seen a dramatic decline over the last three season — from second-line center to part-time 4th-liner. Since 2017, Spezza has 31 goals and is a whopping -43. Where does a face-off specialist who is excellent at power play zone entries and passing go when his overall game is too slow for the top six and too soft for the bottom six? Our guess is either Vancouver or Florida next season, if anywhere. 2019 Grade: D- (2018 Grade: F, 2017 Grade: C). NHL Hitz PRO Player of the Week Awards: 1/
Mats Zuccarello: (with Stars GP: 2, G: 1, A: 2, P: 3, +3). The Stars' rental may be the greatest trade deadline acquisition in franchise history in terms of immediate impact. It's truly a shame he saw such limited time in the lineup because of a broken arm, the lingering effects of which bothered the veteran throughout the playoffs. Pain or no, he still managed 11 points in 13 games (including the playoffs), tying Tyler Sequin for the team lead in the postseason. Zucc is the rare player who truly makes everyone around him better with his elite level play-making and passing ability. How 'bout we sign this dude to ride shotgun with Hintz for a few years, pretty please? 2019 Grade: A.
Defense.
A cavalcade of injuries saw many faces come and go this season, but the bois in the back end were unquestionably strong as a unit this season. 2019 Group Grade: A.
Taylor Fedun: (GP: 54, G: 4, A: 7, P: 11, +2). What's the point of spending high draft picks and years of development on defensemen when you can throw a 7th round draft pick at Buffalo, pick up an AHLer who is a consistent healthy scratch and have him outperform half of your D corp? Well Taylor, wait… one moment, please… yes, it's Taylor and not Tyler… Fedun is not your ordinary fella. The Dallas Stars' Masterton Trophy nominee had himself one heckin' journey from Princeton University to the Big D. Initially an emergency depth acquisition, Fedun's poise and cerebral play on the third pairing is a big reason why Jim Montgomery would keep the 31-year-old in the lineup over other options, allowing Fedun to set career highs in nearly all categories. The playoffs were a different story for the defenseman, however, as Fedun was exploited by the opposition frequently with increased physical play and became the Stars biggest liability in their zone. It will be an interesting offseason for Taylor as the UFA hits the market with the potential to finally become an everyday NHLer. Will it be with Dallas? After his postseason, we kinda doubt it. #FreeFedun? 2019 Grade: B-.
Miro Heiskanen: (GP: 82, G: 12, A: 21, P: 33, -14). From the very first shift we witnessed the teenager skate in the NHL, we immediately recognized what a special player Dallas drafted. Jere Lehtinen's stereotypically understated Finnish recommendation of the defender had us excited to see Miro in Victory Green™, but we had no idea how immediately impactful a rookie could be in North America right out of the gate. What a treat! His exponential improvement throughout the season was a joy to watch as the nuances of the NHL were quickly absorbed and processed by the wunderkind. We could spend all day gushing over the rookie and his deft stick work, subtle jukes, situational awareness, poise, accurate passing, sneaky shooting and incredible skating ability. But we think it's best to echo Ben Bishop instead, as he is already on record calling Miro Heiskanen a future hall of Famer. Miro may not be a finalist for rookie of the year, but our beautiful baby boi will be awarded several Norris Trophies as best defenseman in his career — no doubt about it. When asked about his sensational first season in the NHL, Heiskanen replied, "Oh, yeah, it was pretty good." SIGN THIS CHILD TO CAREER LONG CONTRACT NOW, OK? 2019 Grade: A+ (2018 Grade: He wasn't even born yet!) NHL Hitz PRO Player of the Week Awards: 3.
Miro Heiskanen, ladies and gentlemen. Spread the word. #GoStars pic.twitter.com/S7SNHfp2zj

— Dallas Stars (@DallasStars) January 3, 2019
Julius Honka: (GP: 29, G: 0, A: 4, P: 4, -2). For a player who has only skated 87 career games in 3 seasons with Dallas, Honka sure has been a frequent point of discussion. According to some, the Julius Honka experiment is emblematic of the Stars' inability to develop highly touted draft picks into serviceable players. Three separate coaching regimes have declined to regularly use the former first-rounder and Jim Montgomery outright refused to suit the 23-year-old even amidst a flood of injuries to his D group. AHL call-ups, offseason acquisitions, mid-season acquisitions and trade deadline acquisitions have all been utilized as Honka's name plummeted from promising prospect to mud. As we said last season, "Either trade this former blue chip for an everyday player for your inept team, or start this player everyday on your inept team. Honka is losing value by the minute in the meantime, and looking less appealing as the Miro Heiskanen era nears." Church! 2019 Grade: F (2018 Grade: C, 2017 Grade: INC).
John Klingberg: (GP: 64, G: 10, A: 35, P: 45, +6). Miro may have stolen some shine from Klingberg this season, but make no mistake about it: Klinger is still one of the most competent and talented defensemen in the NHL. The 26-year-old had an uneven season largely due to a serious hand injury smack dab in the middle of the year, but as soon as the Stars' top (for now) defenseman fully recovered from a broken hand that cost him 18 games, Klingberg paced the Stars' offense from the back end. Dallas nearly cracked the NHL's top 10 in power play percentage this year, and Klinger's career-high 5 PP goals and 15 PP assists are a huge reason why. 2019 Grade: A- (2018 Grade: A, 2017 Grade: C+). NHL Hitz PRO Player of the Week Awards: 1.
Another wicked wrister for @johnklingberg and that's goals in back-to-back games! #GoStars pic.twitter.com/zJk3rBzgnM

— Dallas Stars (@DallasStars) March 6, 2019
Esa Lindell: (GP: 82, G: 11, A: 21, P: 32, +14). How's this for a stat that no one knows about? Esa Lindell led the entire NHL in 2018-2019 with defensive point shares! How badass! Ummm, what exactly does that mean. though? Well, you dumb donkey, its simple! Err… OK, we don't really know either, but hockey stat nerds are generally unimpressed with the analytic. Be that as it may, Esa has quietly ascended to heights few considered him capable of when chosen in the third round and 74th overall in 2012. Unlike his idol Teemu Selanne the "Finnish Flash", Esa didn't burst onto the scene with buckets of confidence or fanfare; instead, Lindell has steadily improved over his 3 years from a regular for the Stars into one of the top all-around defensemen in the Western Conference. After setting career highs in nearly all categories this year, Esa was quickly re-signed to a six year extension, averaging $5.8 million a year. Hey now! With all this new money, maybe you'll catch Esa blaring his favorite Finnish band on a brand new pontoon boat at Joe Pool Lake this summer! 2019 Grade: A (2018 Grade: B+, 2017 Grade: B-).
Esa Lindell doesn't have time for your fancy pants one-on-one moves, Viktor Arvidsson pic.twitter.com/ljzaWoYXlb

— Robert Tiffin (@RobertTiffin) April 11, 2019
Ben Lovejoy (with Dallas GP: 20, G: 0, A: 2, P: 2, -2). "The Reverend" was acquired via trade with the New Jersey Devils for Connor Carrick and a third round draft pick at the deadline, and he performed pretty much as you'd expect from the veteran stay-at-home defenseman. He offered quality penalty-killing and unremarkable if not dodgy defending at even strength. The UFA is unlikely to return. 2019 Grade: B-.
Jamie Oleksiak (with Dallas GP: 21, G: 0, A: 1, P: 1, 0). If you would've told us before the season began that not only would Oleksiak be shipped back to Dallas from Pittsburgh via an "undo" trade, but that he would be sorely missed from the lineup at one point in the postseason, we would have laughed like a mug. Just the same, the Big Rig provided adequate defending on the third pairing for the Stars upon his return and, although he was unable to establish himself as the best option as the team's 5th defenseman, his size proved to be invaluable in the playoffs. Jamie's physicality was key in keeping the Nashville Predators far from Ben Bishop in Round 1, and his absence after sustaining a knee injury in Game 6 was glaringly apparent against a much larger and aggressive Blues squad in the following round. It's been a weird saga between Oleksiak and the Stars, but with two more years on his contract, hopefully this can be the start of something good. 2019 Grade: B- (2017 Grade: D).
Roman Polak: (GP: 77, G: 1, A: 8, P: 9, +6). A dialogue:
Eternally Cantankerous Stars Fan: OMG wHy Did JIM NULL sIgn thIS GUy!!! HE SUX s0 [email protected]!!!
Forechecking™: He's a nice depth signing, should he be needed to fill in for injuries, he's a viable option and a tough, well respected veteran.
ECSF: G0 D1E!!
*Injuries happen
ECSF: OMGZ Y iS POOOOLACK getIN s0 meny MINUTES!!! Y NOT HONKA!!!
Forechecking™: Roman is playing very well. Brings a physical edge and warrior mentality that is lacking from the back end and team in general. Hell of a penalty killer, too.
ECSF: He DA WeRSt HockEY [email protected] EVA!!!! HE SL0w n he SuX!!!!!
Forechecking™: Polak has competent speed, and the occasional mistakes he makes are outweighed by his overall game. For $1.3 million, he is grossly outperforming his contract and nearly bulletproof. Would love to sign him to another one-year deal and reduce his role back to what he was initially intended. Monty calls him "a coach's dream" for a reason.
ECSF: REEEEEEEEEEEEEE!!!!!!! 2019 Grade: A-.
Goaltending.
The bois in the funny pads did everything but score. 2019 Group Grade: A+.
Ben Bishop: (GP: 46, W: 27, L: 15, T/0: 2, SV%: .934, GAA: 1.98, SO: 7). Bishop's brilliance in net singlehandedly kept the Stars afloat as they struggled to find their identity this season. It seems so long ago now, but Dallas began the year a true mess with a first-year NHL coach struggling to figure out the league, a defense corp that changed every week, slumping performances from top players and a roster full of skaters who couldn't buy a goal. Bishop saved the season. His consistent and calm netminding allowed the Stars to figure out their collective shit and grind their way into the playoffs. A Vezina-quality season from the veteran, and one of the most impressive efforts from a Stars goaltender, ever. His heroics in Game 7 against St. Louis was one for the record books. 2019 Grade: A+ (2018 Grade: B). NHL Hitz PRO Player of the Week awards: 7.5.
Ben Bishop does it all. #GoStars pic.twitter.com/Ct5InS53cK

— Dallas Stars (@DallasStars) March 26, 2019
Anton Khudobin: (GP: 41, W: 16, L: 17, T/0: 5, SV%: .923, GAA: 2.57, SO: 2). It's safe to say that Khudobin is the best backup goaltender in Dallas Stars history. Sure, we have fond memories of Roman Turek, Mike Smith and Andrew Raycroft, but no other No. 2 has acted as No. 1 as this before. The ultimate insurance policy, "Dobby" is the frequent premium payout that would bankrupt State Farm. We want to make this very clear: The Dallas Stars do not make the playoffs without Khudobin this year. 2019 Grade: A. NHL Hitz PRO Player of the Week Awards: 3.5.
Dobby was phenomenal in OT and we're heading to our first shootout of the season! #GoStars pic.twitter.com/Nn4AvWLNJL

— Dallas Stars (@DallasStars) March 18, 2019
NHL Hitz Pro Player of the Year.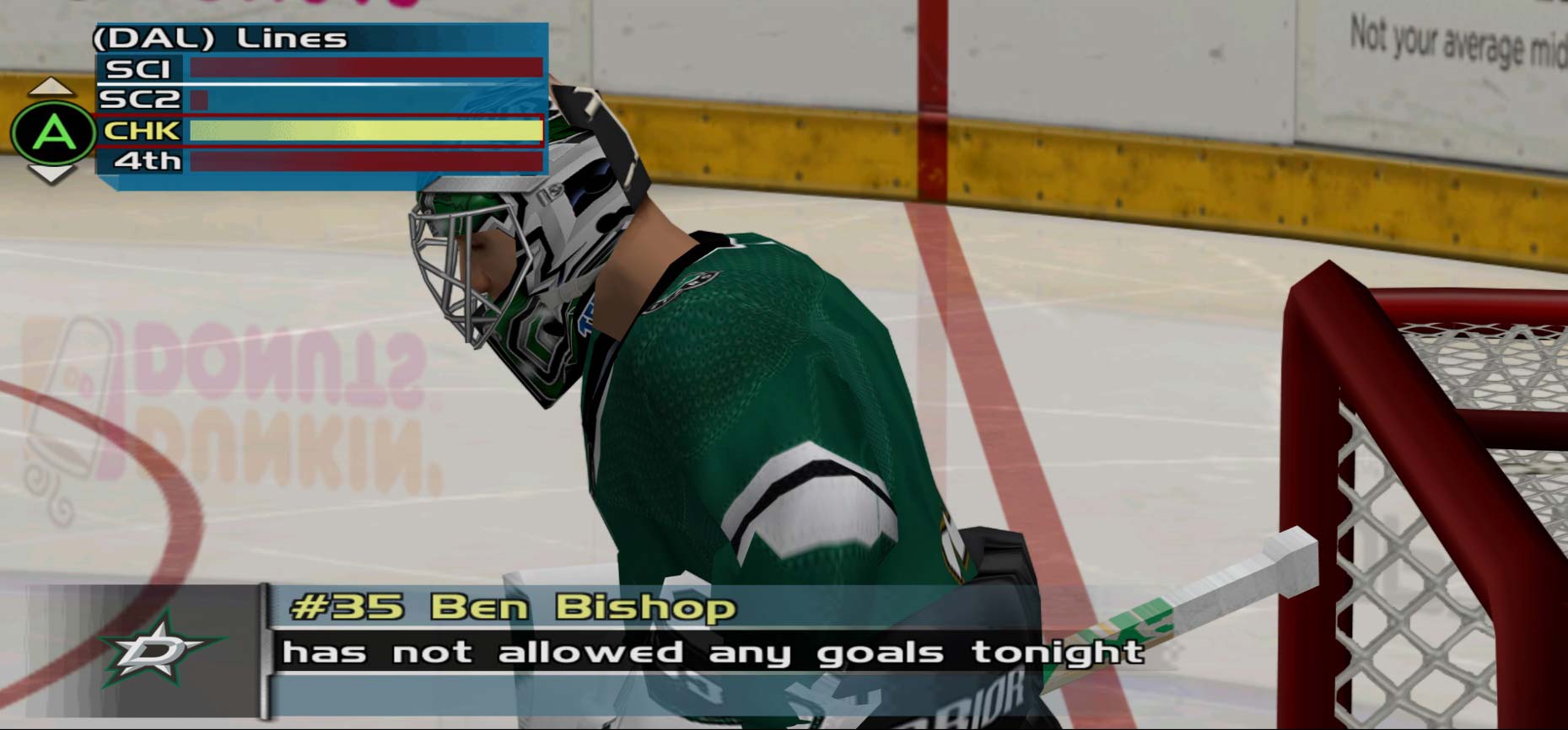 An easy choice. It's Ben Bishop's world, and we're just livin' in it.
* * * * *
As expectations rise for the bois in Victory Green™, we have great confidence that Jim Montgomery and company are in excellent position after raising the bar in 2018-2019. While winning the Stanley Cup is always the goal, it's been a pretty swell year for your Dallas Stars!
Thanks for tuning into Forechecking™ again this season, folks. We hope you've enjoyed our slapstick coverage of the team as much as we've enjoyed bringing to you.
We'll see you a few months from now when it comes time to preview the 2019-2020 season, Starsland.
Flip it. Stick it. See ya later. Bye. — LehtMoJoe