Looking Back At Your Dallas Stars' 2019 Stanley Cup Run, Which Got Everyone Super Hyped Before The World Came Crashing Down Against The Blues In Game 7.
It's been a week now since Your Dallas Stars were eliminated from the 2019 Stanley Cup Playoffs.
In Game 7, the St. Louis Blues defeated our bois in Victory Green 2-1 in double overtime to move on to the Western Conference Finals by largely dominating the game in all aspects — but one. Ben Bishop's mastery in net kept the Stars' hopes alive through 85 minutes, allowing his team to capitalize on infrequent but dangerous scoring opportunities at the other end of the rink. Jamie Benn, Andrew Cogliano, and Roope Hintz all came close to successfully ending the contest in the Stars' favor before the Blues' Patrick Maroon — of all friggin' people! — chipped home the game winner.
Real Talk: The Blues were consistently the better team throughout the series and deserved to win. St. Louis roared into the postseason as the most dominant team in the West, and the same physical play that overwhelmed the Winnipeg Jets in Round 1 ultimately wore down the Stars in Round 2, too.
We ain't mad. We even joked with our friend Smitty over at IN D.O.C. Inmate Telephone Service that the only way Dallas would win Game 7 was by scoring a power play goal and parking the bus in front of Ben Bishop. Alas, the Stars didn't score a power play goal as the Blues somehow managed to not commit a single infraction throughout the game. (The Stars certainly attempted stacking bodies in front of Bish, though, blocking 30 shots on goal in the effort.)
Still, what really did the team in? We have some thoughts…
Tops Drop: I just wanna drop it, aaa-aall night long, drop it, drop it, drop it. An area of strength for the Stars all season long has been their above average success in the face-off circle. But after a long series of having the upper hand on St. Louis, the team struggled here in Game 7. The Blues managed a 54 percent to 46 percent advantage on puck-drops throughout the night — and, if you'll recall, the game-winning goal even developed from a face-off loss in the defensive zone. Tyler Seguin struggled mightily on the night as his once-dominant face-off prowess disappeared in Game 7, with him winning only 9 out of 28 shots on the dots. Radek Faksa, on the other hand, won 17 of 26 — and, strangely enough, also led the team in shots with five. Yikes!
Carry That Weight: Boi, you're going to carry that weight a long time! Esa Lindell's 37:56 of ice time was highest between both clubs, and he was on the ice for all but 8 seconds of the Stars' four minutes on the PK. Brett Ritchie's 7:52 was lowest of all skaters, but he still managed to take his customary penalty. If you need someone to take a useless penalty in a game, look no farther than Ritchie! He's got that skill on lock.
Cish Cash, Bish Bash: It's not enough; you want more of it. You're insatiable! Ben Bishop set some lofty records in a Game 7 performance — his time on ice, saves, shots faced, saves in one period and save percentage are all now the highest in Stars history for Games 7s, and his career-best 52 saves slots him a No. 5 all time in the NHL record books. He's no Randy Watson, but that boi is good!
Baby Don't Hurt Me: Don't hurt me, no more. Roope Hintz had a great postseason run, and he was the Stars' best forward against the Blues. Not only is Hintz a talented youngster with speed to burn, he's also tough as nails — the effective centerman played Game 7 with a broken foot! Ouchies! It has also since been revealed that Mattias Janmark's broken foot in March never fully healed while heading into the postseason. And Mats Zuccarelo arm break did heal, but his tendons struggled and required injections before each game. Jamie Oleksiak, meanwhile, sustained a knee injury in Game 6 against Nashville, which kept him out of the lineup while his replacement, Joel Hanley, injured his shoulder in his one start. We've heard no word yet on any injuries to Benn, Seguin or Radulov, but surely something happened to them… right? Right? …………….RIGHT!?!?!
NHL Hitz Pro Player Of The Playoffs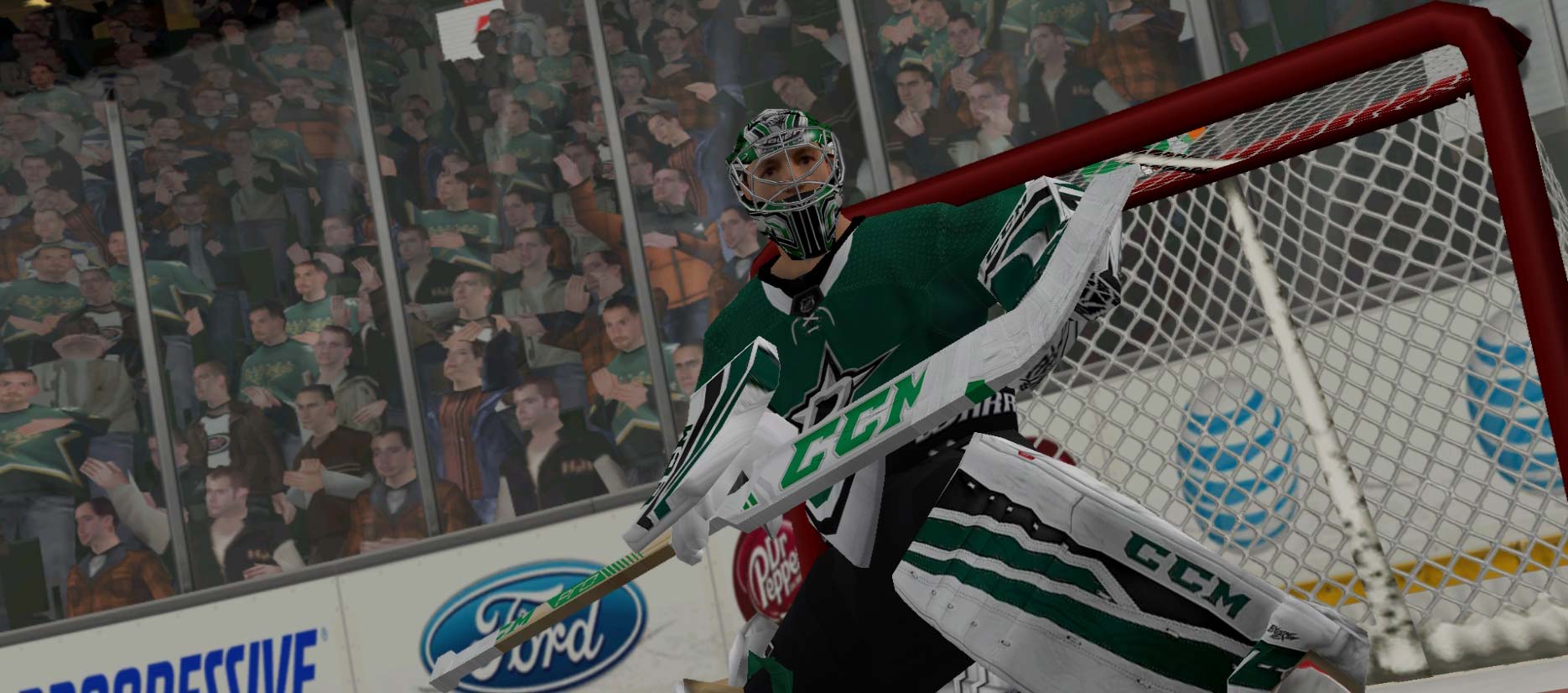 C'mon. It's Ben Bishop.
* * * * *
Soon enough, we here Forechecking™ will officially wrap up our coverage of the 2018-2019 season with our highly celebrated Dallas Stars Report Card™. It's our favorite column of the year to pontificate and compose! (Spoiler alert: Miro Heiskanen is going to be rewarded with plenty of Chuck E. Cheese tokens!)
Flip it. Stick it. See ya later. Bye. — LehtMoJoe