Secondary Scoring Is Becoming A Glaring Problem For Your Dallas Stars, Who Got A Bit Of A Reality Check In Their First Road Trip On The Season.
Welcome to Forechecking™, our weekly Dallas Stars column that looks back at the hockey week that was, and the hockey week that will be.
So far in this young 2018-2019 NHL season, Your Dallas Stars have flashed some diamonds mixed in with a lot of cow poo poo.
The Stars, you no doubt recall, closed out their initial homestand with tremendous excitement only to land with a bit of a dud during games in Ottawa and New Jersey.
The takeaway here, we'd say, is that new coach Jim Montgomery is going to have to learn quickly how to manage NHL match-ups, as the home ice luxury of sending out a line in response to the opposition is no longer an available option for his game plans. An additional challenge for the young coach? Figuring out how to coax secondary scoring out of a team that, straight up, just has no secondary scoring.
For the record: We here at Forechecking™ are optimistic on these fronts, and we fully expect goals to eventually appear from beyond the Stars' Big Three as Monty's system becomes more practiced. Till then, though, it's gonna take a whole lot of patience and time, to do it, to do it, to do it, to do it, to do it, to do it right, child.
Onto the game recaps!
Last Week in Your Dallas Stars.
• Victory Green™ vs. Anaheim Ducks, 5-3.
In the world of sports, one sometimes feel sorry for an opposing team or player who is completely out of their depths in a contest. Ill feelings towards an adversary quickly give way to compassion in such incidents, as the excitement of execution and excellence of one's rooting interest yields to the glaring vulnerability of a worthy opponent suddenly all alone in a world so cold. On this day, Stars fans shall remember and honor the efforts of a young man who stood alone against the likes of Jamie Benn, Alexander Radulov and Tyler Seguin. A young man from Pittsburgh, Pennsylvania, who, after a facing 30 shots in one period, has no recollection of where he is from or who even is. A young man who was so shell-shocked and exasperated mentally, physically and spiritually, that he was pulled from the game despite being the best player on the ice. On this day, Stars fans shall remember Anaheim Ducks netminder John Gibson. RIP. He dead.
Notes: Dallas battled back in this one after backup Stars netminder Anton Khudobin surrendered three goals in the first period. It was shades of 2016 Stars, I tell you. Once again, the second period is this team's dominant frame. Also positive? Young Stars center Jason Dickinson won seven of the eight faceoffs he took, and Alexander Radulov became foutth player in Stars history to score a goal in each of the team's first four goals in a season. Also, we love the contrast of Khudobin's mask's matte black upper portion and its glossy green lower half.
• Darkness Music @ Ottawa Senators, 1-4.
The Stars' first road trip of the year kicked off against the Erik Karlsson-less Sens, and to mixed results. Montgomery's shuffled lines, which were very effective against Anaheim, were unable to generate much offense after a solid opening frame. Dallas outshot, out-chanced, and created more scoring opportunities than the Senators in this contest but were unable to solve a red-hot Craig Anderson in net for Ottawa. Props to John Klingberg for notching the Stars' lone goal and extending his point streak, though.
John Klingberg scored 8 goals in 82 games last season.

He's got 4 goals in less than 5 games already this season. 🔥🔥🔥 #GoStars pic.twitter.com/ati46omxKs

— Dallas Stars (@DallasStars) October 16, 2018
• Darkness Music @ New Jersey Devils, 0-3.
The second night in a back-to-back saw some fresh faces in the lineup, but the additions of Roman Polak, Gerald Smith, and Roope Hintz into the rotation wouldn't be nearly enough to energize the Stars in this contest. Unlike the previous early evening contest, Dallas was straight outclassed for nearly the entirety of this shutout loss. Ill-advised penalties and leaky goaltending meant the team couldn't rely on the shooting bonanza it's so far become accustomed to this season. A particularly embarrassing sequence encapsulated the Stars efforts on the night: A stickless Khudobin frantically waved to his bench for a replacement only to be ignored as Klingberg attempted a 50-foot-pass right into the Devil forecheck. Oh, just watch…
#OCTOBER16 #DALvsNJD 2nd period@jsdea10 's 3rd of the season
3-0 NJDevils pic.twitter.com/mkdiR9ziVa

— John Smith (@NJviDs) October 17, 2018

Eventually, Roope Hintz would take a high-sticking penalty, leading the team to unceremoniously end the game shorthanded as the New Jersey Devils pushed their unlikely record to 4-0-0, best in the entire heckin' league.
NHL Hitz PRO Player Of The Week: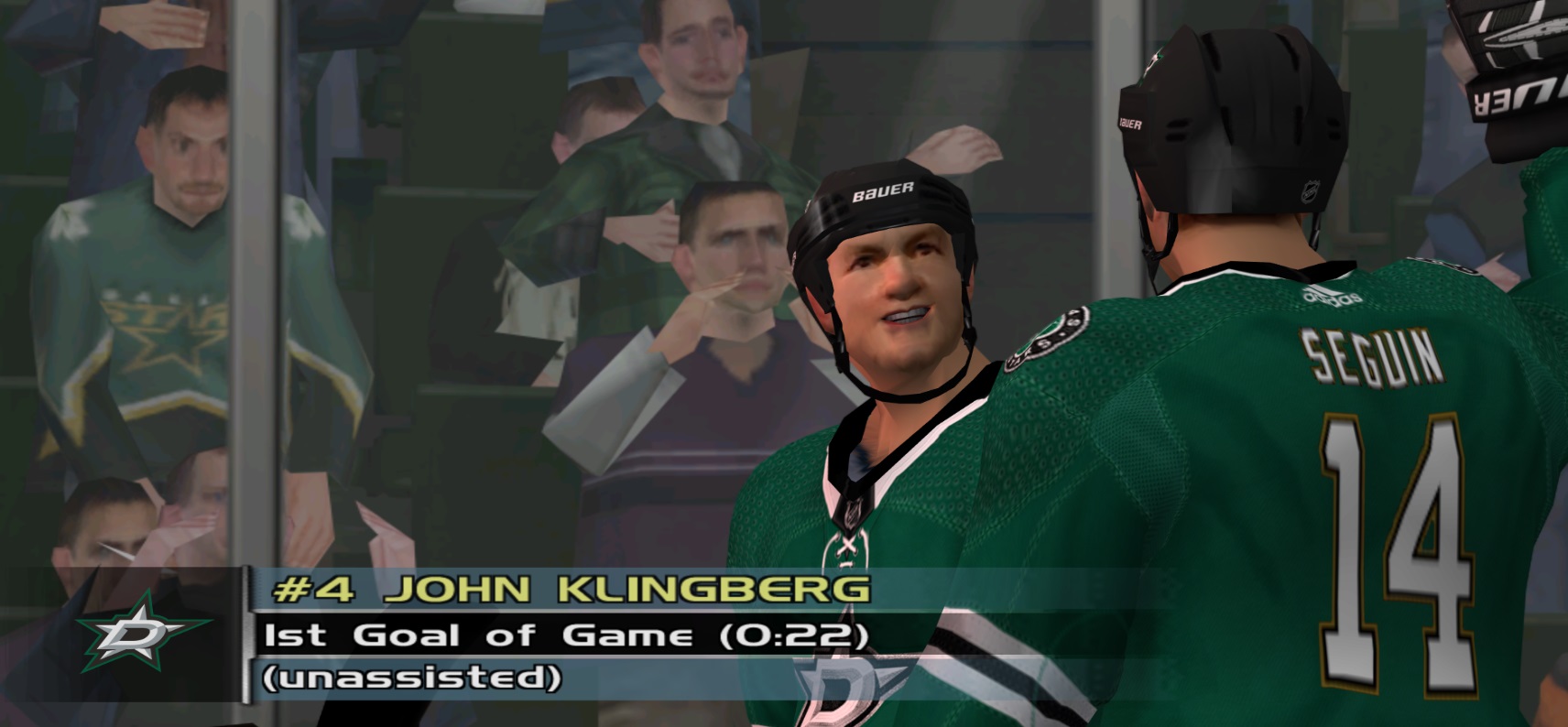 We're going to have to disregard the Devils game in order to award the NHL Hitz PRO Player Of The Week award to Klinger. No. 3 continues this season where he left off last year, leading the Stars in ice time and holdin' it down in all game situations. Through five games, Johnny Boi has posted four goals and two assists, placing him tied for fourth in NHL defensemen scoring. Two of those goals, meanwhile, have come on the power play, with one of them being a game-winner. Not much happens offensively on this team without Klingberg on the ice. For better or worse.
This Week In Your Dallas Stars:
Your Dallas Stars got up feeling so down, and got off being sold out, and thus are happy to be back home to a packed American Airlines Center.
• Friday, October 19, at 7 p.m. vs. Minnesota Wild (Away): Hey, it's one of the few Central Division teams that packs less of an offensive punch than Your Dallas Stars!
• Tuesday, October 23, at 7:30 p.m. vs. Los Angeles Kings (Home): Former first-round Stars pick Jack Campbell is getting some playing time in net for the Kings these days, and good on him!
Flip it. Stick it. See ya later, bye. — LehtMoJoe