If The Stars Don't Start Winning Some Games, They'll Hit The Christmas Break Firmly Outside The Playoff Picture.
Led by the "New Triplets," the Dallas Stars are a fast-and-furious squad that have quickly become the darlings of the hockey world this season. Thus, we welcome you to Forechecking™, our weekly Dallas Stars column that looks back at the hockey week that was, and then the hockey week that will be.

Your Dallas Stars started the month of December much like the previous two, alternating wins with losses. Some people might say that the team is inconsistent. But, I dunno, seems pretty damn consistent to me. We've highlighted the teams' issues in previous posts, so let's bypass that recurring trope until the next sentence. If you see a faded sign by the side of the road that says 15 miles to the injured reserve… injured reserve, yeah!
Dallas trails only the Detroit Red Wings, Edmonton Oilers and Buffalo Sabres in man-games lost, but throw in Julius Honka in an arm cast and a captain who hasn't really been right since off-season surgery, and things don't seem to be improving much.
But we here at Forechecking™ are a positive bunch, and we got a Chrysler that seats about twenty, so come on and bring your jukebox money!
Last Week in Your Dallas Stars.
• Darkness Music vs Calgary Flames, 1-2.
Not a great way to kick off the month on home ice. Johnny Gaudreau and the Pacific Division-leading Flames found a way to win a contest in which Dallas played the superior game. Goalie Kari Lehtonen had another superb performance foiled by some defensive breakdowns that resulted in too many odd man rushes and breakaways against. The Stars nearly tied it in the third — twice! — but ended in another case of "just abouts" for the boys at home.
Of note: Curtis McKenzie had a belligerently sexy effort to open the scoring. He's performed very well for the Stars this season as a depth utility player. Julius Honka sustained an injury in the second, and he got sick and passed away.
• Victory Green™ vs Nashville Predators, 5-2 .
A desperate-for-job-security Lindy Ruff assembled the Super Nova line of Jamie Benn, Tyler Seguin and Jason Spezza to spark some offense in a team that hasn't scored more than three goals in the last 11 games — and, boy howdy, it worked! Dallas scored five goals in two periods against the slumping Predators, and milked their way to Victory Green™. Fantastic play from winger Antoine Roussel and the depth lines allowed Seguin and Co. to force the issue in the Predators zone, and eventually chase Pekka Rinne from the game. Stars fans finally had something to cheer about in the AAC, huggin' and a-kissin, dancin' and a-lovin', wearin' Victory Green™ 'cause it's hot as an oven!
Of note: Former Dallas Star Adam Pardy was in the lineup for Nashville on defense. Bad decision, coach! Jason Dickinson made his season debut, as nearly every serviceable Texas Star has for Dallas this year. Management thinks very highly of the kid.
• Darkness Music at Philadelphia Flyers, 2-4.
The Flyers are good this year — really good. Brayden (don't spell your kids name like that) Schenn scored a hat trick, helping Philadelphia win its eighth in a row in a competitive, early ass matinee game. The tightly contested affair came down to the third period where Dallas' woeful special teams collapsed, allowing the game winner and sinking the Stars' penalty killing unit to 27th in the league with a disheartening 76 percent success rate. Got damn, that is awful. Kari was solid yet again, and it's making myself and other luminaries wonder if bringing in another goaltender will make much of a difference on this year's squad. (The Blackhawks actually have the NHL's worst penalty kill and are first in the division, so what exactly anything means, I don't know. Damn. Quit askin'. Back back back back, gimme 50 feet.) Another winnable game that we ain't win. It's gettin' old.
Of note: Jason Spezza, whom we highlighted last season for his head hunting shots, done did it again, blasting the helmet off Steve Mason. Is this just yet another coincidental noggin' knocker from the veteran, or part of a larger, well-orchestrated effort to intimidate the opposition? Are we going to follow the money?  or are we going to follow the money?
• Darkness Music at Chicago Blackhawks, 1-3.
Speak of the devil! In the battle of league's crappiest penalty killing, who comes out on top? As in, less crappy in the most special of special teams? What if I told you that Dallas played an even contest with Chicago until the third period where they surrendered a soul-crushing power play goal. What if I told you that? Would you believe it? Would you believe us? You think we the type of people to make stuff up on the internet? Well, maybe we is and we sittin' here grinnin' like a possum eatin' a sweet tater, but I sure 'nuff is tellin' y'all the truth. These here dadgum special teams would make a preacher cuss, I tell ya. They 'bout as useless as a screen door on a commie submarine. Right now, them boys playing so dumb, they could done throw themselves on the ground and miss. Stars did good, I reckon — till the third, where they skated slower than a Sunday afternoon. Second night of a back to back on the road? Nice effort, yet another loss. Just sucks.
Of note: The return of Jiri Hudler from mystery illness (mono, probably)! The return of Johnny Oduya from upper body injury (ice-cream headache, almost certainly)! The absence of Jamie Oleksiak for elbowing a Flyer in the head on Saturday (tin roof, rusted)!
Unofficial Sega Genesis NHL 94 Player of the Week.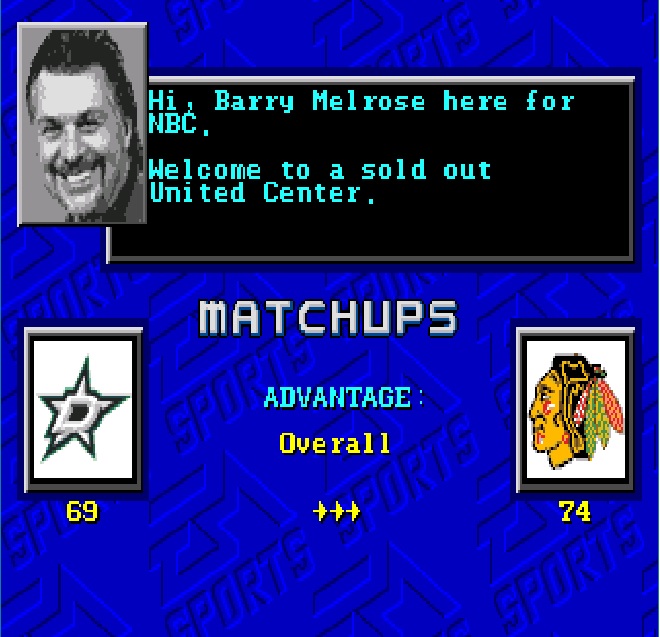 With three goals in the last games, Devin Shore is our unofficial player of the week. Devin plays an honest game with solid vision and awareness. His effort? I like it very much.
This Week in Dallas Stars.
Welp, this is it. Lindy Ruff and his Boys From Big D host five games at home with employment on the line. We aren't exaggerating, either. The Stars have to start winning some games or else will hit the Christmas break firmly outside the playoff picture. And, historically, teams on the outside at winter don't make the big tourney in the spring.
That said, we'll see the Ducks on Tuesday, Rangers on Thursday and get a rematch with the Flyers on Saturday. They have to pull at least four points this week, they just have to. I think they will. In fact, I'm so confident that they will, I'm willing to bet on it. If the Stars obtain four points this week, y'all have to buy me a Spawn action figure.
And in the highly unlikely scenario that they don't, I will watch David Lynch's 1984 theatrical release of Dune in it's entirety, for the first time in my life, and post a thoughtful and detailed movie podcast review with TC Fleming.
He who controls the Central Division, controls the universe!
Flip it. Stick it. See ya later, bye. — LehtMoJoe
Cover photo via the Dallas Stars Facebook page.