KAABOO Texas' Investors Promise The Festival Will Return To AT&T Stadium In 2020 — And We Actually Think It Could Pop (With Some Tweaks).
All photos by Carly May. 
Dear KAABOO Texas Organizers,
We hope this letter finds you well and in a much-deserved state of relaxation.
If you don't mind, I'd like to quickly tell you a story. (We promise it's on-topic, and that we're trying to make a point with it.)
This tale is about four artsy misfits who hung around the lowly gutters of New York City, performing at the now-long-defunct Manhattan club Café Bizarre, where a random attendee who saw them play fell in love with their music and offered to be their manager. After helping the band secure a deal with Verve Records, this manager would become an elusive, de facto member of the band, even taking on the role of their producer. As producer, he commissioned the help of a fashion model who had achieved a modicum of success as a solo musician, and recorded a fortuitous collaboration that would be his new discovery's debut album. They put gallons of blood, sweat and tears into this record, and while they were exceptionally proud of the end result, it only sold an abysmal 30,000 copies.
Now, that producer was an eccentric artist you know as Andy Warhol. The band was the Velvet Underground. The album they recorded was fittingly named The Velvet Underground & Nico, and despite initially being a profound commercial failure, it is now heavily regarded as one of pop culture's greatest achievements — with Brian Eno once famously quipping that "everyone who bought one of those 30,000 copies started a band."
My point: Just because something starts out a failure doesn't mean it was poorly executed, or that it can't have a bright future.
Anyway, I bring this up to offer not only encouragement, but also clarification. Because, well, your below since-deleted tweet gave us the subtle indication that you might not think we're on your side.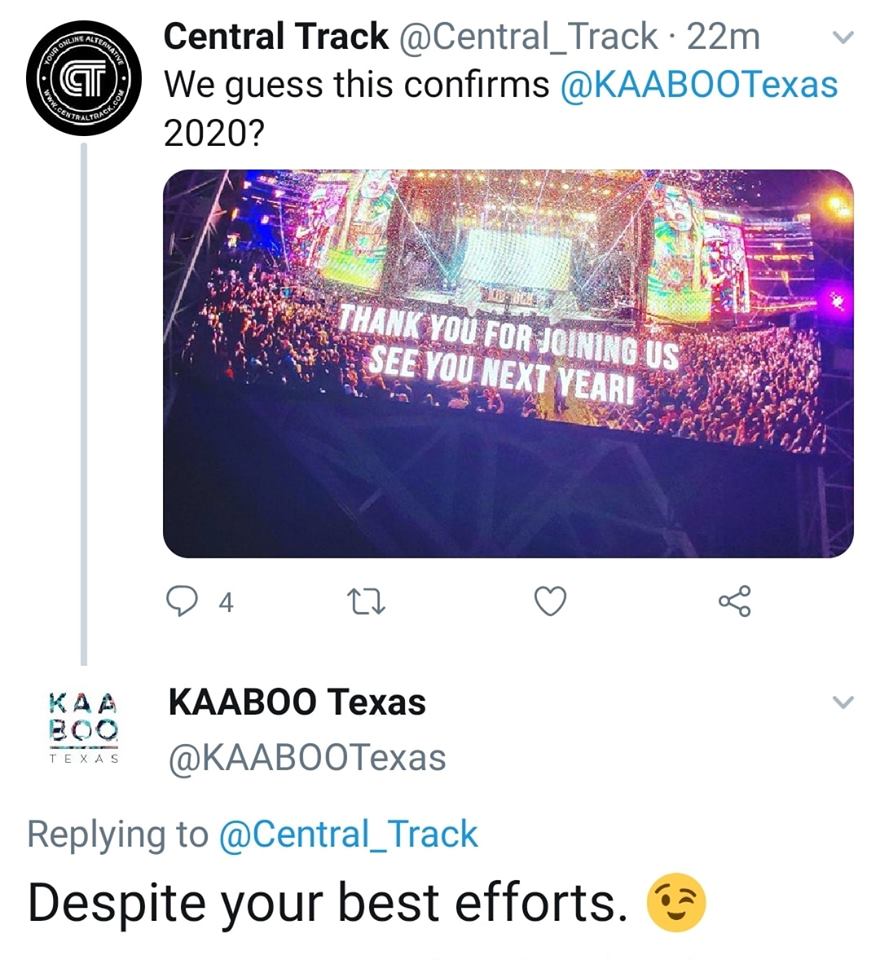 We're guessing this is the result of our Saturday afternoon look at the festival's kickoff, a piece that ran under the "KAABOO Should Be Called KAABOOM Since It's Bombing" headline.
First of all, c'mon: Friday was a bit of a bomb, at least as far as turnout went. Even you all have to admit that. KAABOO Texas' AT&T Stadium grounds were laid out to accommodate 100,000 or so attendees; according to our best estimates and the figures we were told on the low, there no more than 10,000 people in attendance on opening day. We were just stating facts by saying the thing looked severely under-attended — because it did.
But, beyond that point, if you'd actually read the piece, you'd know that we were genuinely impressed by a lot of what we saw that the festival had to offer at first blush — from the gorgeous grounds to the interesting food options to the professional integration of visual art to, perhaps most of all, to its impressive performances from big-name acts. And with two more days of attending the festival now under our belts, we stand by all of what we said about Friday on Saturday. But given the low turnouts that persisted throughout the weekend — Saturday's crowds increased to up around 15,000 or so, and Sunday's figures basically returned to Friday numbers — we also stand firm in our belief that the event was poorly marketed, if not targeted at the altogether wrong crowd. (This is saying nothing, either, of being scheduled around the same weekend as the PGA's AT&T Byron Nelson golf tournament in Dallas this same weekend and trying to compete with Mother's Day for attention.)
With better marketing, more specific audience targeting (just a thought: maybe older crowds don't love standing around in parking lots for hours at a time, no matter which musician they're seeing?), more approachable price points and a less strident push to make this a "luxury" event filled with "elevated" packages (most every stage was blocked off with nowhere-near-capacity VIP sections right in front of the performers, and attendees were charged extra if they wanted to see any of the DJs performing on the "Bask" stage), this thing could stand to perform much better in future years than it did in its first run. In other words: There's a lot of room for growth.
So, yeah, we were elated to hear Dallas real estate developer and KAABOO Texas investor Bill Hutchinson confirm to us that KAABOO Texas and the Dallas Cowboys have committed to a 10-year agreement on the fest's operations in Arlington, and that the festival will definitely return in 2020. Video signs around the stadium also noted this as crowds left the grounds on Sunday night, and it has since been doubled-down upon by a statement released today, wherein KAABOO Texas festival partner Jason Felts said the event "delivered a little something for everyone both indoors and outdoors at AT&T Stadium" and "look[s] forward to seeing everyone again next year!" (His exclamation point, not ours.)
Contrary to the implication in your fest's admittedly beautiful clapback tweet shared earlier in this letter, that's honestly some music to our ears.  We are relieved that learn that, unlike a certain other recent attempt at throwing a big-budget music festival in the Dallas suburbs, you say you're in this for the long haul and not just likely to bow out after a promising, if also wholly underwhelming, one-year trial run.
Honestly, if nine more years of KAABOO Texas are really on the table, that right there tells us that the mostly California-based operators behind your event are sincerely committed to supporting — — and, perhaps more important, committed to understanding — our community and our culture.
Confused as we might have been by your first-year lineup, we have actually looked at your festival with intrigue –and we were noticeably impressed with your ability to land a partnership with the Dallas Cowboys, even if we're now wondering if the Cowboys should've better integrated their franchise into the event beyond offering their grounds as a site. Beyond some players simply attending the fest, wouldn't it have been cool to have seen Dak Prescott, Ezekiel Elliott and others affiliated with the team introducing performers at the event? It would've definitely helped with the fest's social media reactions throughout the weekend, for sure.
Let's further break down some very specific ways the festival can improve in future years:
Revamp your marketing. Not to rub salt in the wound since you're likely still crunching your numbers, but there couldn't have been more than 30,000 individual people in attendance over the weekend — and that's us being kind of generous. Just take a look at some of the comments on our own social media posts about the event this weekend; it's pretty shocking how many people claim they'd never heard of the festival prior to it already happening. That obviously needs to improve.
Give due consideration to the date ahead of time. We already said this, but it bears repeating: Competing with AT&T Byron Nelson and Mother's Day definitely hurt this event, especially considering how openly targeted this year's lineup was at older, suburban crowds.
Make the ticket scaling easier for consumers to understand. Up-charging for people to get into the DJ performances at the "Bask" stage really pissed off a lot of people who'd already dropped big money on getting in the initial gates. Pricing things out like that is obviously you're prerogative, but better informing people of those charges should be, too. You clearly figured this out by the end of the weekend, too: There's a reason why you ultimately relented on Sunday, handing out "Bask" access to various people throughout the grounds for free on the fest's final day. On the other hand, things never really improved at the comedy stage, where attendees were continuously confused by the fact that they had to show up early to the tent and get in line just in hopes of getting inside the stand-up venue. Maybe just have comedians perform out on the regular stages like everyone else did? That makes a lot of sense where we're sitting.
Seriously, get some Cowboys players involved! Just imagine seeing Jason Witten introduce Sting. I mean, c'mon! How are we the ones to point out that this sort of thing should've already been in the plans?
Don't book this thing for old people. Apologies to some other events we really enjoy around town, but the most successful music festivals in town —  and the ones closest in scale to what KAABOO Texas is trying to accomplish — all target significantly younger crowds than this event did. I mean, sure, he already has a festival of his own in town now, but, as an act with known youth appeal, don't you think Post Malone makes significantly more sense on an event like this than, say, Rick Springfield or Blue October? Sure, he probably costs more to book. But his dad works for the Cowboys!
Now, each of the above suggestions can pretty easily be put into place into place next year. And the really good news? There's a lot you don't have to improve!
Here are a few of your stronger points:
The production was pretty impressive! Wide-ranging as the booking on this event was, the acts pretty much uniformly sounded pretty great at KAABOO Texas — and, because this event wasn't set up like a traditional arena show and most people were able to stand on the floor or sit in seats on the lower bowl, AT&T Stadium's many noteworthy sound design issues were able to be largely avoided. We dug a lot of the acts we saw: Alanis Morrissette absolutely slayed while pregnant, and Lionel Richie, the B-52s, Ludacris, Ms. Lauryn Hill, Violent Femmes, X and others were also stellar. Also, history was made: Richie slipped and fell on stage for what he said was the first time in his entire career. Maybe not great history, but you take what you can get!
The grounds were great. We're not sure if six stages were really all that necessary, and it was a bit of a hike from certain stages to others. But, once within the festival gates, the layout made a lot of sense to us. At least in terms of infrastructure, KAABOO Texas definitely looked the part of a big-deal fest.
You are refreshingly defying orthodoxy. The comedy stage was something we wish more festivals in the market would attempt. The food and art integrations were genuinely interesting, too, if not major draws. Installing a pool outside AT&T Stadium is a pretty baller move. Still, these ideas either need to be refined some or regarded as the perhaps unnecessary add-ons they were. Just because you can do something doesn't always mean you should. But, on the other hand, we definitely respect the gall.
You took misfortunes and curveballs in stride. Aside from the visual cues, there weren't too many signs that things anyone with the festival was too disappointed with its hiccups. Party vibes were still going strong all weekend long. Ice bins were full, fruit garnishes were fresh. When comedians Brad Garrett and Jim Breuer got cancelled due to flight delays, Bob Saget was flown in at the eleventh hour.
Lean in on those things and fix the others, and things really could be looking up for KAABOO Texas' future. We really believe that. Hell, we might write an article in 2020 called "KAABOO Should Be Called KAABOOM Since It's Booming."
See how big a difference a single word can make? It really doesn't take much to turn things around in this world if you put your mind to it.
Xoxo,
Garrett Gravley and the rest of the Central Track staff