Jerry Jones' First AT&T Stadium-Hosted KAABOO Texas Festival To Be Headlined By The Killers, Kid Rock, Lynyrd Skynryd, Sting, Dennis Miller & More.
Back in September, Dallas moguls Jerry Jones and Bill Hutchison — the former the owner of the Dallas Cowboys, the latter a man we playfully refer to around these parts as the Duke of the Design District — announced a new, "immersive" and "luxury" festival experience coming to the region called KAABOO Texas.
Considering the deepness of their combined pockets — and the fact that Hutchinson has already helped successfully throw a version of this festival in California — it was clear from the onset that this May 10, 11 and 12 offering slated to take place in and around Arlington's AT&T Stadium was going to be a big deal.
This morning, we finally got a sense of that scope, as the event revealed the bill of performers confirmed to its six-stage offering.
The scheduled lineup includes sets from The Killers, Kid Rock, Sting, the guys that tour using the Lynyrd Skynyrd name these days, Little Big Town, The Avett Brothers, Ms. Lauryn Hill, Pitbull, Counting Crows, Alanis Morissette, The Black Eyed Peas, Ludacris, Flo Rida, Garbage, Andy Grammer, Joan Jett and the Blackhearts, Violent Femmes, Trombone Shorty & Orleans Avenue and more — plus a comedy stage headed up by former Monday Night Football commentator Dennis Miller and the tall brother from Everybody Loves Raymond.
Without a doubt, that's an expensive talent pool of established elder statesmen from the festival circuit. It's also true that very few of these acts have released anything new, hip or relevant in the past year or two.
Still, another Starfest this is not. There won't be competing documentaries about KAABOO to Netflix to next summer, either.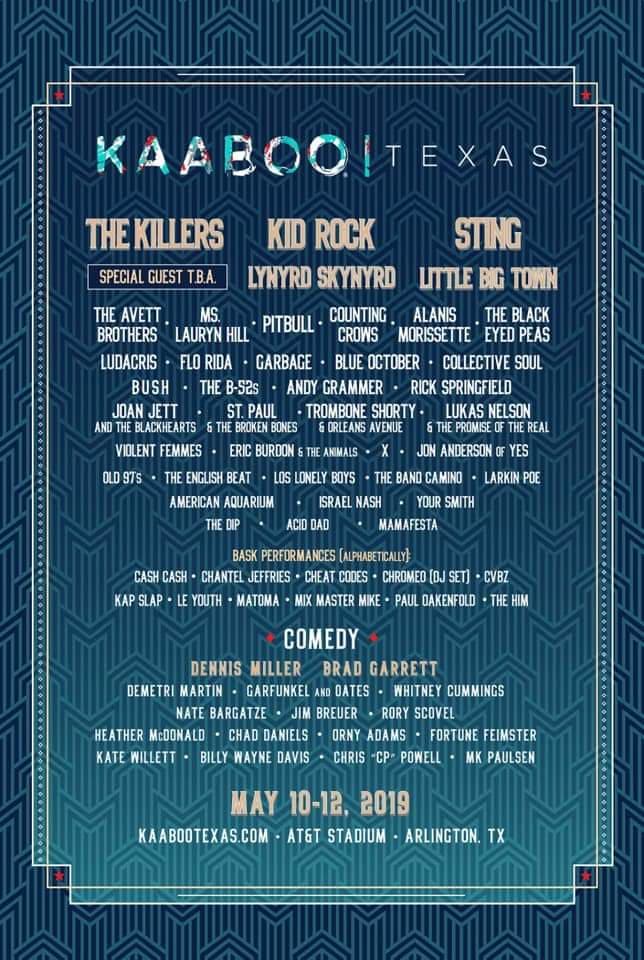 For starters, there's no doubt in our minds this festival will actually happen. Not with pockets this deep, and not with names like these that, hip or no, are bound to draw lots of (let's face it, probably older) eager attendees. Honestly, with the top tier of tickets going for $20,000, it's feasible this thing could even make some decent coin.
As for the rest of us? It'll cost $299 right here for you to get weekend access to the thing. Check out the full lineup below.
KAABOO TEXAS Full Lineup:
The Killers
Kid Rock
Sting
Lynyrd Skynyrd
Little Big Town
The Avett Brothers
Ms. Lauryn Hill
Pitbull
Counting Crows
Alanis Morissette
The Black Eyed Peas
Ludacris
Flo Rida
Garbage
Blue October
Collective Soul
Bush
The B-52s
Andy Grammer
Rick Springfield
Joan Jett and the Blackhearts
St. Paul & The Broken Bones
Trombone Shorty & Orleans Avenue
Lukas Nelson & Promise of the Real
Violent Femmes
Eric Burdon & The Animals
X
Jon Anderson (of Yes)
Old 97's
The English Beat
Los Lonely Boys
The Band Camino
Larkin Poe
American Aquarium
Israel Nash
Your Smith
The Dip
Acid Dad
Mamafesta
COMEDY STAGE:
Dennis Miller
Brad Garrett
Demetri Martin
Garfunkel and Oates
Whitney Cummings
Nate Bargatze
Jim Breuer
Rory Scovel
Heather McDonald
Orny Adams
Chad Daniels
Fortune Feimster
Kate Willett
Billy Wayne Davis
Chris "CP" Powell
MK Paulsen
BASK DJ Performances (Alphabetically):
Cash Cash
Chantel Jeffries
Chromeo (DJ set)
Cheat Codes
CVBZ
Kap Slap
Le Youth
Matoma
Mix Master Mike
Paul Oakenfold
The Him