How'd The Dallas Stars Win Seven Of Their Last 10 And Start Making Headway In The Central Division? By Becoming The Best Second-Period Team In The NHL.
Welcome to Forechecking™, our weekly Dallas Stars column that looks back at the hockey week that was, and the hockey week that will be.
These days, Your Dallas Stars are playing fiercely enough to turn goat piss into gasoline.
They've won seven of their last 10 games, inching them ever so slightly closer to the top three positions in the Central Division, while also cracking the league-wide top 10 in goals, goals against, shutouts and face-off win percentage. Best of all? Sans Sunday's "trap game" against Vancouver, Dallas is winning in varying circumstances, finding consistency in line combinations (finally!), and getting above average goaltending from both their starter and backup starter.
At the same time, the emergence of John Klingberg as a verifiable and bona fide No. 1 defenseman has been a joy to watch, especially since the Dallas D has improved top to bottom as that growth has happened — and all without Marc Methot, how neat!
Without further ado, Leht's Get Crackin'!
Last Week in Your Dallas Stars.
• Victory Green™ versus New York Rangers, 1-2.
This one was about as solid of a performance as you could want from ya bois in Victory Green™. Your Dallas Stars bombarded Henrik Lundqvist with 42 shots on goal and 83 shot attempts in all en route to their third win in a row. The Rangers notched the game's first goal in the dying minutes of the opening frame on a bit of a flukey turnover, but one goal ain't gonna cut it against the league's highest scoring second period team! Tyler Seguin smashed a knuckle-puck past Lundqvist during a New York delayed penalty after fanning on several Grade A chances prior, and he sheepishly shook his head after the goal, quite aware of the previously blown scoring opportunities. Nevertheless, Dallas continued to apply pressure on the Rangers before finding the game winner on a deft deflection by Martin Hanzal, who fresh in the lineup and admittedly not at 100 percent. Special teams came up big, Ben Bishop came up big, and the Stars just kept on rolling at home. Said Bishop of the Victory Green™: "I think it has to be one of the best games of the year. We played well in every facet of the game. The guys did a great job." Speaking of great jobs, the Stars honored rearguard Dan Hamhius prior to the puck dropping for amassing over 9,999 games played in the NHL, and was given such gifts as a Rolex, shiny silver stick, and trip to the US Open. Way to go, Dan!
Play of the Game:
Just tee it up for 91. #GoStars pic.twitter.com/qHycNpiTwq

— Dallas Stars (@DallasStars) February 6, 2018
• Victory Green™ at Chicago Blackhawks, 4-2.
It ain't easy beating the 'Hawks in their home barn, but the Stars have done and did that twice now this season and swept the whole darn four-game series on the season. Bishop looked good in this one, which many in America described as "greasy." Dallas continued its struggles in the first period, finding themselves trailing into intermission after a Jonathan Towes wrister. But then the Stars came back with their trademark second period heroics. Tyler Seguin scored his first of two on a nice feed from Alexander Radulov in transition to breathe some life into the outworked Stars. Stephen Johns, who's been on a physical tear lately, then got rewarded with a distance goal so close to his teammates on the bench that he casually turned to Benn for a fist bump before being mobbed by his linemates on the ice. With the 'Hawks on a five-game losing streak at home, Chicago's desperation was enough to keep the Stars on their heels for the remainder of the game. But Bishop, clearly the Star of the night, wasn't fazed. Y'know who was fazed? Julius Honka. He's struggled a bit of late, and after an egregious turnover, he was dismissed from the proceedings due to concussion protocol that followed a huge hit from former Stars man Patrick Sharp. On his way back to the locker room, they young defender was seen slashing the walls in frustration. Oh well!
Play of the Game:
Great dish from Radulov and Seguin sends it home. #GoStars pic.twitter.com/G3eScBrCXd

— Dallas Stars (@DallasStars) February 9, 2018
• Victory Green™ versus Pittsburgh Penguins. 3-4.
The Stars arrived back in Dallas on a red-eye flight, only to be treated to a back-to-back against the defending Stanley Cup Champions. How rude! After the Penguins struck twice in the first to take a 2-1 lead, besting the Stars in shots and face-off wins in front of a packed AAC, the second was a bit of an uncharacteristic snooze as both teams were trying to establish offensive zone presence and stay out of the box, and Kari was bailed out on several occasions by his teammates as he drifting from the net. The third period was where the Stars really ramped things up, aggressively forechecking and swarming the puck. That effort paid off as John Klingberg tied the contest with a relatively weak shot from the top of the circle. Much later, Dan Hamuis would score from distance with a nice slapper that would give the Stars their first lead — albeit one that we all knew wouldn't last. The Pens would go on to tie the game with 1:13 left on the clock and eventually send the game to OT. Excitement abounded in the extra frame, as you'd imagine, with the teams trading breakaways and high scoring chances. But the game needed a the shootout to decide the winner and Seguin squeaked one past Matt Murray to give the Stars a leg up and guaranteeing a tie. But then Syndey Crosby's response clanged off the cross bar and the Stars got themselves unlikely two points in hella fun fashion while extending their winning streak to five games.
Play of the Game:
And the place goes wild. #GoStars pic.twitter.com/IpBQLhnhqD

— Dallas Stars (@DallasStars) February 10, 2018
• Darkness Music versus Vancouver Canucks, 0-6.
Guh. We knew playing three games in four days would likely result in a less-than-stellar performance — but, cheese and rice, this was difficult to watch! The awful and struggling Canucks lit up ya bois in Victory Green™ both early and often as Ben Bishop got chased from goal and the Stars showed little fight or energy in the Sunday matinee. Said Bishop of the loss: "Once we got behind the eight ball there, it was kind of tough to get things rolling. Gotta give credit to them, they came out and they played really well in that first period and they took it to us." Indeed they did, Bish. Indeed they did. But, then again, that just put the Stars in the majority on Sunday, during which all nine home teams lost — a record in NHL history. Weird!
Play of the Game:
Goal by Erik Gudbranson (2) with assists by Brandon Sutter and Darren Archibald#Canucks 6#GoStars 0#VANvsDAL pic.twitter.com/gB1vrksr1j

— TRSN Dallas (@TRSNDallas) February 11, 2018
NHL Hitz Pro Player of the Week.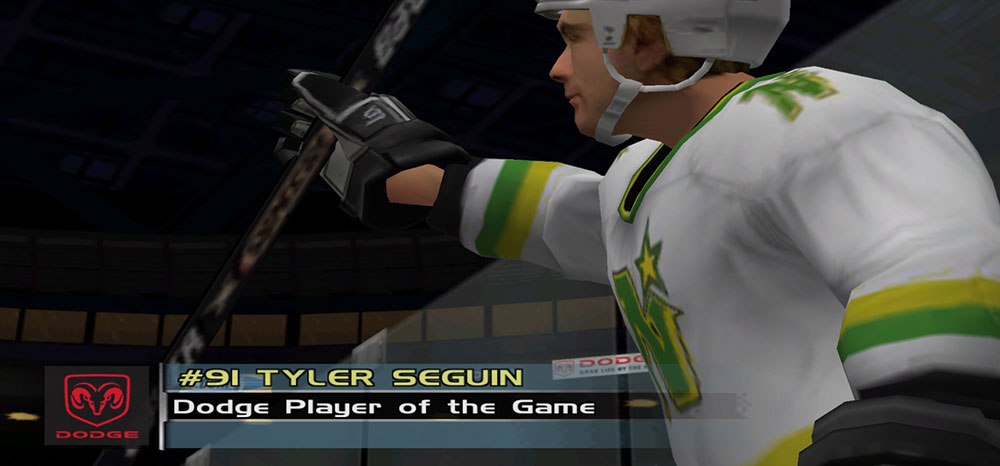 The second overall pick in the 2010 draft had himself a pretty, pretty, pretty good lil' week, pacing the Stars during their dominant stretch with a career high five-game goal streak and overall solid play. His 29 goals this season and +10 already surpasses the 2017 campaign where he netted 26 goals with an ugly -15. It's been quite the bounce back year for the Brampton, Ontario, native. Many haven been crediting Tyler's transformation to the tutelage of coach Ken Hitchcock, who has cleverly worked Seguin on the penalty kill for the first time, used him in more strategic face-off assignments and given him the most ice time of his career. In turn, Tyler has put in work as the Stars' official first line center ,and the drastically improved defensive play of the team (currently seventh best in the league in goals against) has started with their most offensively gifted forward digging in the defensive zone and helping alleviate pressure on the D corps. This team-centric grit has translated to the offensive zone as well with Tyler becoming a frequent presence in front of the opposition's goaltenders, with his shooting percentage jumping from 8.6 last season to 12.8 this year. You can bet your candy a$$ that it is causation and not correlation. He's a Dallas Star, he's an All-Star, he's Your Star and, oh by the way, he only trails Ovechkin and Malkin in goals. Can I get a hell yeah?
This Week in Your Dallas Stars.
Only two games on the docket, but two very important games at that!
St. Louis Blues at Dallas Stars 
Friday, February 16, at 7:30 p.m.
The Blues have been fending off the Stars all season long, and Dallas looks to gain ground against Tarasenko & Co. in this one.
Dallas Stars at San Jose Sharks
Sunday, February 18, at 7 p.m.
The Pacific Division's second best squad has been playing average hockey of late, so let's hope the trend continues!
Flip it. Stick it. See ya later, bye. — LehtMoJoe
Cover photo via the Dallas Stars' Facebook page.