Theatre 3's Convention-Challenging Ways Continue With Latest Offering: The Debut Run Of The Quirky Dallas Musical The Manufactured Myth Of Eveline Flynn.
This story is sponsored by the Theatre 3, which is currently hosting the debut run of the new Dallas musical The Manufactured Myth of Eveline Flynn through February 24. Visit the award-winning theater's website for more information and to purchase tickets to what should make for a quirky night out in The Quadrangle section of Dallas' Uptown neighborhood. 
Have you ever woken up from a bad dream, overcome with stress? Or been dragged out of bed from a dream without seeing it through to the finish line? Imagine not knowing the difference between your dreams and reality.
Enter Eveline Flynn.
Eveline's an average nine-to-fiver living in a big city and with even bigger goals in her life. But can she overcome her #DaddyIssues to get through the day without a manic mind-lapse thrusting her into another epic adventure she can't quite make sense of?
It's hard to tell what a new day for Eveline might bring: Will she save the world? Will she rage through rock-and-roll? It's really anyone's guess.
And you can watch that scenario play out yourself as the 60-year-old (but still hip) Dallas-based live-arts group Theatre 3 brings to the stage a brand-new musical called The Manufactured Myth of Eveline Flynn from the Dallas writing duo of Ian Ferguson (music and lyrics) and Michael Federico (book).
Ferguson recently made a star turn in town as Guy in Theatre 3's production of the Broadway musical Once, while Federico's recent writing endeavors (Pompeii and On The Eve) have earned him all kinds of street cred in the arts world. Theirs is a Texas-sized bromance, although fame and fortune don't seem to have gone to their heads (yet).
Now, after a series of previews this weekend, this hot-of-the-presses musical officially opens tonight (February 4) and will continue its run through February 24. After tonight, performances will occur Thursdays through Sundays (plus one Wednesday for good measure). Tickets range from $10 to $50, and students can grab discounted $5 seats directly at the theater a half an hour before curtains by showing a valid student ID at the box office.
Tickets are moving fast, too, so order your tickets here at the Theatre 3 website while you still can.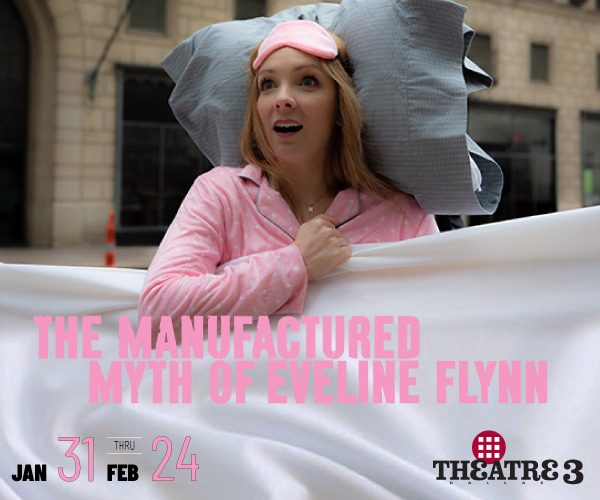 Cover photo courtesy of Theatre 3.