Tripping Daisy Had A Crazy, Crazy, Crazy, Crazy, Crazy Week.
Each week, we take a survey of the local music scene and try to determine which acts in town are really putting in work and seeing it pay off. Which bands have the most intriguing shows coming up? Which bands are getting the most press around town? Which bands have accomplished the most notable feats of late? Based off these criteria, our music writers submit a list to be weighted and compiled into a master list revealed each week in this here space. We like to think it's fairly revealing. Check out our previous Buzz Rankings here.

For the second time in as many weeks, and the third time overall, Tripping Daisy has got a Buzz No. 1. Yes, for the second time in as many weeks, they were our guiding light.
How could they not be?
I mean look at all the million people in the middle of a golden stampede at their pair of reunion shows at Dada and Homegrown. I am amazed.
I bet it, um, smells so sweetly up there at the top. But I digress. Also joining them on those Homegrown and Dada bills were several other buzzing artists this week, including Pearl Earl, Cure for Paranoia, Motorcade, Lower Dens and Lizzie Boredom.
Just behind the Tripping Daisies this week was Midlake, which performed on Seth Meyers' late night talk show as its alter ego BNQT. And speaking of TV, Kelly Clarkson was announced as a coach on a future season of The Voice.
Farther down the list, Don Henley dropped by The Ticket to talk with The Hardline about his upcoming birthday blowout at the AAC. And JT Donaldson's New Math Mondays weekly announced a birthday show of its own.
Elsewhere: Daniel Hart talked about composing the S-Town score; Parker Twomey, Lord Byron, Lost Balloons, Loafers and Siberian Traps released new tunes, some of which you can find here; The D.O.C. is getting recognized at Josey Records; and T.Y.E. continued his national rise.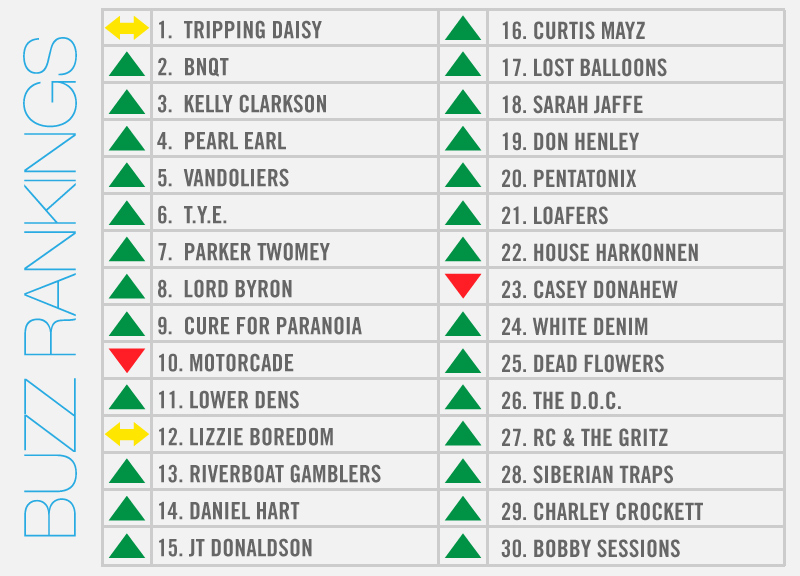 (Also receiving votes: Selena Gomez, Lord Byron, Trai Bo, Jon Bap, Garrett Owen, Maren Morris, Baptist Generals, Siamese, High Art, Lofty Beats, Duell, Saudade Sisters, Greg Schroeder, Pueblo, Larce Blake, Drawn by Jaymz, Rude King, Xes, El Gato, Sex Regrets, Chucho, The Last Afronauts, Erykah Badu, Snow tha Product, Dead Mockingbirds, Wax Ruins, The New Year, Dead Sullivan, American Shit Storm, Sealion, Vanilla Ice, Astronautalis, Chucho, Fishboy.)
Cover photo by Karlo X. Ramos.