New Math Mondays Celebrates A Year Of Pushing Sonic Boundaries With An All-Day Memorial Day Festival At Club Dada Featuring One Hell Of A Lineup.
JT Donaldson didn't necessarily anticipate his New Math Mondays parties at Off The Record turning into one of the more exciting and better-attended events to happen around Dallas on a weekly basis. He's of course super pleased with that result, sure, but back when he kicked off the recurring Monday night event a year ago, he mostly just envisioned it as a marketing ploy to help push his similarly named record label, New Math Records.
"The goal was always to just keep the brand in people's ears between releases," Donaldson says. "That and to maybe bring people in from outside of the city to see what we have here and to maybe talk about bringing them onto the label."
But a funny thing happened on Donaldson's way to promoting his boutique label, which has released four projects to date since March 9, 2016: His New Math Mondays events started to take hold in a way he didn't initially envision them doing so.
Spurred on by a blend of visual projections, an upstart crew of exciting Dallas musicians with whom Donaldson has been either collaborating or mentoring and, perhaps, a void still left by Tony Schwa's beloved Monday night Cool Out parties' departure from the scene a few years earlier, New Math Mondays has turned itself into Dallas' go-to Monday night destination for progressive and underground vibes of any number of stripes, from future-jazz and house music to hip-hop and gospel sounds.
Its crowds are uniformly hip and, better yet, attentive to what they're being offered. On any given week, Donaldson welcomes a different artist — just as likely someone this audience has never before heard of as it is someone he's plucked out from his regular crop of attendees — to perform alongside resident DJ Benjamin Hixon as part of what's become one of Dallas' better bets for upstart talent showcasing and discovery. Seemingly every week, these audiences leave Off The Record either invigorated or perhaps even inspired by what they've seen.
In other words: It's one of the more thrilling — and free-to-attend — events one is likely to attend in Dallas over the course of any given week.
"All we're trying to do is open Dallas up a little bit," says Donaldson, himself an accomplished DJ and producer who has been earning local, national and even international accolades since the '90s. "We either want to present something that isn't being found here or, if it is here but maybe too spread out, to provide a forum where we can bring it together in a single place."
Donaldson and his New Math Mondays collaborators — which, it should be noted, very much includes his Josey Records-working cohorts behind the absurdly exciting Dolfin Records collective, Hixon included — have accomplished at least that much over the course of their party's first year, we'd say.
And come Memorial Day, they'll celebrate that fact with an all-day bash set to go down at Club Dada — right next door to their regular Monday home at Off The Record — that will allow those who are late to the notion of this party to get caught up in one fell swoop. For $10 (get your tickets in advance here), attendees will be lineup of 16 musicians and DJs, all of which have previously performed at a New Math Mondays party save for headliner Mark Farina, whose appearance was only announced earlier this week because he just headlined the It'll Do this past Saturday night.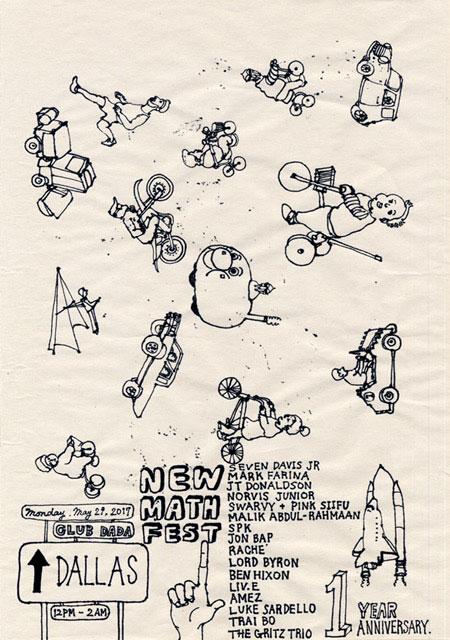 Artwork by Munguni (Tokyo).
"It's a great mix of DJs and performers," Donaldson says. "It's super open format that maybe trends to more of the underground side of things."
In addition to music, Donaldson says the party will include a cocktail menu prepared by Dallas cocktail extraordinaire Michael Martensen, an art fair/market featuring the works of some of the performers and their collaborators, and a four-way silk screen set-up on hand for live T-shirt screen-printing.
Mostly, though, Donaldson says it will be a celebration.
"This event will encompass everything people have seen and come to expect from New Mat Mondays," Donaldson says. "Just on a larger scale."
Which is to say, basically, that it should be yet another great time.