This Week, The Toadies Once Again Had Their Dia.
Each week, we take a survey of the local music scene and try to determine which acts in town are really putting in work and seeing it pay off. Which bands have the most intriguing shows coming up? Which bands are getting the most press around town? Which bands have accomplished the most notable feats of late? Based off these criteria, our music writers submit a list to be weighted and compiled into a master list revealed each week in this here space. We like to think it's fairly revealing. Check out our previous Buzz Rankings here.
Apologies in advance, but I'm gonna start this week's post off with a bit of a rant.
Every week, to compile this here Buzz Rankings list, we make a point of it to check every other publication in town to see which local music acts they mentioned in their coverage.
But, ever since the Dallas Morning News, Fort Worth Star-Telegram and Dallas Observer ditched their full-time music writer gigs, the number of area acts even simply name-dropped in the local media on a weekly basis has completely and utterly dwindled.
This week might be a new low, though. Across seven different outlets checked (not counting our own), we counted just eight Dallas-area acts mentioned. Eight! That's it. We, on the other hand, mentioned more than 40 local music acts by name in some capacity within our coverage this week. And I don't say that to toot our own horn, because, if anything, it wasn't an especially strong a week for our own music coverage.
My point is this: With no one dedicated to covering them, acts are bound get less coverage — and, no, freelancers pitching overwhelmed editors can't make up the difference. It's as obvious and simple a formula as it is a depressing one.
The solution is perhaps simple, too. If you appreciate local arts coverage — or, hell, just media coverage of any kind — then be sure to actually click on it! But, more importantly, share it! Help it get numbers — or kiss it goodbye. Higher-ups make these calls based on stats, and support is a two-way street.
That said, let's move on to who kicked the most butt in the Dallas music scene this week.
Topping off this week's area music power rankings for the second week in a row are the Toadies, who probably haven't gotten enough credit for the fact that they just hosted their tenth annual Dia De Los Toadies festival this past week. Ten years is a long-ass time, folks, and both the band and its team at Kirtland Records/Sonar Management deserve all the props in the world for keeping that namesake fest going as one of the highlights on the annual area music calendar.
The rest of the Top Ten this week is mostly dominated by Dallas' dominant musical women, who are just continuing to just have the most ballerous years. This week was no different, as Maren Morris and Demi Lovato each performed on Fallon this week, Selena Gomez became the face of Puma and St. Vincent was announced as a headliner at this year's sick-looking Day For Night Fest down in Houston. Meanwhile, a long-familiar face in that crop — one Edie Brickell — had herself a killer weekend, playing shows at both The Bomb Factory (along with headliners the Old 97's) and the Kessler on Saturday night, and newcomer Cuban Doll made her arrival known thanks to some love from Noisey.
Lower down on the list: Dorrough, Lil Ronny MF, Bobby Sessions, FlexinFab, Big Tuck and others performed at the 97.9 DUB Show; DJ Sober and Blake Ward teamed up for a kickass party at the Stoneleigh; and T.Y.E and Diego Money each dropped new music videos.
Here are this week's rankings in full: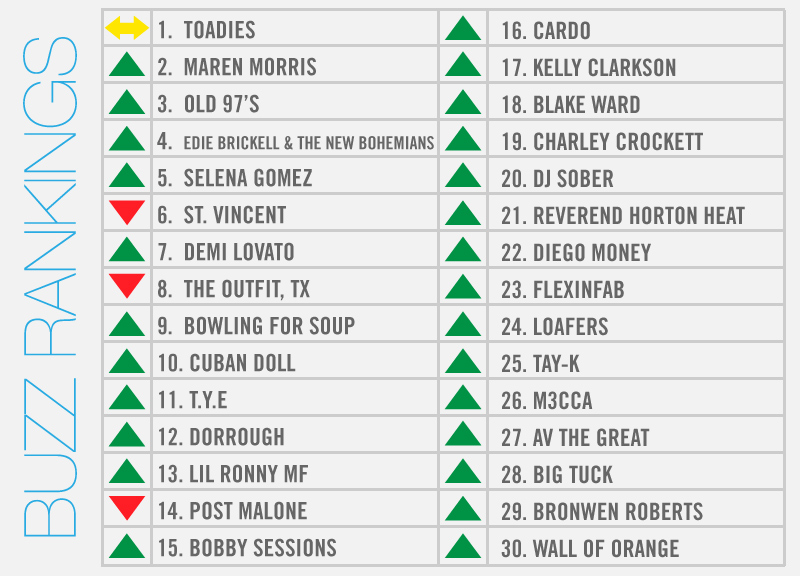 (Also receiving votes: Dana Harper, Sam Crooke, Dark Rooms, Lil Cobaine, Luna Luna, Dontlovejacob, Coach Tev, Ease, Majik Taylor, Natural Anthem, Monoculture, Teenage Sexx, Talkie Walkie, Sealion, Son of Stan, SuperSonic Lips, Riverboat Gamblers, The O's, Messer, Lev, Larry g(EE) and Go Yayo.)
Cover photo by Allan Hayslip.