This Week, Tay-K Kept On Racing.
Each week, we take a survey of the local music scene and try to determine which acts in town are really putting in work and seeing it pay off. Which bands have the most intriguing shows coming up? Which bands are getting the most press around town? Which bands have accomplished the most notable feats of late? Based off these criteria, our music writers submit a list to be weighted and compiled into a master list revealed each week in this here space. We like to think it's fairly revealing. Check out our previous Buzz Rankings here.
This week was yet another banner one for the incarcerated 17-year-old Arlington rapper who was born Taymor McIntyre but is known better to the world as Tay-K.
As McIntyre continues sitting in prison in Tarrant County while awaiting a trial on the capital murder charges that landed him there, his song "The Race" — with its video that was released on the very day U.S. Marhsals found him in New Jersey, attempting to outrun his reach — continued its unlikely rise.
Following in the steps of XXXtentacion and Lil Bibby, who had previously remixed the song, Lil Yachty released his own version of the song this week after having performed it live at The Bomb Factory on Friday night. Days later, the song made its debut on the Billboard Hot 100 chart, coming in at No. 70. And, just yesterday, that compelled Complex to publish a feature on the young rapper, in which it wondered aloud "Who Is Tay-K and Why Is His Song 'The Race' Blowing Up?"
All that combined, it'd be tough for Tay-K not to top this week's ranking of the top 30 buzziest music acts in North Texas. So, naturally, he finds himself in the No. 1 spot this week, and for the second time in three weeks, no less.
Coming in closely behind Tay-K this week are the local thrash heroes in Power Trip, who were nominated all over the place this week for awards in the inaugural Loudwire music awards set to go down later this year. In addition to playing the ceremony itself, Power Trip is up for awards against the likes of such titans as Avenged Sevenfold, Body Count, Code Orange, Mastodon and Metallica.
Also ranking highly this week is Blue, The Misfit, whose sophomore album is finally set to drop tonight at midnight after a year of promising its arrival, and The Unlikely Candidates and Sealion, who are headlining this weekend's Slam Fest out in Grand Prairie this weekend.
Lower down on the top 10? Diego Money, the Tay-K collaborator who got a shout out on the Yachty remix; French 75, the only local act booked thus far to the maligned Starfest; and The Outfit, TX, who premiered a new video through the folks at No Jumper.
Elsewhere: Bobgoblin reunites this weekend at the Double Wide; South San Gabriel and Pleasant Grove shared a geography-themed '00s bill at the Kessler; Maren Morris is collaborating with a former One Directioner; and Loafers and Lizzie Boredom headed out on tour.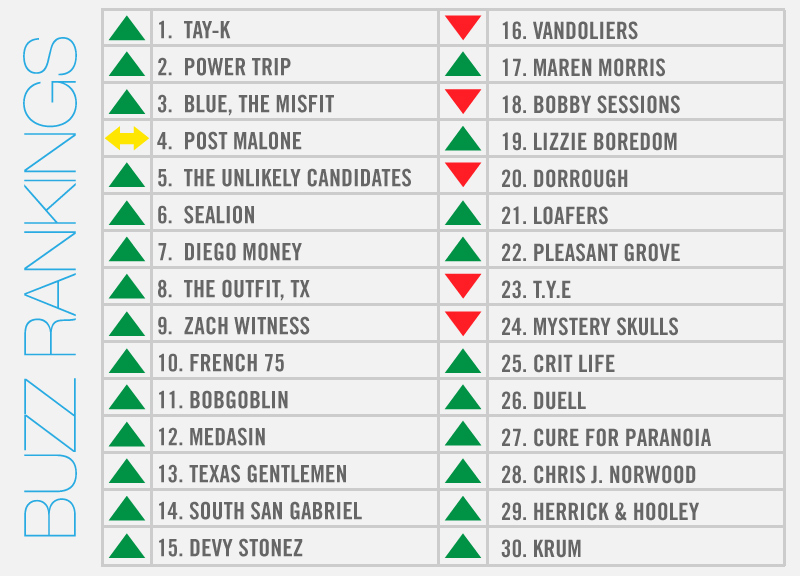 (Also receiving votes: Jacob Parra, Sarah Jaffe, Alex Harris, Nite, Abraham Alexander, Rikki Blu, Roy Robertson, Tyesha Chaunte, Francine Thirteen, Nate V, Evan Borns, CardiacTheGhost, BooGotti Kasino, Monoculture, Koolquise, Becky Middleton, From Parts Unknown, Stealers, Def Rain, Talkie Walkie, Darth Vato, Felt & Fur, Royal Sons, Caterpillars, Bad Blood and Children of Indigo.)