We're Teaming Up With Action Park Grand Prairie For A Two-Day, All-Ages Event In August Featuring 35 Bands, All Sorts Of Action Sports & More.
Perhaps your minds, like ours, began racing when the team at Action Park Grand Prairie announced that it would be including a permanent concert stage in the many upgrades it was adding to its facilities at the top of this year.
What might that mean for the Lil Wayne-cosigned action sports facility in Grand Prairie? Surely some concerts, right? Maybe some that also incorporated action sports into the fold?
Yup, pretty much exactly that: Today, Central Track is proud to announce that we've teamed up with the Action Park crew and the folks at Wharbaby Entertainment to present a new two-day festival in August called Slam Fest. Going down on Friday, August 18, and Saturday, August 19, the event will feature 35 bands, a whole slate of action sport competitions with cash prizes, and some other group activities — including a yoga session customized especially for action sport movements and performance — meant to showcase Action Park's new, state-of-the-art facilities.
Here's the best part: Day passes to the event will run you just about what it would normally cost to get into the park on a day pass, and two-day passes, which are currently running at early-bird rates of $12 plus processing fees, are actually cheaper than getting into the park on a normal day. That's a pretty solid take considering all the added stuff that the event will be bringing to the grounds — like the bands, which strategically come from towns all across the region.
"The hope is that we can really bring people in from all across North Texas in the first year of the event," says Vincent Nelson. "That's why we have bands from all over."
Below, you can check an exclusive first look at the festival's first-year music lineup. In the coming weeks, more details about the action sport competition prizes and additional activities will be unveiled. To keep up on those add-on, drop an RSVP to the event page right here. And, again, to score your tickets before their costs raise on July 22 and again on the days of the event, you can do so right here.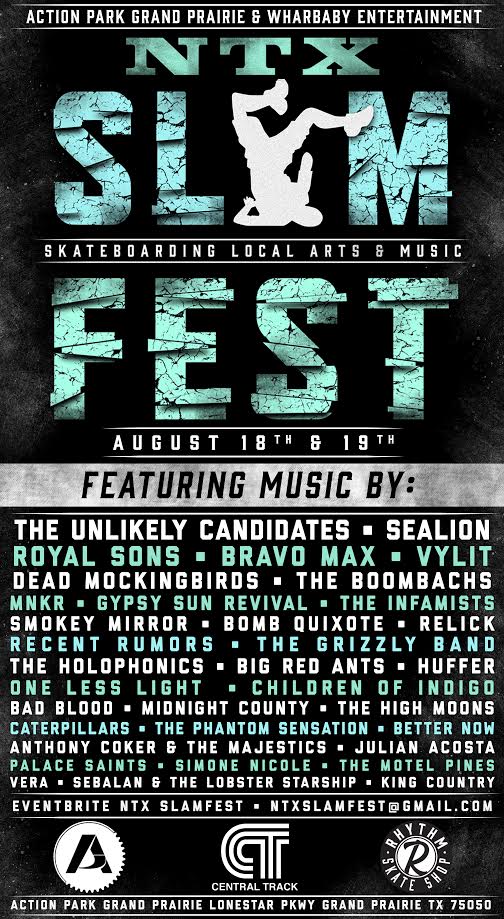 Cover photo by Jonathan Zizzo.