More Than Just One Of The Best Food Fests In Dallas, Chefs For Farmers Impacts Dishes Year-Round By Improving Area Farmer-Restaurateur Relations.
Welcome to The Quickie, our series featuring a short 'n' sweet, quick 'n' dirty interview with a local small business owner, chef or creator.
Dallas has a lot of festivals — several dozen, in fact — varying in range from music- and film-related to booze- and food-focused.
So, six years ago, when Iris Midler came up with the idea for Chefs For Farmers, she knew she needed to come up with a different enough slant to make sure her new entry really stood out in the crowded marketplace.
She knew it had to be more than just a tasting. It had to boast more than just wine, too, even if she knew she wanted to include plenty of that. There also needed, she figured, to be a bigger purpose behind the event — a component of appreciation beyond just a donation.
Now, what began as a single meal in a field has expanded into a three-day festival with complementary satellite dinners and even a cocktail competition thrown into the mix. Basically, between the cause, the events, the music, the makers and the tasters involved, Chefs For Farmers has become much greater than the sum of its parts.
And the deliciousness returns to Dallas next week. Ahead of those festivities, we sat down with Midler to talk about the fest's past, present and future.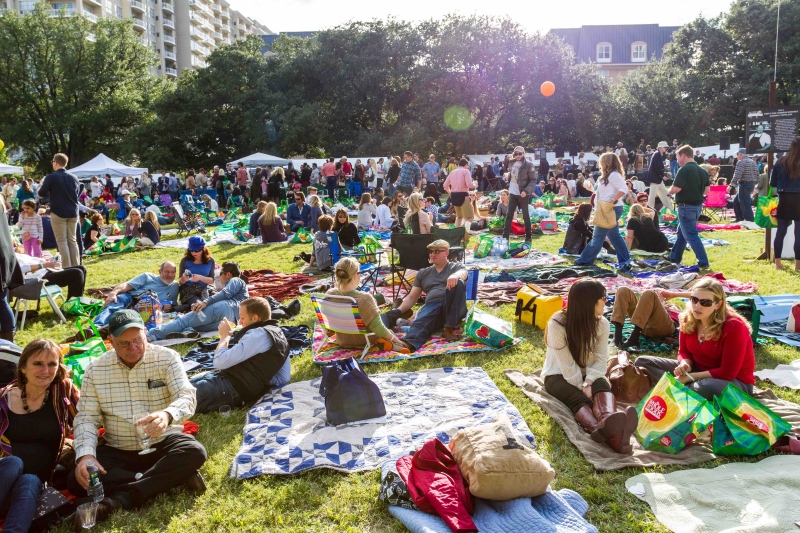 This is CFF's sixth year! What's new this time?
Well, there's always something new at Chefs For Farmers. For The Main Event, not only do we have an amazing new location – Dallas Heritage Village, the first-ever city park – we are also creating a section called the "Ultimate Backyard BBQ and Bourbon Fest" curated by Chef John Tesar. It will include some "live fire" cooking, and we've invited nationally known barbecue pitmasters including Billy Durney (Hometown Bar-B-Que), Sam Jones (Sam Jones BBQ) and Pat Martin (Martin's Bar-B-Que Joint). Also new this year is that our VIP tickets for The Main Event include 30-minute early access to the event, and a gulf-inspired seafood boil from Hookline. We are calling it "Boil & Brews" presented by Thermador & Capital Distributing. We have also some fantastic new partnerships with Audi, LaCroix Sparkling Water and others that will bring awesome activations to the events.
Sounds like fun from the attendees' point-of-view. Tell us a bit about your favorite farms who benefit from the fest?
There are so many favorites to choose from, but here are a few! Jeff [Bednar] from Profound Microfarms is a super cool guy. We are honoring him at Chefs For Farmers this year. He went from working with seven restaurants to 27 restaurants, and credits Chefs For Farmers for helping to make that happen. It's pretty amazing to know that you are a part of someone's significant growth and success. I'd also mention Sofia [Herrera] at Rae Lili Farms, she has always been so appreciative and supportive of Chefs For Farmers, and we thank her for that. And I have to include Nelson [Carter] from Cartermere Farms. After honoring him in 2016, he said business just blew up and he received so many calls. We love his farm, and now he mostly works with restaurants, and he is a chef's farm.
What's the best thing about running a food festival? What's the most challenging part?
The best part about running a food festival is getting to know everyone involved, especially the chefs and the farmers! Our events are filled with a ton of talented artists and professionals who rock the Dallas food scene. The most challenging thing is adjusting to changes that come with a weekend full of events, but it usually ends up being the very thing we needed to do to make Chefs For Farmers a continued success! Randall Copeland, who helped come up with the name of Chefs For Farmers, always said, "Roll with the changes, it's going to be all good!" He has always been right, and it is a saying I often repeat to myself.
What do you see as the future for Chefs For Farmers?
I'd love to see Chefs For Farmers expand into other cities and impact their chef and farmer relationships like we've done in Texas.
If the chefs fought the farmers in a battle to the death, who would win?
It would simply never happen. There's far too much love between the Dallas chefs and the local farmers!
Images by Allie Lesiuk, courtesy of The PR Collaborative. Chefs For Farmers starts November 2, and the Main Event takes place November 4 at Dallas Heritage Village. Tickets available at Prekindle.