Kacey Musgraves Makes CMA History, Jason Eady's Fiddle Gets Stolen On Tour, Asian Doll Calls Out Dallas For Not Supporting Her Career & Much More.
Last Wednesday marked the 10-year anniversary of Golden native Kacey Musgraves' move to Nashville. We know this because she mentioned as much from the podium of the CMAs while making history last week.
As noted by the Washington Post, Musgraves' win in the coveted Album of the Year category for her third LP, Golden Hour, is a massive deal.
In an industry frequently criticized for its massive gender imbalance, the win marks just the sixth time a solo female singer has taken home the award in the ceremony's 52-year history. More impressive? She was the only female even nominated in the category this year – which is maybe not as surprising as it should be, considering the "Entertainer of the Year" category hasn't featured a single female for two years running. Also of note? While it was her first win in the category, this was Musgraves' third time nominated for the awards' Album of the Year nod. As if that weren't enough, she also performed her Golden Hour single "Slow Burn" as part of the proceedings.
Of course, it should be noted that, while only 10 percent of the songs on country radio come from female singers, the few that are being represented are largely from East and North Texas. Don't forget: Country hitmaker Miranda Lambert is from just a short trip down U.S. 69 from Musgraves in Lindale. And then there's Arlington's Maren Morris, who got some ceremony facetime when she participated in a medley alongside Chris and Morgane Stapleton, Marty Stuart and Mavis Staples.
Sick of all this CMA talk? OK. Just a few days after the ceremony, the indie film Texas Cotton — co-written and directed by Tyler Russell and starring Troll 2's George Hardy — earned its release in limited theaters and Amazon Prime. We mention it because the film's soundtrack, also released Friday, features some North Texans: Matt Hillyer, Charley Crockett and Summer Dean all appear on it.
Continuing this country heavy edition of our weekly local music news and notes column: Mercury Rev has announced its next release will be an all-star cover of Bobbie Gentry's entire The Delta Sweete LP. Aside from multi-instrumentalist and ex-Midlake member Jesse Chandler, who plays with the group these days, some fellow North Texans will also be among the roster of guest singers. On top of contributions from Margo Price Lucinda Williams, Hope Sandovol and Marissa Nadler will be Chandler's fellow Denton products Norah Jones and Kaela Sinclair.
And in our final country note of the week, Jason Eady joined the frustratingly growing list of acts to have gear stolen while on tour. Most notably, a fiddle got swiped from him, although dozens of sympathetic musicians reached out and offered up loaners to help him get by in the interim. Prior to Eady, it was Paul Cauthen who was this somber club's most recent new member, after his van stolen in California.
Moving on, Gucci Mane-signed Dallas rapper Asian Da Brat — or is it still Asian Doll? — has been making her perceived lack of hometown support known this week via Twitter.
After selling out recent shows on tour in the North East and Canada, she questioned why she hasn't been shown the same love in her hometown, noting that Dallas ain't done shit for her yet. Hey, she's not wrong! Other than opening up Bhad Bhabie's sold-out show at Trees in April, she hasn't been asked by a local promoter to headliner her own Dallas show that we can recall.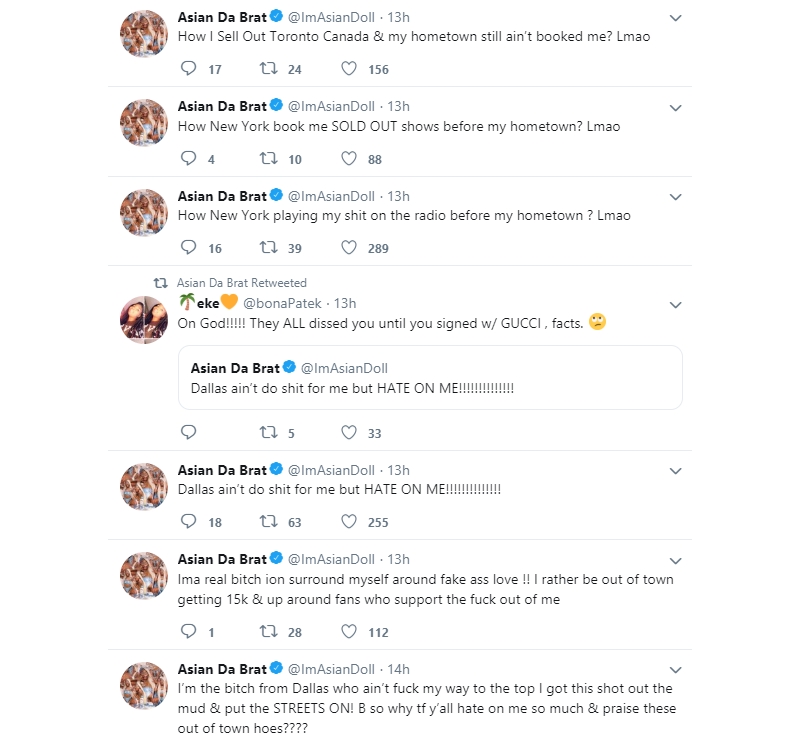 Fix that shit, promoters!
Yella Beezy, who released a new 20-song mixtape on Friday via Hitco Entertainment, seems to be having better luck on this front. We'll be posting more about his new album tomorrow — keep an eye on this space! — but, in the meantime, here's his latest video for the project. In it, he recreates the drive-by shooting incident that hospitalized him last month. Dark!
Another new clip this week comes from ex-The Beaten Sea member Benj Pocta, who continues his recent trend of experimenting with electronic-based elements in his music.
Then there's this: Guitar World recently caught up with Alice Cooper and filmed his reaction as he listened to the forthcoming Live From the AstroTurf LP featuring him and his original band. The album, recorded live at Good Records in 2015, will be officially released this Friday as part of Black Friday Record Store Day.
Finally, let's end this week's news and notes in quick-hitting fashion:
• David Byrne sat down with Billboard to discuss the Dallas-made True Stories film that will be get the special Criterion Collection release treatment next week.
• Local radio station Alt 103.7-FM is starting up a new Local Alt Live series, where it'll put together cutting-edge all-local bills at Gas Monkey Bar N' Grill. The first one goes down tomorrow and features Feeves, Bryce Bangs and Troy Garrick.
Got a tip for White Noise? Email us!