Leon Bridges Returns to Where It All Began, Charley Crockett Hits the Shelf and North Texas Prematurely Loses Another Member Of Its Metalcore Scene.
As we've done far too many times this year, we kick off this week's music news and notes column on a massive down note.
On Friday, December 7, Christian metalcore bassist Lucas Starr passed away at age 34 after a short fight against colon cancer. He was best known for his work with Terminal and Oh, Sleeper, although he played in bands At Night We Strike, Sherwood, As Cities Burn and Royal Mercenaries in recent years as well.
It wasn't until August 2 when Starr checked himself into the emergency room with abdominal pains that he was first diagnosed with Stage IV cancer. In his final months, though, Starr bravely took the stage two final times, playing with his former bands Terminal and Oh, Sleeper at 2513 Deep Ellum on October 19 as part of a fundraiser for his medical expenses. Terminal later reunited for a final time on November 5 at the insistence of Underoath to perform at that same venue.
A service to honor Starr's life will be held on Saturday, December 15, at City on a Hill Church. The family asks that those wishing to share memories of Lucas at that service please come with their remarks written down and kept to less than one minute in duration.
He will be missed.
Also dealt a bit of bad health news this week Charley Crockett. The North Texas-tied Americana favorite revealed this week that he will be undergoing surgery for an undisclosed medical condition afyer the first of the year. As a result, he's been forced to cancel two months' worth of tour dates and even a performance at Mile 0 Fest as part of his recovery. Writes Crockett on Instagram: "Unfortunately, my doctors have recently discovered a medical condition that requires me to have surgery just after New Year's, and I will need to cancel my January and February dates to recover. All the December shows are still on. Thoughts and prayers are much appreciated. I'm very sorry to all of the fans who this affects and I hope to see you very soon when we're back on the road."
Moving on, another dapper throwback musician is having a bit of a better week. On top of his two new Grammy nods, Leon Bridges made a return visit to The Late Late Show this week to perform his smash hit single, "Beyond." You may recall, Bridges' first-ever nationally televised performance came in March of 2015, during the very first week that James Corden took over as host of the show.
Also this week, one of Leon's old bandmates — Fort Worth sax man Jeff Dazey — appeared on another late-night talk show on CBS. This time, he was playing with his current outfit Nathaniel Rateliff & the Night Sweats on The Late Show with Stephen Colbert.
Sticking on the TV front, NBC forewent its regularly scheduled programming last night to air Pentatonix: A Not So Silent Night, an hour-long live holiday special from the Arlington-sprung a capella group. Among the evening's special guests were the North Texas-sprung talents Maren Morris and Kelly Clarkson, both which also appear on Pentatonix's latest Christmas album.
Speaking of that specific group of talents, another collab might be brewing. Earlier this week, Clarkson took to Twitter to express the desire to work with fellow North Texas expat Grammy noms Morris and Kacey Musgraves, and Kacey's frequent writing partner, the Mineral Wells-raised Shane McAnally.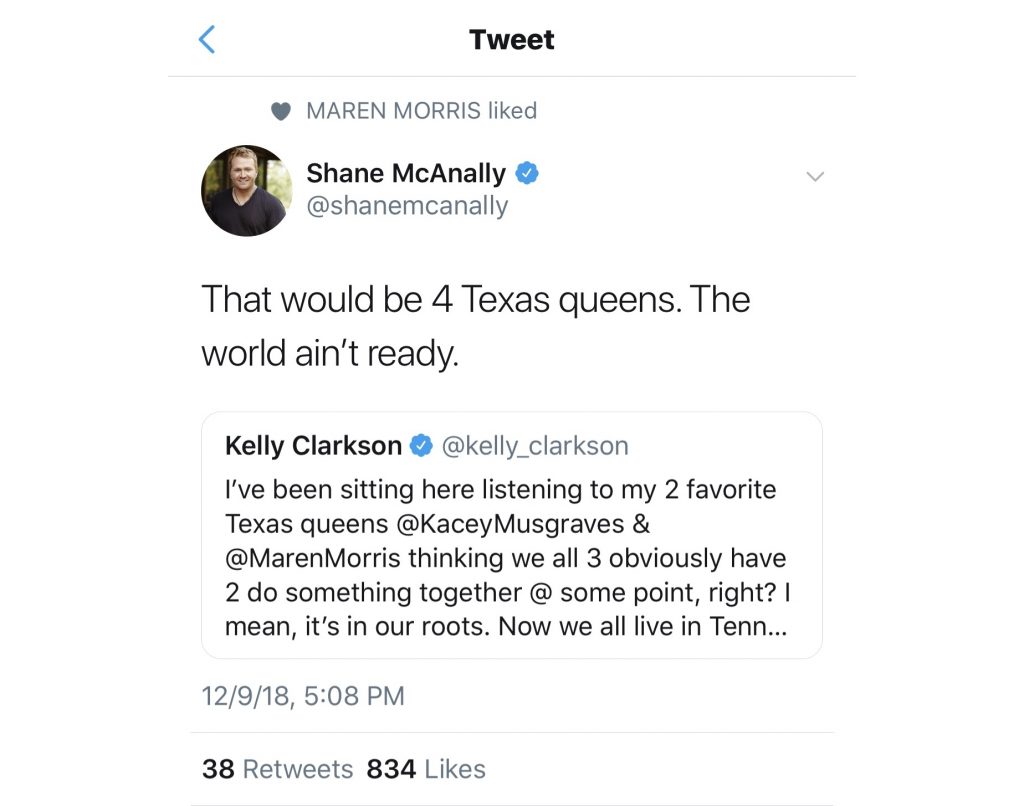 Moving on, the magazine Garden & Gun has a feature in its new issue about the Fort Worth music scene in the wake of Leon Bridges' success. It rather interestingly comes just weeks after Texas Monthly wrote its own feature on the next chapter for the Fort Worth music scene post-Leon. Great minds, I guess?
In other news, the Dallas-based pop artist Seysei has a new video for the song "Diamonds." More than just a visual element to help push the single, it's a collaboration with local charity OpportunityPlus, which "provides dignity through opportunity, not charity."
Finally, DFW's best metal group Duell has begun teasing a new album called Futureless. More details to come. #rawk
Lucas Starr cover photo via Twitter. Got a tip for White Noise? Email us!