Located In Klyde Warren Park, Dallas' Newest Public Art Installation Allows Participants To Video-Chat With Strangers From All Across The Globe.
Since early March, a mysterious golden shipping crate has been sitting right in the middle of Dallas' Klyde Warren Park. But there's a purpose behind this gleaming box.
Guests are invited to enter it, make a left and then a right, and experience a whole new world.
When I did so this past weekend, the first thing I noticed as the sound of some voices speaking a language I don't happen to be fluent in. As my eyes adjusted to the darkness found inside this box, I noticed four chairs placed within the space, pointed toward a big screen at the end of the layout. On that video board, I saw a man dressed in martial arts gear.
That man, I would soon learn, was standing in a similar-looking shipping container located thousands of miles away in Mexico, interacting with me in real time. With the help of a translator, I was able to speak some with him, at which point I learned that my video-chat companion was a practitioner of Bushido martial arts.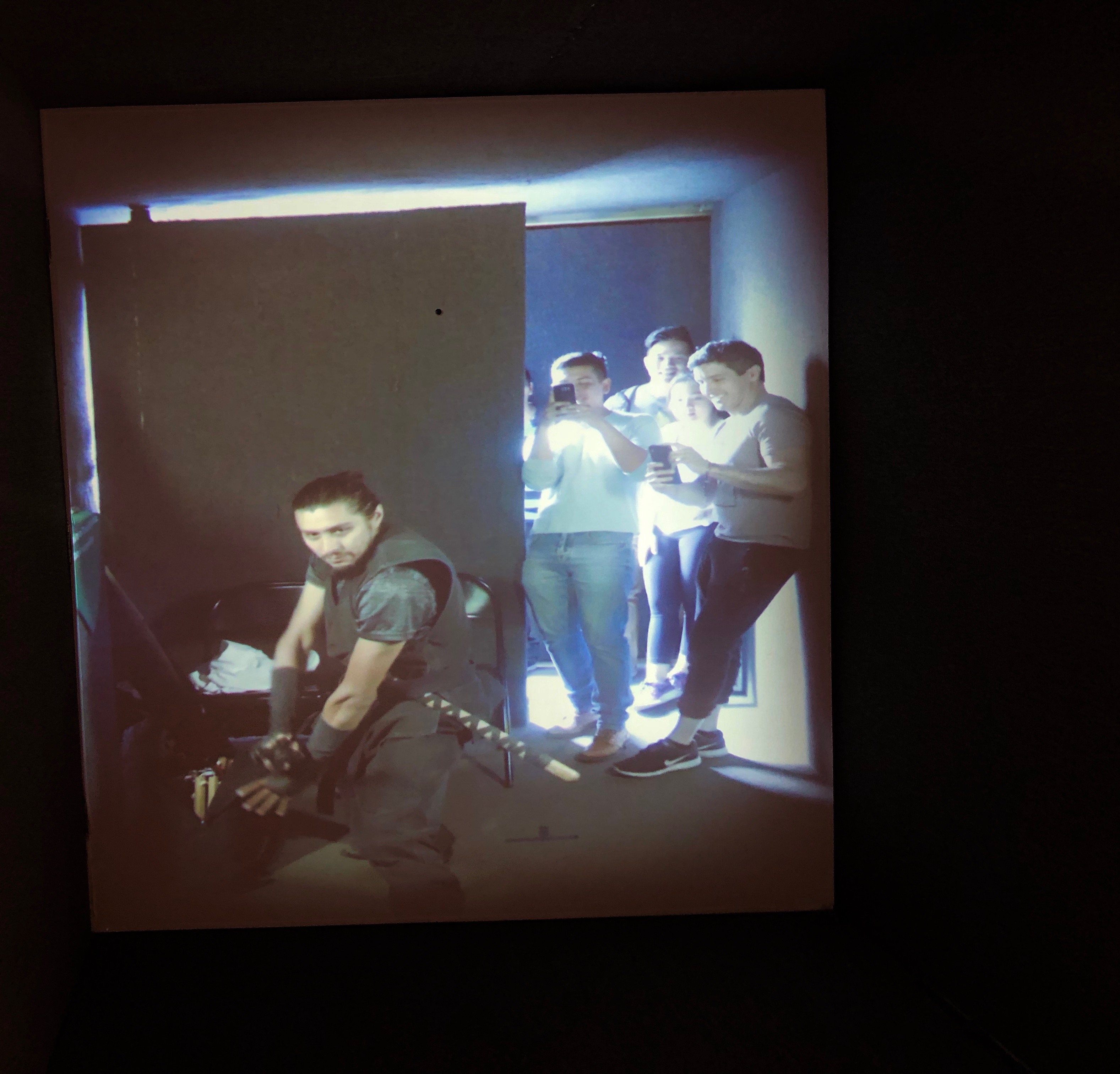 It was a rather surreal feeling. Nothing I was seeing was pre-recorded. It was all playing out live, right before my eyes — the ultimate FaceTime experience, really. And here it was, right in the middle of the deck park.
That's the intended reaction of this installation, created and presented by the Brooklyn-based technology and arts collective Shared_Studios. Their crate is called a Portal, and it's one of many located all throughout the world — in Africa, Scandinavia and The Middle East, just to name a few of the hubs currently tied into the project's network. When someone in Dallas enters the Portal, they are linked to someone in one of these other remote locations instantly, and afforded the chance to communicate with another human found in a disparate locale.
Technological hurdles aside, the project's idea is a simple one: It aims to connect people on the most basic of human levels and to interact with others from around the globe, even for just a few minutes. To help in that effort, the Portals are staffed by human translators, who help break down the communication barriers that can often exist when conversing with someone from another society. Those staffers are also quick with suggested icebreakers if these interactions stall.
Yes, it's a small world after all, and the Portal is an impressive exercise in putting that into perspective.
But it'll be here just a short time, running through May 20, with various open hours daily, which can be found here.
Who will you meet inside? Well, probably not the same Bushido martial artist from Mexico that I did. But, on the off chance that you do see my man, tell him I say what's up.