UNT Issued The Most Dumbfounding Crime Alert After A Student Was Scammed Into Willingly Buying iPhones And Taking Out A Loan For Strangers.
Yesterday afternoon, University of North Texas Police sent out an alert reminding students and campus staff to keep in mind the following safety precautions:
* Avoid riding in vehicles with strangers.
* Remember, if it sounds too good to be true, it probably is.
* Illegitimate schemers will avoid meeting at police departments to complete transactions. 
* High-pressure sales tactics can be a clue to scam.
Why the super obvious reminder?
Well, it seems a university student who was waiting for his bus outside the Student Union was offered a ride home by a stranger who also offered to help the student earn a little extra cash. After the student got in the car, one of the two men already inside the car handed him an application to fill out so he could buy some iPhones at AT&T, which he filled out. From there, he was then driven to an ATM, where he handed the driver his ATM card and provided him a pin number PIN number. The driver then withdrew cash from the student's account and used that money to buy two $849 iPhone 8s at an AT&T store. Finally, the student was driven to a payday loan business, where he was urged to take out a loan, which he willingly did. In exchange, the strangers gave the student $50 in cash for his troubles.
But, while the report acknowledges that the student never felt threatened by the two men who took advantage of him, he still felt compelled to report the crime once he realized he'd been played a fool.
Here is the report in full.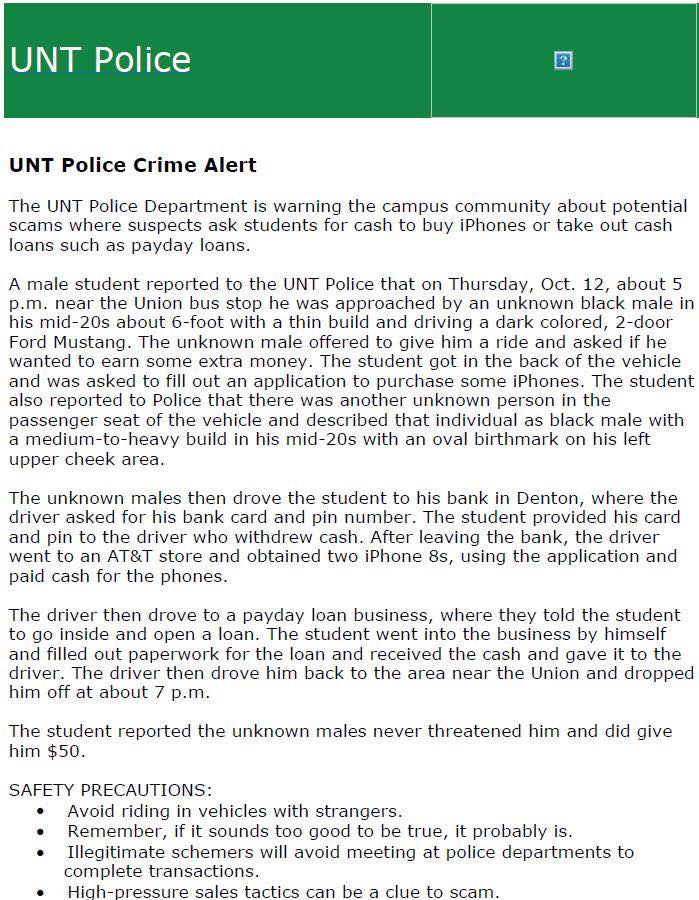 The moral of the story is simple here, folks: Don't get in cars with strangers. But, if for some reason you do get in the car, don't give the stranger your credit card and PIN number. And don't fill out applications to buy expensive phones for them. And also don't then buy them any phones. And, last but not least, don't take out any loans for strangers either
Listen, we're glad the student walked away unharmed here, but we have to reiterate that any story that starts with you choosing to get into a car with strangers and ends with your more than $2,000 in the hole is a self-inflicted ill that could've been easily avoided. We of course wish no further ill on this victim, though, and we're keeping our fingers crossed that he can recover financially from this absolute mess he created for himself.
The people we feel really bad for here are the folks on the UNT admissions board, who have to be wondering how on earth this kid got admitted into their school. They will be in our thoughts all day.
Beyond that, well, if you have any information related to this incident or others like it, you can contact UNT Police at 940-565-3006 or UNT Crime Stoppers at 940-369-TIPS (8477) to remain anonymous.
Cover image via YouTube.