These Are Just Some Of The Heroes From Thursday Night's Attack In Downtown Dallas.
Nearly every time the country faces some sort of national disaster or crisis, someone reminds us of the immortal words of wisdom from Fred Rogers: "'Always look for the helpers,' [my mother would tell me]. 'There's always someone who is trying to help." I did, and I came to see that the world is full of doctors and nurses, police and firemen, volunteers, neighbors and friends who are ready to jump in to help when things go wrong."
It was something Rogers stated numerous times over his decades-long career, and words that were just as applicable and appropriate to read after events like the Sandy Hook Elementary School shooting in 2012 as the Boston Marathon bombings in 2013 and, now, the Dallas shootings from this past Thursday.
Let's highlight some of these Dallas helpers.
The Officers That Sacrificed Their Lives.
Much has been written about the perpetrator of Thursday's horrific shootings, but much less has written about those five officers that gave their lives bringing him to justice. Don't forget that these brave folks that risked their lives not just Thursday, but every day they went to work — and for an average salary of $40K a year. These are their names. These are their stories.
Demonstration in #Dallas @ Belo Garden Park pic.twitter.com/IUx5IaERSB— Dallas Police Depart (@DallasPD) July 8, 2016
The DPD Officers Escorting the Initial Protest.
The initial protest against police brutality was a direct response to the deaths of Alton Sterling and Philando Castile at the hands of police officers in other parts of the country. Yet police officers in Dallas assigned to protect the protestors Thursday showed no animosity or ill will while ensuring the safety of those that were, in a sense, speaking out against them and those that share their line of work. "They gave us high-fives, hugs, were taking selfies," protestor Sharay Santora told The Washington Post. "It was such an instance of love and understanding, that 'I'm here for you.' You could feel it. There was no animosity in the air. That was the feeling throughout."

DPD Officers Like James Dylan Smith.
During the attack, Smith and 61-year-old photographer Robert Moore became trapped behind a police car, ducking from the bullets flying overhead. Says Moore, Smith personally used his body as a shield while walking him to safety. Elswhere Downtown, fellow photographer, 46-year-old Lynn Mays, says he owes his life to an officer that pushed him out of harm's way, just feet from where another officer got hit.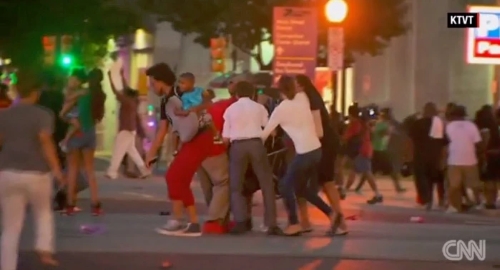 A Crowd of Strangers.
While most people's first instinct in emergency situations is self-preservation, a whole mob of Dallasites went against instinct to run away or duck for cover, opting instead to huddle around a baby carriage, protecting the infant inside.
Misty McBride, shot twice, has been with the DART for 5 years is recovering at Baylor Hospital, her father tells us. pic.twitter.com/cX5KbYa1Db— CBSDFW (@CBSDFW) July 8, 2016
Misty McBride.
While most people Downtown Thursday were running away from the sounds of gunshots, first responders like DART officer Misty McBride, 32, ran towards them. Thanks to McBride's efforts, she was able to save the lives of Dallasites like Raphael Taylor, before taking a pair of bullets.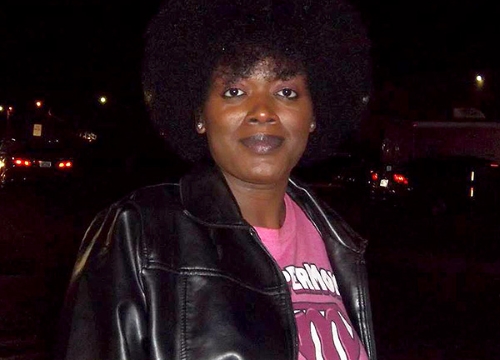 Source: Shetamia Tayor/Facebook.

Shetamia Taylor.
Taylor a 37-year-old mother was attending the march against police brutality with her four sons. When the shooter opened fire, she threw herself in front of her children to protect them. She was shot in the calf while covering her 15-year-old son on the ground. While two of her other sons managed to make it to safety in a nearby garage, her fourth boy, teenager JaJuan, got lost in the crowd. Another hero Angie Wisner, 33, guarded over and protected him until he could be reunited with a cousin hours later.
Serving food and drinks to law enforcement & firefighters in #Dallas. https://t.co/DPMZST6MWj pic.twitter.com/iNoQyIBeo8— Salvation Army USA (@SalvationArmyUS) July 8, 2016
Dallas Chefs.
Led by Brian Luscher (Luscher's Red Hots), six local restaurants, including Cane Rosso, Unleavened Fresh Kitchen, Two Sisters and Good 2 Go Taco made sure the DPD squad room was filled with comfort food in the wake of the incident. Likewise, volunteers from the Red Cross and Salvation Army brought water and snacks to first responders on the scene as well.
.@RedCrossDFW has set up a blood drive in the lobby of City Hall, and is booked! Not taking any new appointments. pic.twitter.com/waCZkiyPMo— City of Dallas (@CityOfDallas) July 8, 2016
The Overflow of Blood Donors.
So many people showed up for a blood drive in the lobby of City Hall to help the seven officers and two civilians wounded in the assault that the Red Cross had to turn people away.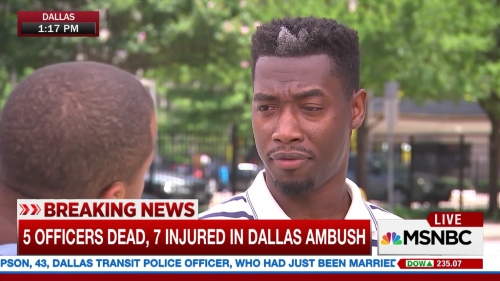 Kellon G. Nixon.
The 34-year-old former drug dealer turned pastor appeared on MSNBC on Friday to offer up some unifying words of wisdom to the nation. Says Nixon: "You start to think it's me against the world. And with that type of mentality, we'll implode as a people," he said. "We'll implode not as ethnicity as a people, but as a people, period. We're all one race at the end of the day. If we get a 'me against the world' mentality ― last night I was thinking, maybe it's not black lives matter or all lives matter, maybe it's just my life matters. Maybe it's just my family's life matters. I had to recover from that spiritually."
Cover photo by Sidney Johnson.