Some Idiot Seahawks Fan Called Defensive End Benson Mayowa A Bandwagon Dallas Cowboys Fan Without Realizing He Is On The Team.
It's a little tough being a Seattle Seahawks fan these days. Your historically crappy franchise is having itself a solid season with an 8-3-1 record, but no one's that impressed because your team won a Super Bowl in 2013 and that kind of performance is just expected now. Instead, everyone's going gaga for the Dallas Cowboys, who are led by a rookie quarterback, a rookie running back and roster of no-names on defense, and long-quiet fans of the silver-and-blue are suddenly making their voices heard again.
You can see how this could annoy a Seahawks fan — y'know, since their whole identity is built around being loud and all.
But there are right ways to go about expressing these frustrations, and there are wrong ways. And Twitter user @schatz_e found himself decidedly in the wrong camp following the Cowboys' win over the Minnesota Vikings on Thursday night. After spotting former Seahawks defensive Benson Mayowa tweeting out a celebratory tweet about the Cowboys' 11-1 record to date this season, @schatz_e fired off a tweet calling out Mayowa for being yet another bandwagon Dallas fan. What that troll failed to realize was that Mayowa is on the Cowboys this year, having racked up three sacks so far this season.
And so Mayowa literally sonned him for his misdoing.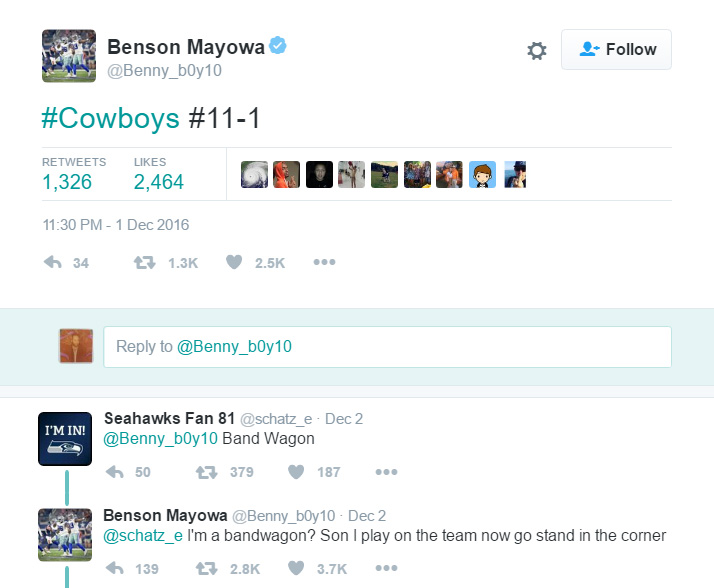 Yeesh. That's a pretty masterful dismissal.
The lesson here? As always: Never tweet. But, also, never troll a troll.