Stay Calm: We Knew The Dallas Stars Were Probably Going To Stumble Out Of The Gate All Along. And There's Plenty Of Hockey Left To Be Played. OK?
Led by the "New Triplets," the Dallas Stars are a fast-and-furious squad that have quickly become the darlings of the hockey world this season. Thus, we welcome you to Forechecking™, our weekly Dallas Stars column that looks back at the hockey week that was, and then the hockey week that will be.

Your Dallas Stars have reached the quarter mark of the season — and, much like the year 2016 in general, it's been a bit wonky.
Sheepishly boasting a .500 record, the Stars have stumbled their way through an especially difficult November — although, to be quite honest with you, we at Forechecking™ projected this would happen in the early portion of the season. Fact.
Although concerned, we ain't pushing any panic buttons 'round here just yet, and neither should you. Yeah, the Stars have given up the most goals in the league. Sure, they have nine defenseman and a rotating door of injured personnel. Yes, they are currently sitting outside of the playoff picture.
But stay fucking calm!
Last Week in Your Dallas Stars.
• Loser Point at St. Louis Blues, 3-4 (OT).
The Blues grossly outplayed Dallas, and the boys in Victory Green™ were lucky to escape Missouri with a point, and in general. Goalie Antti Niemi kept the game within reach long enough for Stars fans to witness two, count 'em, two Jamie Oleksiak goals. Watch the the 6-foot-7-inch Great Dane dangle his way to his first goal of the game. Wowza! I was viewing the biased St. Louis Blues broadcast of the game and even they were impressed by the silky moves of Oleksiak. Speaking of: Blues color analyst Darren Pang erroneously called the third Blues goal a game-winning goal, even though there was over 6 minutes left in the game. Oh too bad! Heh, but. Oleksiak sent a slapper towards the net with Niemi pulled for an extra attacker and, two fortuitous tips later, the game is tied as hell and off to overtime. Hey, Darren! This is what happens when you fight a stranger in the alps!  In overtime, Dallas did what what Dallas does: Lose. Tarasenko scored his 10th of the season to win the game for the Blues in the extra frame, for real this time. They have only lost once this season at home. Meanwhile, Dallas has only won once in overtime. Impressive!
• Darkness Music at Detroit Red Wings, 1-3 .
You know what makes for a sub-optimal on-ice product? Having one Eastern timezone team at home who hasn't taken the ice in three days, play a squad from the West that played the night before. That's some dumb-butt scheduling, and I'm courageous enough to say it. On the internet no less! Forechecking™ is the home of bravery and the unofficial home of Pearl Jam/Soundgarden drummer Matt Cameron, so you know it's gonna be lit. Check out his badass performance soloed on the track "Spoonman." Would any other hockey blog dare do what we do? I doubt it. I doubt it to hell and back. But that's what separates Forechecking™ from the other so called "Dallas Stars websites," that we have the guts to talk about awful scheduling and rock drummers. Why? Cause we ain't in the owner's back pocket. Doggone it, we ain't even in the GM's walk-in closet. I'm honestly thinking about not even covering this game at all. I might just sit here randomly flipping off a mirror like I did when I was 8 and my parents caught me. I don't know why I'm doing it, but it's happening.
Of note: This was the last game the Stars will ever play at Joe Louis Arena, barring an unlikely Stanley Cup match up between the two squads. Built in 1979, the "Joe" has been a difficult place to play for the Stars. We done lost a lot of games there, and I'm pretty sure Marty Turco had a 5-32-1 record there. If only Detroit played in Arlington like the Dallas Cowboys do, the Red Wings would have had three new stadjums by now.
• Darkness Music at Pittsburgh Penguins, 2-6.
Despite the obscene final score, the game was much closer than 6-2 sounds, or looks for that matter. As it were, future Dallas Star Marc-Andre Fluery kept the Pens afloat during the Stars early assault long enough for the home team, playing on back-to-back nights, to counter punch. Do you like to watch special players making special plays? We do! Watch as Tyler Seguin scores his first goal in 10 games on a wicked one timer near the goal line. Did we mention that Forechecking™ is the unofficial home of Soundgarden/Pearl Jam drummer Matt Cameron? Well, he might be, and no one can disprove our claim. Check out his cover of "Spoonman" with some kids from the School of Rock in Seattle.
Bonus Special Player/Special Goal of the Night: How do you feel about Sidney Crosby with a mid-air bat-swing goal from a purposeful rebound off the goaltender's back? That's about as eloquently as I can put it. Just check it out!
• Victory Green™ at Colorado Avalanche, 3-0.
Several unlikely things happened in this game against the Avalance. For one, the Stars won in Colorado? For another, Kari Lehtonen recorded his first shutout of the year. Also? The Stars scored an empty net goal. And Patrick Eaves scored his 10th goal of the year to lead the team in that department. What's particularly interesting about good ol' Patty Eaves this season is that he doesn't practice — like at all. A foot injury sustained early in the season has hobbled Eaves enough to forge a doctor's note to skip team practices, and it appears to be working come game time. "Complete team game," and "something to build on" are hockey clichés we could use here, but you are much too intelligent to accept such journalistic rubbish. Seeing as that's all I got, I guess that's it here. Dallas ended the jam-packed month with a much-needed win — and a more favorable schedule ahead in December, which features less games in general, more at home and a chance for Your Dallas Stars to make up ground in the conference standings.
Unofficial Sega Genesis NHL 94 Player of the Week.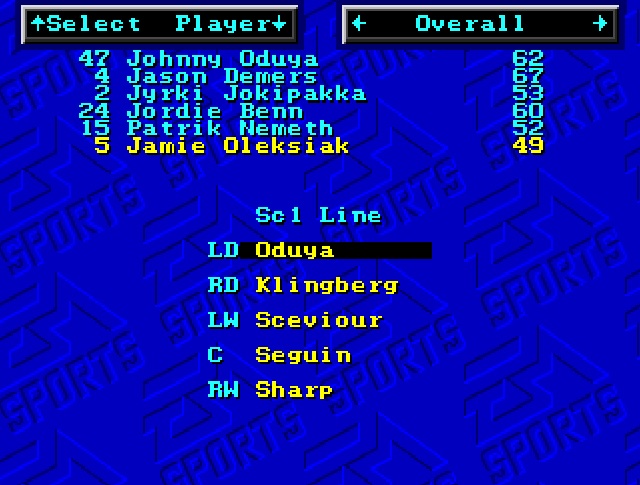 Exclusive coaching depth chart and rankings straight from Lindy Ruff last season.
It's only fitting that a player performing at their all-time high would go from scoring unexpected goals one night to a healthy scratch the next. Welcome to the 2016 Dallas Stars! Jamie Oleksiak is doing his best "look, I know how to play hockey, too" during the roadtrip in hopes that he, or several other defenseman in the franchise, get traded to open up ice time. It's going to happen sooner or later, and if your name isn't Julius Honka or John Klingberg, chances are high you will be wearing a different sweater come trade deadline or sooner. Did we mention that Dallas is 30th in the league in goals against?
This Week in Dallas Stars.
Somehow, the Calgary Flames have more points than Your Dallas Stars. Oof. Check them out at home tomorrow. The Predators come to town on Thursday, and then it's back on the road for tilts against the Flyers on Saturday at noon and the Blackhawks on Sunday at 6 p.m. It would be nice to win a couple of these.
P.S.: With Patrick Sharp returning to injured reserve due to complications from a concussion, it reminds me of when I felt wompy poo poo. One of my more vivid memories was feeling a bit under the weather on Halloween during my late elementary school career and unable to go trick or treating. I stayed home on the couch while my parent and siblings walked the quiet neighborhood for candy (this was before Grand Prairie housed a gaggle of meth-labs). I watched Bill Nye that night, as many inquisitive kids did in the pre-internet era. Now, let me circle back and connect this with the fact that Matt Cameron is the unofficial drummer of Forechecking™ here, the official Stars hockey column on Central Track. I can't recall if this particular episode was playing during my brief illness, but Matt Cameron and his garage band, Soundgarden, were featured in the Seattle-based science show for '90s kids. How fun!
Flip it. Stick it. See ya later, bye. — LehtMoJoe
Cover photo via the Dallas Stars Facebook page.