In Late August, The MLB Is Rolling Out Alternate Uniforms With Its Players' Chosen Nicknames On The Backs. Let's Rank The Rangers' Choices.
For years, Major League Baseball has struggled to balance its affection for tradition with progressing the game to make it more interesting to younger audiences. It's something that even one of the sport's biggest stars acknowledges: Last year, Bryce Harper of the Washington Nationals made headlines when he criticized the game as "tired" in part because "you can't express yourself" as a player.
It seems someone in the league offices heard him. Later this month, MLB will specifically allow players to do just that by taking a page from the XFL and letting players place a nickname of their choosing on the back of their jerseys. The stunt comes as part of the league's "Players Weekend," which will run from August 25 to 27 and will also find the league debuting new alternate jerseys across all teams.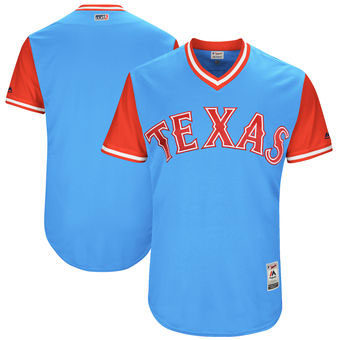 Our hometown Texas Rangers' new unis for that promotion are particularly eye-popping, too. Reminiscent of the team's 1980s Majestic Cooperstown throwbacks worn by Rangers greats like Al Oliver and Buddy Bell, these bad boys swap the baby blue colorway out for a bolder, darker blue chest and back that's nicely contrasted with that distinct Rangers red on the sleeves and numbers. In addition to choosing what their names will say on the back of these jerseys, the sleeves also leave for a white patch upon which players can write in the name of someone who's influenced them to succeed in baseball.
But what we're most interested in are the nicknames that the Rangers' players chose for themselves to replace their last names as part of this deal. Unveiled last week as part of concerted league-wide roll-out of Players Weekend details, the Rangers' nicknames run the gamut from super lame to pretty damn badass.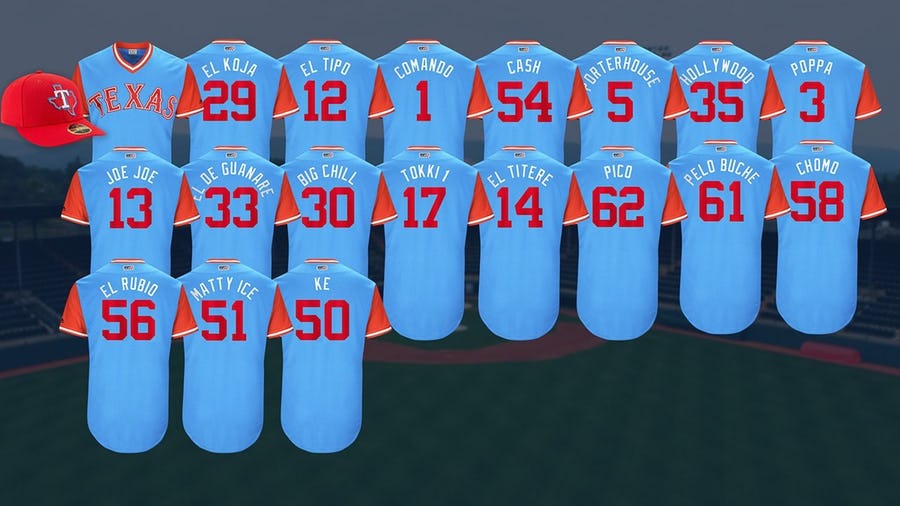 Here, we've decided to rank all 25 of the nicknames that the Rangers will wear on their backs as the team heads up to the Bay Area to take on the Oakland Athletics in a three-game series with their AL West division rivals.
2017 Texas Rangers Players Weekend Jersey Nicknames, Ranked.
19. "Chomo" (Alex Claudio/RP). Claudio probably should've looked this one up on Urban Dictionary before green-lighting it.
18. "Poppa" (Delino DeShields/LF). C'mon, this one's just been done waaaaay too many times.
17. "Hollywood" (Cole Hamels/SP). See No. 17.
16. "Ke" (Keone Kela/RP). Just a shortened version of his last name.
15. "Comando" (Elvis Andrus/SS). Probably not a video game reference.
14. "Big Chill" (Nomar Mazara/RF). Immediate disqualification because of its involvement with The Big Chill.
13. "El Rubio" (Austin Bibens-Dirkx/RP). Spanish for blond. Y'know, because he's blond.
12. "El De Guanare" (Martin Perez/SP). Meaning "He of Guanare," a reference to the part of Venezuela where he grew up.
11. "Cash" (Andrew Cashner/SP). A shortened name and a tired nickname at once — a twofer!
10. "El Titere" (Carlos Gomez/CF). Spanish for "The Puppet," which means he's no Donald Trump.
9. "Joe Joe" (Joey Gallo/3B). Kinda basic, but we all have a friend of a friend with the same name, don't we?
8. "Porterhouse" (Mike Napoli/1B). Beefy.
7. "Tokki 1" (Shin-Soo Choo/RF). Korean for "rabbit," and there's a bromantic story of why he's "Tokki 1" and his old Cincinnati Reds teammate Joey Vatto is "Tokki 2."
6. "El Tipo" (Rougned Odor/2B). Spanish for "The Kind," although we know that's not really the case. He should've gone with "El Puño," meaning "The Fist." Points for the jab at himself this time around, though.
5. "Pico" (Jose Leclerc/RP). Spanish for "peak," although we prefer to think of it as a reference to pico de gallo, which is delicious.
4. "Matty Ice" (Matt Bush/RP). What's cooler than cool? Getting iced in 2017.
3. "Pelo Buche" (Robinson Chirinos/C). Spanish for "By The Crop," although we mostly like it because of the way it rolls off the tongue.
2. "Sweet Lettuce"(AJ Griffin/SP). Another hair-referencing nickname! But this one is decidedly cooler, which makes it weird that it wasn't included in the Rangers' promotional graphics. What gives, brass?
1. "El Koja" (Adrian Beltre/3B). It's meant to be a variation of his childhood nickname "Kojak," which couldn't be used because of copyright concerns. Still sounds like the name of a badass villain, though.