Balch Springs Police Chief Walks Back Earlier-Released Details On Jordan Edwards' Death, As Department Releases New Statement On What Happened.
Update at 6:30 p.m. on May 2, 2017: In a press conference this evening, the Balch Springs Police Department identified the officer who shot and killed Jordan Edwards as police veteran Roy Oliver, the second officer to arrive on the scene. Furthermore, the BSPD announced that, through its internal investigation, it has determined that Oliver had "violated several departmental policies" in his actions on Saturday night and has "terminated" his role within the police department. Balch Springs police chief Jonathan Haber has determined that internal investigation now complete, although he says his department will continue to cooperate with the Dallas County Sheriff's Department and the Dallas County District Attorney's Office's investigations into the matter. There is no word yet on if Oliver will face charges for his actions. Following the press conference, representatives of the Edwards family implored, for fear of the safety of protesters, that no one protest on their behalf at this time. Original story follows.
* * * * *
Some 48 hours have passed since the news of 15-year-old Jordan Edwards' death became a national story. And in addition to new details that are still emerging — including the fact that the officer who shot Edwards used a goddamn rifle to do so — even the already-shared details surrounding the case are now changing.
In a press conference on Monday afternoon, Balch Springs police chief Jonathan Haber, having now seen video of the incident, acknowledged that he initially "misspoke" when it came to some of the earliest details surrounding the case. He no longer contends that the car Edwards was riding in was "backing down the street towards the officers in an aggressive manner" as it left the party that cops were called in to break up, as earlier statements from his department implied — or even that the car was in reverse at all when fired upon.
In fact, Haber now appears to be openly questioning whether the officer who fired upon Edwards's car was acting appropriately when he fired his weapon. Announced Haber during his press conference: "After reviewing the video, I don't believe that [the shooting] met our core values."
That said, the identity of the officer who fired upon the car and struck Edwards with a bullet has not yet been released, and no charges have yet been filed against him. The department has, however, placed him on indefinite administrative leave as the investigation continues.
Meanwhile, BSPD also on Monday released a new statement on the shooting — one that more closely aligns with what Haber described in his press conference and one that is significantly more detailed than the initial release shared by the department.
Here is that statement in full: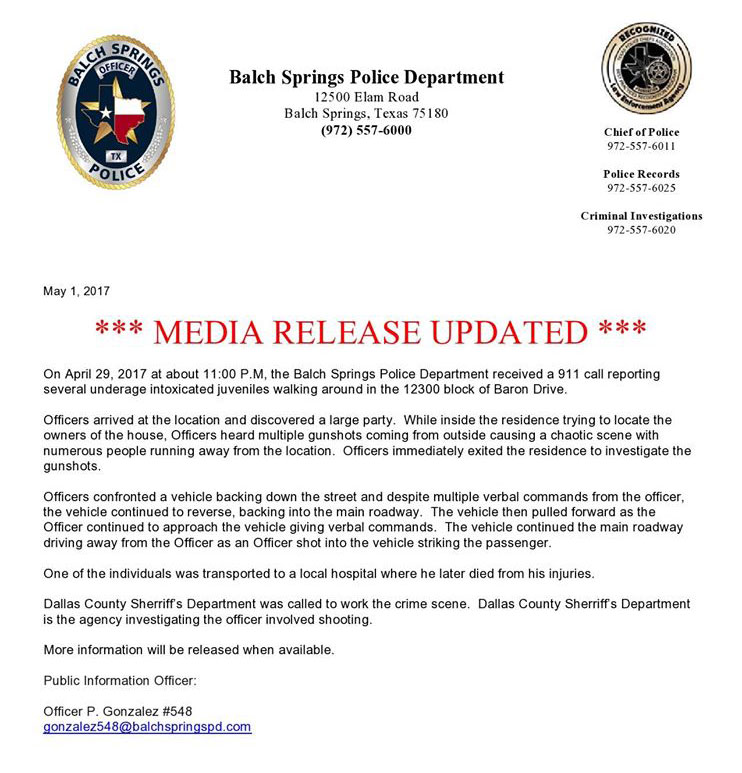 As BSPD is coming to terms with what happened and seemingly cooperating with the Dallas County Sheriff's Department and the Dallas County District Attorney's Office's investigations into the matter, Edwards' family and his classmates at Mesquite High School — where he was a freshmen with a 3.5 GPA — are coming to terms with life after Edwards' death. Teachers have canceled tests and SAT prep courses to instead focus on assisting students through the grieving process, and a number of Edwards' classmates gathered at Gentry Park in Mesquite last night to host a vigil in his memory.
Edwards family attorney Lee Merritt, however, is pushing forward: He contends that neither Edwards nor any of the friends with him in the car had been drinking at the party, that the BSPD officer who shot upon the car fired off at least three bullets into the car, and that "there was absolutely no justification for this murder."
Merritt is also demanding that BSPD publicly release the footage that Haber acknowledged watching in his press conference yesterday.
Haber, however, has so far declined to do so, saying that he will instead present that evidence to a grand jury when such a time arrives.