With The Vision Of New Executive Chef Frederic Sulis, The French Room Bar Has Added A Burger The Size Of France To Its Menu.
So, The French Room Bar put a $24 burger on its menu. I know what you're thinking, but trust me, it delivers.
Walking into The Adolphus Hotel downtown is very different today than it was five or even two years ago. The hotel is in its final phase of a complete revitalization, in which, each and every decision has been calculated, designed and curated to be one of the most stylish and luxurious — or delicious, as the case may be — spots in town.
The gem in the center of it all is The French Room. Home to numerous nominations, awards, stars and accolades, it's likely to be one of, if not the most well-known hotel restaurant in the state — the adjacent bar, The French Room Bar, is a dimly-lit, sultry and moody space to sit, sip and be seen.
After the French Room recently lost its executive chef, Frederic Sulis has stepped in as an interim chef to take charge, and he's already got a few new ideas up his chef's coat sleeves.
First up: The very fancy French Room Bar deserves an equally fancy French burger. Le Burger is most definitely that burger. For $23.80, a very thick, very French burger topped with melty Port Salut cheese, shiitake mushrooms, caramelized onions, pickles, tomato, fancy leafy lettuce and 2-day house-smoked mayonnaise, teeters next to a 20 cent Budweiser longneck, aka Le Budweiser — because America.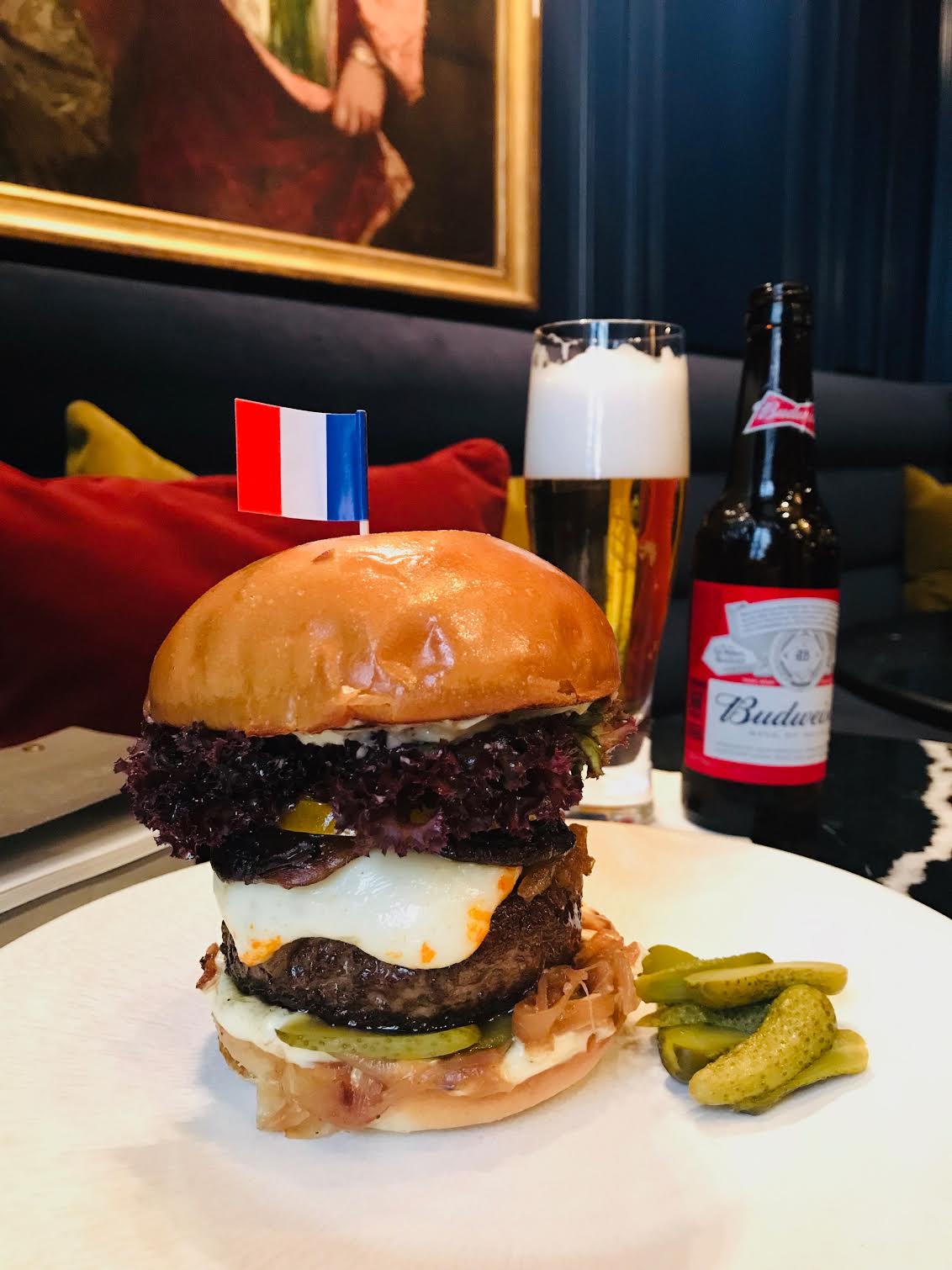 Photo by foodbitch
Don't expect a side of fries, though, because The French Room doesn't have a fryer. Instead, a small stack of gherkins to snack on sits alongside the monster of a burger.
The addition of Le Burger wasn't the product tossing a few random elements together, though. The French Room had it's tastebuds set on a burger for quite some time. Sulis' vision was just the missing ingredient.
"When I approached chef Sulis about doing a burger, he was already thinking about it" French Room general manager Victor Rojas says. "He said 'It's gotta be a damn good burger, though.'"
The most important task for Sulis was trying to find the perfect beef. He went through about five different samples to find the right one, with the right fat content.
the actual burger itself is a feast, and something that might coax you into sliding into a dark corner to enjoy. You might want to wear dark clothing and ask for a few spare napkins as well, because this is no dainty burger. The house mayonaise, mushroomy-assisted meat juices make for messiness to be in the cards.  The patty is about 2.5 inches thick, and all the toppings add another few inches on top, as well.
In Dallas, you might expect a burger designed to raise eyebrows to be topped with gold flakes or come with a side of caviar just because. But besides the longneck, this burger is no gimmick — it's all filler.
Cover photo courtesy of The French Room.