On Friday at Three Links, Dallas' Colab Marked 10 Years Of Celebrating Hip-Hop Every Week
Friday night at Three Links looked a whole lot like a Tuesday night, actually. That's not a dig at all, either; more than anything, it's a testament to how hopping things have been on Tuesdays at the Deep Ellum haunt over these last few years, a development for which the group known as Colab deserves all the credit.
At this Friday show, before a packed house, Colab celebrated surpassing 10 years of weekly live band hip-hop performances on Tuesday nights — a tradition it started at the late Zubar on Lower Greenville before settling into its latest home at Links. It was a night like every other Colab affair — one filled with a half-dozen musicians (Jonathon Thomas on drums, Evan Johnson on bass, Emsy Robinson on guitar, Jamie Ringholm on keys, Dandy Rain on percussion and Edgar Blue DJing) performing live backing beats upon which a roster of Dallas emcees guested. The only difference? Along with the usual players and emcees Colab hosts on its showcases, this night saw even more guests, both rappers and those with instruments non-vocal, as past regular Colab contributors returned to pay homage to the outfit that helped them shape their sound.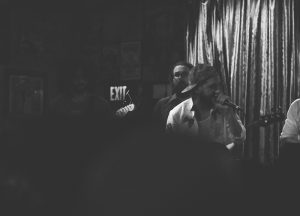 "Colab started with the intention of being a band that featured different Dallas emcees on a weekly basis," recalls bassist and Colab co-founder Evan Johnson, who also plays in the bar-rock band Dead Flowers. And plenty have indeed been highlighted — Allerick Jamerson, Isaac Davies, Ashley Falgout, Cameron McCloud, Stanley Mongaras, Moses Habtezghi, Edgar Simmons, David Johnson and Jerod Davies, just to name a few — both by design and sheer happenstance. "Honestly, for most of Colab's history, it's been seat-of-our-pants improv. It's always been something fun."
Still, it has to be said: 10 years of a weekly is no joke — even if Johnson says it's been less a burden to continue than just the normal course of things.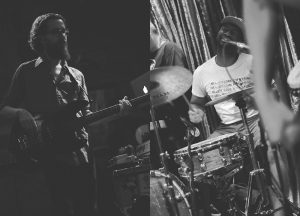 "It really hasn't been very difficult to keep things interesting on our end with all the different voices adding to what Colab is," Johnson says. "The only thing I can think of that has kept us going has been the community that has grown up around us and supported us. To borrow a line from my Dead Flowers compatriot, Corey Howe: 'We don't have fans. We have friends.' I'd only extend that to say that I feel like the people that come to see us week in and week out feel more like family than friends."
That's a fair point; one thing that sets Colab apart from so many other weeklies around town is the lack of grandstanding that goes into it. The event just very much is what it is — a free-flowing celebration of live hip-hop with a welcome-to-all spirit encompassing its every move. That's a bar Colab set early on — and one that, in many ways, the rest of Dallas is only just now reaching.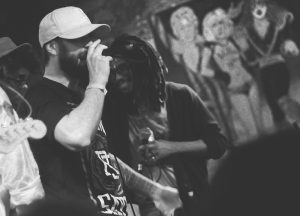 "Music in Dallas [right now] is the most self-supportive that I've ever seen it," Johnson says. "I used to watch good bands do well only to see their peer bands shun them for 'outshining' them. Now I go to shows and I see members of other bands out just to support and enjoy. Dallas just feels more cohesive than ever. Our band's name directly reflects our attitude towards how this city should continue to grow it's already burgeoning scene."
For 10 years, Colab has been the physical embodiment of that ethos.
"I enjoy Colab because it is a release for me from how regimented the rest of my life is," Johnson adds. "I get to go play a set every Tuesday where I might know what songs we are gonna play, but I never know how exactly it's gonna go. Getting to play with players from all kinds of backgrounds has really helped me grow as a player. These days, we get together to discuss what we're gonna do on Tuesdays, and I think we all come out of it with a sense of what we're gonna do, but when it comes time to do it onstage it becomes a whole other magical animal."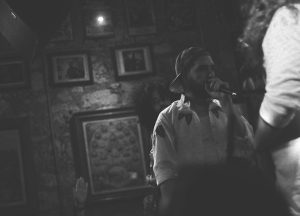 And that's why, it's important to note, Colab isn't planning on slowing down just because it's hit a decade in the biz. If anything, it seems the opposite is the goal.
"Colab will keep going as long as the players, venues and crowds that have kept us going will continue to keep us going," Johnson says. "I know that sounds like vague bullshit, but that's exactly what has kept us keeping on through the years. It's always been something that is fun and if it takes off to something else that would be cool. But we're just all stoked that we get to keep it going."