Also Among This Week's Upcoming Dallas-Area Shows You Should Know: Phantogram, Lenny Kravitz, Ride, Logic, Melvins, Angel Olson & More.
Last night, we noticed that Live Nation's Dallas-area office now has something in common with the likes of James Woods, Milo Yiannopolous, Jacob Wohl, Laura Loomer, Alex Jones and Tila Tequila: Their Twitter account got suspended.
Obviously, this is subject to change, but their account currently ain't in operation. Check out this screenshot we grabbed proving it: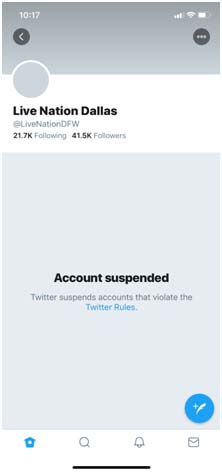 Despite some effort, we've yet to find out why the account's Twitter privileges were pulled.
Lucky for you, until their status is reinstated, just know that you don't need to follow them to catch up on the latest concert announcements in the area.
Why, we've got you covered in this weekly segment.
Take a look.
Lights
Tuesday, August 6, at Granada Theater
On sale Friday, May 17 at 10 a.m.
The Canadian pop artist just inked a deal with Fueled By Ramen and will be playing a run of acoustic shows that are described as "intimate." Given that Granada Theater has been Lights' North Texas venue of choice over the past decade, that doesn't really add up on paper. But the team at the Granada tells us it's because this, unlike past stops, will be a fully seated show, with about half the tickets available as you'd find at a standing show. So there you go! Regardless, Siberia is a mad good album, and if you're a fan of Holy Fuck, well, they helped produce it.
HELLYEAH
Saturday, August 17, at House of Blues
On sale Friday, May 17 at 10 a.m.
As we've already reported: Clark County, Nevada, May 11 recently declared Vinnie Paul Day. Even though we have no binding legal authority, we're happy to declare August 17 as Vinnie Paul Day for Dallas County. See? Now you absolutely cannot miss this show.

The B-52's
Tuesday, August 20, at The Theatre at Grand Prairie
On sale Thursday, May 16, at 10 a.m.
Hey, remember that time we predicted a B-52's 40-year anniversary show following their KAABOO Texas set? Well, this isn't an unusual occurrence — but, turns out, we were right! However, instead of the predicted August 23 date, it's taking place on August 20 instead. Oh, well. Still one more tally of credibility for Central Track!

Mogwai
Saturday, August 24, at Canton Hall
On sale Friday, May 17 at 10 a.m.
Hardcore will never die, but you will. Papa M (the solo project of Slint's David Pajo) opens.

Mannequin Pussy
Sunday, August 25, at Three Links
On sale Friday, May 17 at 10 a.m.
You may recall that this band opened for Hot Snakes a mere few weeks ago here in town. If you missed that, here's your chance to see them headline.

¡Eso Es!
Friday, August 30, at Canton Hall
On sale now.
As we reported yesterday, Neon Indian, Empress Of, La Goony Chonga and others are slated to perform what… looks to be a festival of sorts, we guess?
Whitney
Thursday, September 12, at Canton Hall
On sale Friday, May 17 at 10 a.m.
Sir Elton John has interviewed this band and is a self-professed fan. You think you're better than Elton John?

Phantogram
Friday, September 13, at The Bomb Factory
On sale Friday, May 17 at 10 a.m.
Once upon a time at a show in Dallas, Muse took too long to set their shit up at the AAC and, in turn, their opening act Phantogram didn't get to perform. When you're the headliner, as Phantogram is on this bill, you don't get bumped.
Lenny Kravitz
Saturday, September 14, at The Theatre at Grand Prairie
On sale now.
You may know Lenny Kravitz for his song "Fly Away," but do you know the edited version that made the rounds on YouTube five years ago? Where Kravitz sings about his obsession with dragonflies and Milky Ways? It's a thing:

Flying Lotus
Sunday, September 15, at South Side Ballroom
On sale Friday, May 17 at 10 a.m.
I saw Flying Lotus at a grocery store in Los Angeles yesterday. I told him how cool it was to meet him in person, but I didn't want to be a douche and bother him and ask him for photos or anything. He said, "Oh, like you're doing now?" I was taken aback, and all I could say was "Huh?" but he kept cutting me off and going "huh? huh? huh?" and closing his hand shut in front of my face. I walked away and continued with my shopping, and I heard him chuckle as I walked off. When I came to pay for my stuff up front I saw him trying to walk out the doors with like fifteen Milky Ways in his hands without paying. The girl at the counter was very nice about it and professional, and was like "Sir, you need to pay for those first." At first he kept pretending to be tired and not hear her, but eventually turned back around and brought them to the counter. When she took one of the bars and started scanning it multiple times, he stopped her and told her to scan them each individually "to prevent any electrical infetterence," and then turned around and winked at me. I don't even think that's a word. After she scanned each bar and put them in a bag and started to say the price, he kept interrupting her by yawning really loudly.
BABYMETAL
Tuesday, September 24, at South Side Ballroom
On sale Friday, May 17 at 10 a.m.
Last year, we had the pleasure of reviewing this Japanese band when they came through House of Blues. If you missed them that time, here's your chance to remedy that FOMO.
Game of Thrones Live Concert Experience
Thursday, September 26, at The Pavilion at Toyota Music Factory
On sale now.
In true Game of Thrones fashion, an unsuspecting Starbucks cup will be placed atop a table onstage at this affair.
Orville Peck
Tuesday, October 1, at  Club Dada
On sale Friday, May 17 at 10 a.m.
Just recently, Billboard ran a profile on this increasingly famous masked psychedelic outlaw country artist. (He's going to be huge.)
Ride
Wednesday, October 2, at Trees
On sale Friday, May 17 at 10 a.m.
The legendary English shoegaze outfit almost never seems to come through Texas, so this is long overdue.
The Distillers
Thursday, October 17, at Granada Theater
On sale Friday, May 17 at 10 a.m.
Remember The Distillers show at Curtain Club the last time the band was in town? The one that sold out faster than you can say "Meryl Streep" — so it would be wise not to sleep on them this time around. Death Valley Girls open.

Logic
Friday, October 18, at Toyota Music Factory
On sale Friday, May 17 at 10 a.m.
Young Sinatra has encountered a deluge of negative press with his recent soundtrack album, Supermarket. But he seems rather undeterred. Either way: Bobby Tarantino will be paying us a visit with J.I.D and YBN Cordae along for the ride.
Melvins
Thursday, October 31, at Trees
On sale Friday, May 17 at 10 a.m.
One of the greatest metal bands of all time (I will die on this hill) makes its millionth return to Trees – and on Halloween, no less! Bassist Steven McDonald and drummer Dale Crover are also part of Redd Kross, who just so happens to be opening this show along with Swedish solo artist ShitKid.

Kero Kero Bonito
Tuesday, November 5, at Canton Hall
On sale now.
Sarah Bonito and Co. are still reeling in from their critically-acclaimed 2018 LP, Time 'n' Place. After having played Coachella and following scheduled appearances at just about every major music festival in Europe, the trio will swing by the Metroplex for a second time as part of an eventful year-closing tour.
Angel Olsen
Friday, November 8, at Granada Theater
On sale Friday, May 17 at 10 a.m.
Everyone praised Angel Olsen's third full-length My Woman (and rightfully so), but there are also Bonnie Prince Billy collaborations that most people do not know about, and they are just as deserving of your attention. There doesn't appear to be another album in the works (that has been announced anyway), but she is also playing Levitation in Austin. Whatever the reason for her coming here, who are we to look a gift-horse in the mouth? New York-via-Cameroon multi-instrumentalist Vagabon opens.
Slobberbone
Friday, November 15, at Granada Theater
On sale now.
The hardest-working band in Denton for three decades now brings its talents to Dallas.