Also Among This Week's Upcoming Dallas-Area Shows You Should Know: In the Valley Below, Anberlin, Froth, Dylan LeBlanc, Tinariwen, Sara Bareilles & More.
A man in Ohio made headlines in March when he announced that he would adhere to a strict diet of beer for Lent.
Now, with fewer than two weeks to go before Easter — and with Ash Wednesday having happened over a month ago — it was reported that said man has lost more than 33 pounds in the interim.
Perhaps this inspires you to take on intermittent fasting?
Like, "I can live off a steady diet of beer," you might be thinking to yourself right now.
Well, good news: If you somehow think that's a feasible goal to set, you can still go to these below-listed, recently announced shows and not only be surrounded by diet-friendly beverage options, but you can also stand for a prolonged period and not skip leg day!
It's a win-win.
In the Valley Below
Wednesday, April 17, at Alamo Drafthouse
On sale now.
You may have seen In the Valley Below open for Tricky at Curtain Club in 2017 (which is a bit of an odd pairing, but I digress.) Well, they now have a feature-length film titled The Pink Chateau, and the duo will be embarking on a tour of Alamo Drafthouses across the country, where they will perform the album/score as the film plays.
Diamante Electrico
Friday, May 24, at Dada
On sale Friday, April 12, at 10 a.m.
Billy Gibbons himself is a self-professed fan of this Columbian rock band, and has even collaborated with them on the track "Dias Raros." Rolling Stone did an impressively thorough feature on them in September 2018.
Anberlin
Monday, June 10, at House of Blues
On sale Friday, April 12, at 10 a.m. 
The Florida-based alternative rock/emo outfit is coming through our neck of the woods for the first since reuniting last December. They apparently don't like to be called "Christian rock," but they didn't say anything about being called "one-hit wonders," so we'll stick with that label for now.
Vundabar
Sunday, June 16, at Deep Ellum Art Co.
On sale now.
Wonderful, wonderful. — Lawrence Welk.
Froth
Monday, June 24, at Dada
On sale now.
In the late '00s-early '10s, Los Angeles became host to a burgeoning garage rock/psych pop scene that fostered the likes of the Growlers, Audacity, Mikal Cronin, the Abigails, FIDLAR and Colleen Green. Froth was part of that circuit, too. After a two-year hiatus, they are back with a sound that takes some bold left turns and deviates from Burger Records orthodoxy. To prove it, they released their new single "Laurel."
Dylan LeBlanc
Saturday, July 13, at Dada
On sale Friday, April 12, at 10 a.m. 
Rough Trade artist Dylan LeBlanc has collaborated with Emmylou Harris and has toured with Lucinda Williams and First Aid Kit. Those accomplishments should speak for themselves.
Chase Atlantic
Tuesday, July 16, at House of Blues
On sale Friday, April 12, at 10 a.m. 
Chase Atlantic is sort of an indie/R&B gateway drug for those who listened to Sleeping With Sirens and Bring Me the Horizon in 2008. Anyway, this band took off with the help of Joel and Benji Madden of Good Charlotte fame, and the upward trajectory towards fame has brought them to a mid-sized venue on a weeknight.
Bone Thugs-N-Harmony
Thursday, August 8, at House of Blues
On sale Friday, April 12, at 10 a.m. 
Is "Bone" a group of thugs who happen to be in harmony, are they "Bone Thugs" who happen to be in harmony or are "Bone Thugs" and "Harmony" two different groups compiled into one? We may never know, but Eazy E took this collective under his wing before his untimely death in 1995, so they're up to their eyeballs in street cred.
Dude Perfect
Sunday, August 11, at Allen Event Center
On sale Friday, April 12, at 10 a.m.
These are five dudes from Frisco who achieved virality by doing notoriously elaborate trick shots. They have 49 million subscribers and 7.6 billion views on YouTube.They were on Good Morning America and they have their own show on Nickelodeon.
Alex Lahey
Saturday, August 17, at Deep Ellum Art Co.
On sale now.
Melbourne indie rocker Alex Lahey returns to Dallas for the first time since her 2017 tour with Dude York. Her sophomore LP The Best of Luck Club is slated for release this May.
The B-52s
Friday, August 23, at ???
Okay, I'll admit, this is merely speculation, but can you honestly blame me? The new wave/dance rock giants are plotting a 40-year anniversary tour that is slated to take place months after their set at KAABOO Texas. During this run, they are playing Austin on August 22, Houston on August 24 and nothing on August 23. Kind of odd that a band would have a Friday night off, no? Especially considering that the trek between Austin and Houston is only a two-and-a-half hour commute.
Tinariwen
Saturday, September 14, at Canton Hall
On sale now.
The Tuareg legends don't appear to have any new releases, and are more than likely touring North America to support their 2017 full-length Elwan. There doesn't seem to be any occasion, but who are we to look a gift horse in the mouth?
Morrissey + Interpol
Wednesday, September 18, at The Theatre at Grand Prairie
On sale Friday, April 12, at 10 a.m. 
If Morrissey decides to cancel (as is his usual MO these days), Interpol is still playing. That's tough to refuse.
Kenny G
Wednesday, September 18, at Winspear Opera House
On sale Friday, April 12, at 10 a.m. 
Jazz purists tend to hate Kenny G — and, as evidenced by the picture below, that included the GOAT, Miles Davis.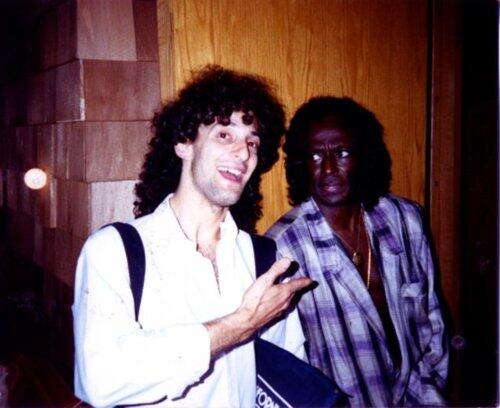 Sara Bareilles
Tuesday, November 12, at Toyota Music Factory
On sale Friday, April 12, at 10 a.m.
Between her work as a songwriter and actress (both on stage and camera), Sara Bareilles is remarkably accomplished. She's been nominated for Grammys, Oscars and Tonys (which she hosted last year.) She played Mary Magdalene in NBC's adaptation of Jesus Christ Superstar. She was the musical guest on this past weekend's episode of Saturday Night Live. She frequently collaborates with Ben Folds. Most impressively, she rose above being a one-hit wonder following the release of her 2007 single "Love Song" and consistently kept a high momentum throughout her career.