On Friday Night At The House of Blues, Japan's Babymetal Shattered Any And All Expectation Of What A Metal Concert Is Supposed To Be Like.
All photos by Mike Brooks.
For almost 50 years now, the Japanese music industry has been centered around an "idol" culture through which record labels pluck teenage boys and girls from obscurity and manufacture them into overnight pop stars that it presents in carefully curated packages centered around wholesome and innocence.
It's been a successful model too, with the appeal of J-Pop stars extending far beyond the expected teenage audiences to grab the attentions of even middle-aged adults. For the most part, though, these idols' efforts have mostly appeal strictly to Japanese crowds.
But that all began to change in 2010, as one Japanese label called Amuse Inc. began forming groups that focused on heavier sounds than the expected, glitzy pop fare produced by most idols and settled instead upon a new genre called kawaii (read: "cute") metal. At the forefront of that effort was an audacious new group called Babymetal that, within just a few years of forming, has already accomplished what so many of the idols who came before it could not.
Within six years of forming, Babymetal — along with its culture, lore and music — had become an all-out international sensation thanks to the internet's full-armed embrace of the band's 2015 hit, "Gimme Chocolate," which the band would go on to perform in 2016 on The Late Show with Stephen Colbert.
And, just this past Friday night, Dallas finally got a taste of the group and its global appeal as Babymetal performed at the House of Blues on the third stop of its current U.S. tour — the band's first headlining tour to come through Texas.
It was a mystical, powerful and, well, just fucking awesome display.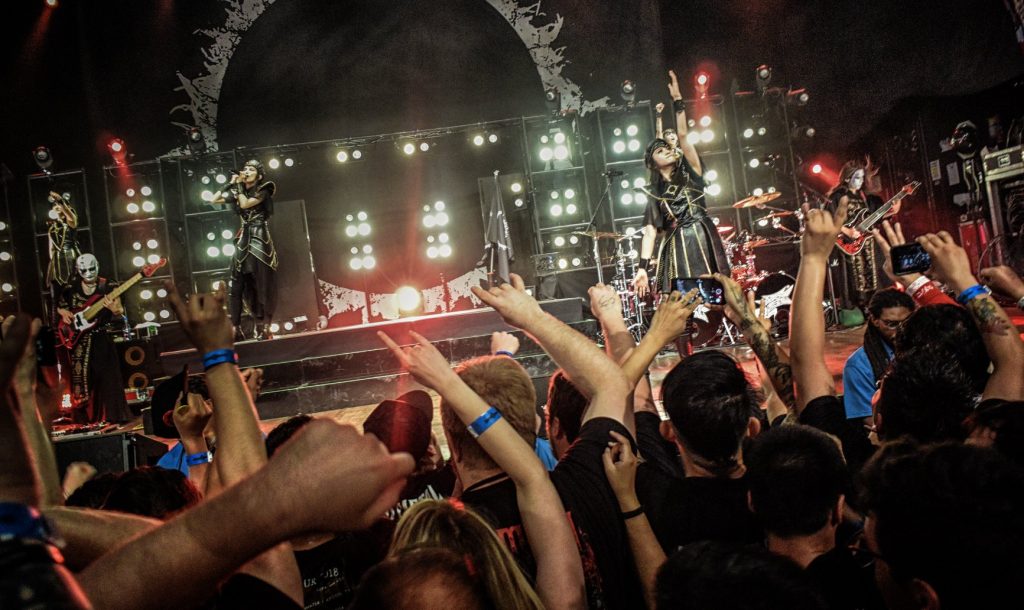 Right as the show began, it became clear that this would be more than just another metal concert but, rather, a fully realized theatrical performance. As the curtain rose, it revealed three of the band's members dressed in robes and helmets, and toting large staffs. By the time the backing band launched into Babymetal's opening "In The Name Of" track, the entire sold-out audience — a wide range featuring parents, teachers, anime kids, pit kids, metal enthusiasts and plaid-clad millennials you'd expect to see at a Mumford & Sons show — was fully rapt by what was transpiring on stage. 
It was a fully immersive showing, with the band portraying the latest chapter in its narrative — one centering around seven "chosen" disciples of metal who are fulfilling the prophecies of a nebulous creature known as the "Fox God" — through deliberate choreography, costumes and various other production elements that managed to stun at each and every turn.
Not even the mosh pit that formed near the center of the room was immune to the theatrics, as it regularly stopped to observe all that was happening on stage.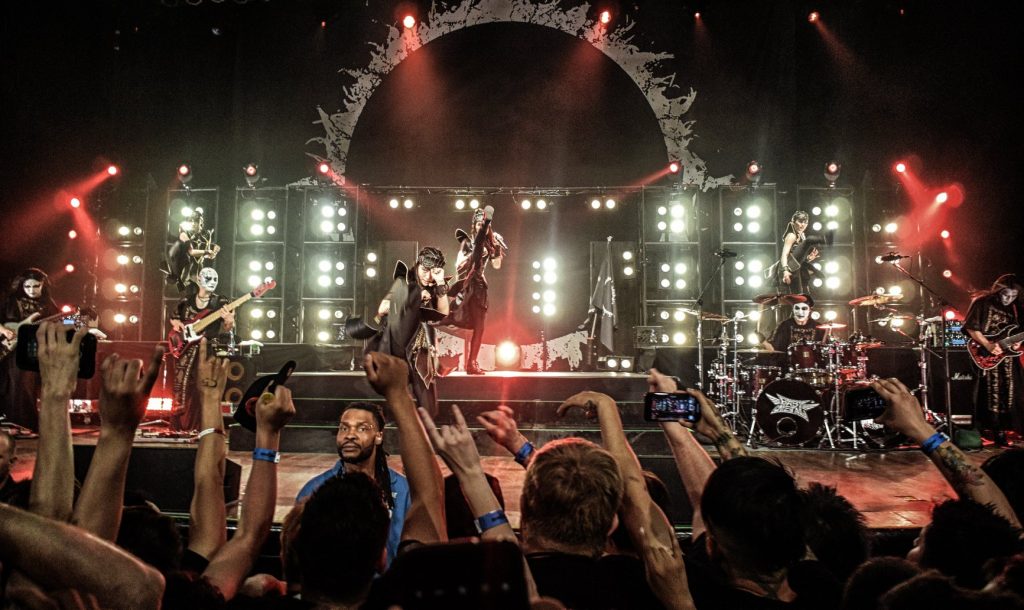 There was a lot to take in: As the band ran through a solid mix of songs from 2015's BABYMETAL and 2016's Metal Resistance, the live backing band thrashed away with great precision and the lead performers danced, sang and performed karate in unison. It was a tight, well-polished and adrenaline-pumping offering. But, more than just loud and brutal on tracks like "GJ" and "Megitsune," the show was touching, too: One of the most memorable and captivating moments of the show came as Su-Metal offered up an impeccable vocal performance during the ballad "Akatsuki," while blue lights and the subtle use of a fog machine changed the total atmosphere of the venue.
(The absence of her bandmate Yuimetal from the U.S. tour had a lot of fans concerned, but Babymetal has put out a statement acknowledging her disappearance as part of the grander story line. While this may seem like it would take away from the performance, Su-metal and Moametal were able to hold the audiences attention as if they had the full group on stage.)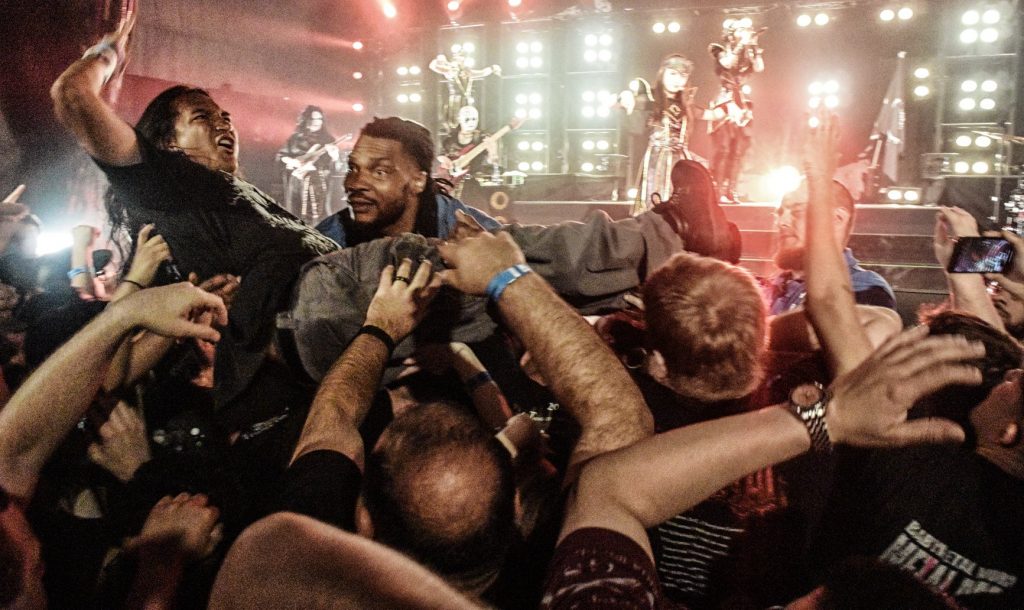 Few metal shows ever dare to dream of becoming such a fully realized experience. But therein lies Babymetal's appeal. Metal, in many ways, is just the band's vessel: Instead of the expected scary songs about murder and gloom, Babymetal sings songs about waking up, karate, and chocolate; in turn, the group is beginning to break down some of the cultural walls that metal has set up around itself.
That seemed to ring true within Babymetal's Dallas draw, which consisted of just as many fans wearing anime shirts as metal ones. By taking itself seriously but not the conventions of the genre, Babymetal has distilled metal down to the purest form of what it ultimately is: entertainment.
And, in doing so, it left its audience fully blown away.
If only more bands — metal or otherwise — did the same.