New Deep Ellum Home Base For Warstic — The Dallas Baseball Bat Company Ballplayers And Design Freaks Alike Geek Out Over — Will Feature Batting Cages, Booze And More.
In August, Dallas' intersection of baseball and rock 'n' roll fans got some exciting news: Warstic, the locally based bat company co-owned by graphic designer Ben Jenkins, former Texas Ranger (and current Detroit Tiger) Ian Kinsler and rock hero Jack White, announced that it is set to open up a flagship retail headquarters in Dallas in 2018.

White and Jenkins broke the news during a joint, in-depth interview on KTCK 1310-AM/96.7-FM The Ticket's afternoon drive-time show "The Hardline" on Monday, August 14. (Listen to the full interview here.)

The shop will be located at the intersection of Main Street and Malcolm X Boulevard in Deep Ellum, taking over the lease on an 8,000-square-foot space that currently houses the motorcycle-customization shop All Star Baggers, which is set to move into a new location in the near future. In a statement released the day after that "The Hardline" interview, Warstic categorized the news as a "big swing" for the six-year-old company and revealed a number of exciting features planned for the spot's build-out.

Between the radio interview, the company's own statements and our correspondences with Jenkins, whose disruption of the baseball gear industry we covered in some detail back in 2012, here's all we know about the spot:
The company announced that it was opening its new headquarters in Deep Ellum about nine months after White came to town to help Jenkins run a successful Warstic-helmed holiday pop-up market in the neighborhood, which, now in hindsight, was pretty clearly a litmus test for whether a Warstic shop could thrive in the area. (It passed.)
The new spot will serve three main purposes: It will boast "a hand turned wood baseball bat manufacturing facility" where the company's bats will actually get crafted; it will be the company's first-ever brick-and-mortar retail storefront; and it will house Warstic's main offices and warehouse.
The retail portion of the building will be tricked out like crazy — Jenkins jokingly refers to it as a "Warstic Disneyland" — with shoppers given access to a "bat-fitting room," a bat design studio and finishing lab where they can customize their purchases, and a full batting cage where they can put the gear to the test.
The complex will also feature a bar area, that Jenkins says will operate as a separate entity from Warstic, although any details beyond that are murky. Jenkins is, however, adamant that the spot will not be named "The Players' Bar & Diner," as the press release implied. Jenkins says the company is still work-shopping names there.
Much like White's Third Man Records shop in Nashville, it's looking like black will be the dominant exterior color of Warstic's facilities, as well. Earlier this week, Jenkins shared the below vision of a potential look for the spot: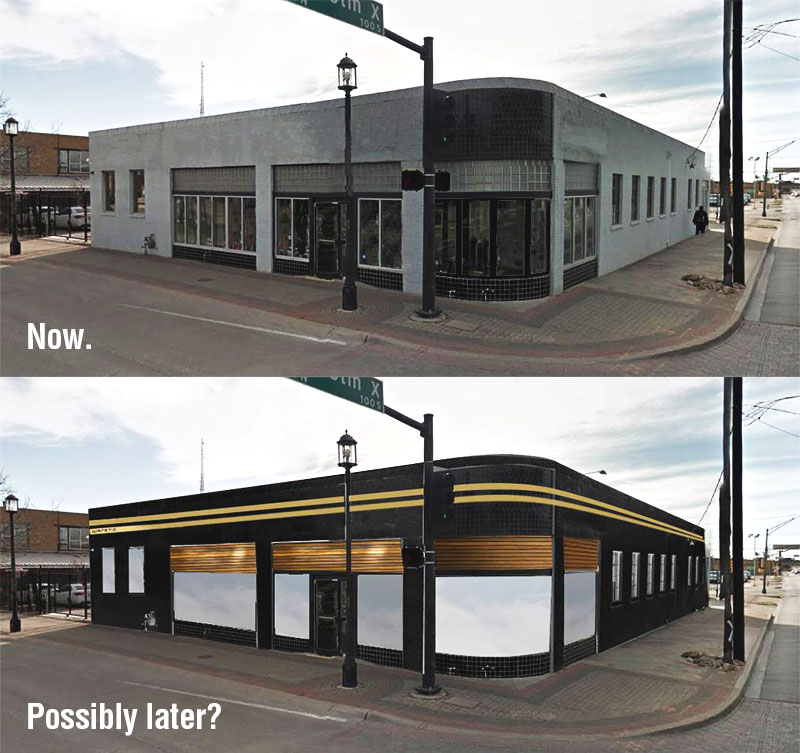 Barring any setbacks, Jenkins says the company is eyeing an end-of-February 2018 formal opening for Warstic's new facilities. It's likely, though, that a peek into the spot could come before even then: "We also planning to open in some pop-up style later this fall and work around construction," Jenkins says.
Cover photo by David Swanson, via Warstic's Facebook page.