This Fort Worth Woman's Viral Drinking Game Will Ensure You Won't Remember The Time You Spend Watching Hallmark's Forgettable Christmas Movies.
Even the biggest fans of the Hallmark Channel's ridiculously long list of Christmas movies will concede that they're not exactly great films — just that there's something oddly comforting about them.
But now, thanks to the efforts of Fort Worth native Brittany Graves, the movies now have a new, wider appeal.
Right around this time last year, Graves (who, full disclosure, is Central Track lifer Cory Graves' sister-in-law) shared to her Facebook page a companion drinking game that she and some of her friends made for booze-loving audiences to employ while watching these films, all of which seemingly center around two people finding love and/or Christmas cheer during the holiday season. Almost immediately, Graves' game — which instructs players to do things like "take a shot if the movie stars Candace Cameron Bure or Lacey Chabert" or to take a sip of their drink whenever a character references a dead relative — went semi-viral during the two week span in which she posted it before last Christmas.
That attention, we think, is deserved too, considering how it looks like a guaranteed good time.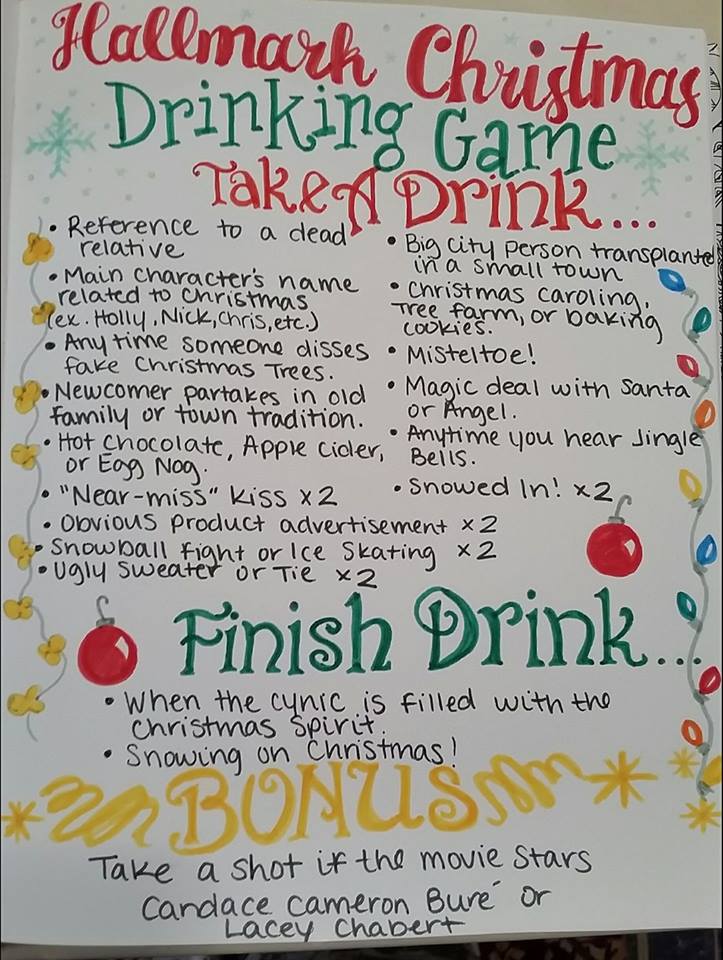 What's truly nuts, though, is how Graves' post earned a second, even larger viral run this holiday season. Following a post about the game on Country Living earlier this month, the game has popped up in seemingly every corner of the internet — and given Graves a little taste of fame along the way, too.
"I keep getting messages from different websites asking for interviews," Graves says when asked about how she'd handling her newfound pseudo-celebrity status. "The Canadian radio show was definitely the most shocking."
If nothing else, Graves says she's flattered by all the attention for she's received for her game. She's not altogether surprised that it took off, though.
"I think it's gained popularity just because the movies already have such a huge following," she says. "They're movies you can watch with the whole family. They just make you feel good, even if you can predict everything that's going to happen. It seems like the game has gotten people who were against the movies watching them — or at least to agree to give them a try because you're guaranteed to get a buzz even if you don't love the movie."
Of course, she also understands that her game is not for everyone. She's just glad it's resonating with the audiences she hoped might appreciate it.
"I haven't read a bunch of the comments," Graves says. "But someone did show me one where this lady was like, 'Please, my son is an alcoholic. I beg you not to do this. It will lead you down a dark path. Alcoholism is not a joke.' And then the next comment said, 'I'm a recovering alcoholic and I think this is effing hilarious.'