What You Should Know About The $150 Million Harold Simmons Park, Which Will Take Up 200 Acres Along The Trinity River Near Downtown Dallas.
In October 2016, Annette Simmons donated the largest sum of money for a private city project in Dallas history — just $50 million, no big deal — to create a 200-plus acre park named after her late husband, the late Dallas businessman Harold Simmons.
Once open, the proposed park will run along both sides of the Trinity River from the Ron Kirk pedestrian bridge to the Margaret McDermott bridge. It aims to become a connecting point between Downtown, Oak Cliff and West Dallas.
Jeamy Molina, the director of communications and engagement for the Trinity Park Conservancy, is predictably bullish on the promise of the park, the construction of which is proposed to start by early 2021.
"Harold Simmons Park has the potential to be the most transformative project in Dallas today," she says, "not just as a green space but as a catalyst for sparking new development and bridging two sides of the river that have been divided — physically, socially and economically — for decades."
Last week, Dallas residents gathered inside Chijmes Sanctuary in Oak Cliff to hear Trinity Park Conservancy CEO Brent Brown detail more on that belief and unveil the most recent plans for for the project. For about 40 minutes, Brown spoke uninterrupted. He began with the long history of Dallas' relationship with the Trinity River, and the seemingly never-ending search for how to use it effectively.
Here's what we learned about how effective Harold Simmons Park plans to be.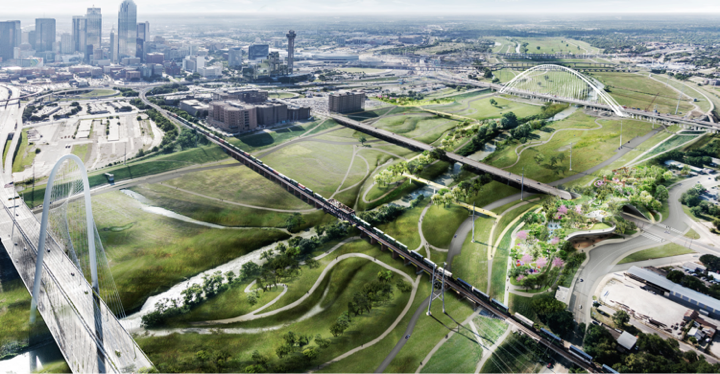 The $150 Million Park Hopes To Draw More Than Three Million People A Year.
Through 120 previous proposals for the river and the land that surrounds it, the city has vacillated between commercial and recreational uses for the space. Brown asserts that a privately funded public recreational space like this one can be expected to increase commercial and residential across Dallas. Early estimates from the Trinity Park Conservatory say Harold Simmons Park could draw more than three million people to its land each year upon its debuts in 2022. It will need $150 million in total to construct, and none of that $150 million is currently set to come from public funds — something Brown stressed several times at last week's meeting. "I didn't say that in code words," Brown emphasized at one point. "Right now there is no public money in the park."

The 200-Acre Park Will Be Designed To Anticipate Flooding.
In the past, critics of the park have expressed concerns over destruction risk due to natural disasters, as well as the cost of maintenance after said disasters occur. In 2015, Dallas saw so much rain in such a short time that the waters of the Trinity rose up to the levees that border the park's layout, completely submerging what would be the park's footprint and even flooding its surrounding areas. Brown says Harold Simmons Park is actually designed to flood. It's not as crazy as it sounds: In 2018, several other "flood-able" parks were announced all over the world. Copenhagen's Enghaveparken, which was designed to be a functional recreational park even when flooded, is scheduled to finish construction this year. A proposed park that would run alongside the East River in New York City would serve a dual purpose of protecting residents from flooding and providing easier access to the river. One big difference between Harold Simmons Park and those efforts? Those other parks aren't nearly as large as the 200-acre Harold Simmons Park will be.
The Park Will Transform Nearby Real Estate, Possibly At The Expense Of Affordable Housing.
The Q&A portion of the night led to several questions about the future of affordable housing in West Dallas. The neighborhood immediately west of the park is one of the last to withstand the rapid gentrification that has overtaken many of Dallas' housing options in recent years. Surprisingly, Brown seemed eager to address this concern. He said it is inevitable that a project such as Harold Simmons Park will lead to new housing developments popping up nearby. Yikes.

You Still Shouldn't Go In The Water.
Brown demurred when asked whether the park could emulate how Fort Worth has incorporated the Trinity into its urban planning (read: allowing residents to tube it while watching a movie or concert). Geographically, the flow of Dallas' section of the Trinity River is fundamentally different that that of Fort Worth's. As such, he maintained, the water quality is "an issue."
Read more about the park's plans here.